During day one of the 2022 Food On Demand Conference, YipitData and Sense360 went deep—very deep—on industry data. Four big numbers emerged as an interesting snapshot of where the off-premises world stands today. Moderated by Carl Orsbourn, co-author of "Delivering the Digital Restaurant," it was a sprawling look at massive datasets.
Below are four big numbers from the voluminous data presentation from the two data presenters.
73%
That's the DoorDash market share of third-party delivery sales in smaller markets. YipitData Senior Data Analyst Ariane Turley explained that is a big reason for the company's overall commanding market position.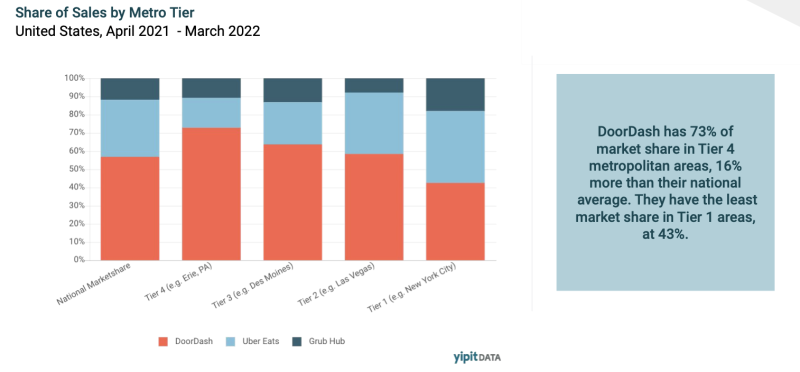 "One of the reasons DoorDash found success is presence in smaller metro areas," said Turley. "DoorDash has 73 percent market share in T4 metro areas, 16 percent more than their national average. But they have the least market share in the T1 areas at 43 percent."
10%
This is a big number because it's small. It represents the crossover between first- and third-party platforms at Chick-fil-A.
"At Chick-fil-A, only 10 percent of users are ordering from their first- and third-party platforms. So, it's important to think about the different tactics. Marketing tactics on one aren't cannibalizing the other, they're instead growing the business," said Turley. "What we're starting to see is how important it is to invest in both; the users on both are very different."
She said it's clear that third-party platforms are the place to catch new customers. First party is the place to enhance those relationships. She has seen evidence in the promotional differences between first- and third-party platforms that brands are figuring out the marketing strategy on both with a lot more sophistication than years past.
2,500%
That's the growth in third-party sales Andrew Custage, head of analytics at Sense360, saw in Harrisonburg, Virginia. There was dramatic growth in many rural markets since the pandemic began.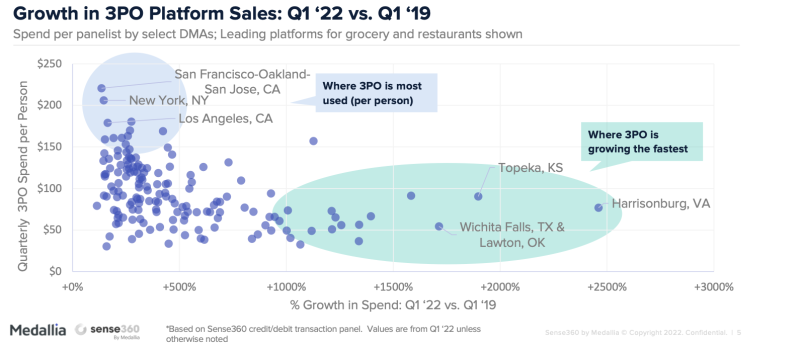 "The average person in San Francisco is spending close to $200 per month. That hasn't grown as dramatically in these metro areas—it's still double pre-pandemic. Where things are really growing are in the smaller DMAs," said Custage. "We've seen more than 10-fold increase in third party delivery in some of these areas."
Places like Topeka, Kansas, and Wichita Falls, Texas, were also explosive growers, growing sales between 1,500 percent and 2,000 percent since the pandemic began.
60%
That's the number of people who said they think virtual restaurants are on par with traditional restaurants. The subsegment of the industry gets a bit of a bad rap for being inconsistent or lower quality than traditional restaurants, but that's not what Custage saw in surveying.
"It turns out they do better than most people expect. Across the board, it's pretty even with perception toward traditional restaurants—60 percent say they think they're on par with a traditional restaurant," said Custage.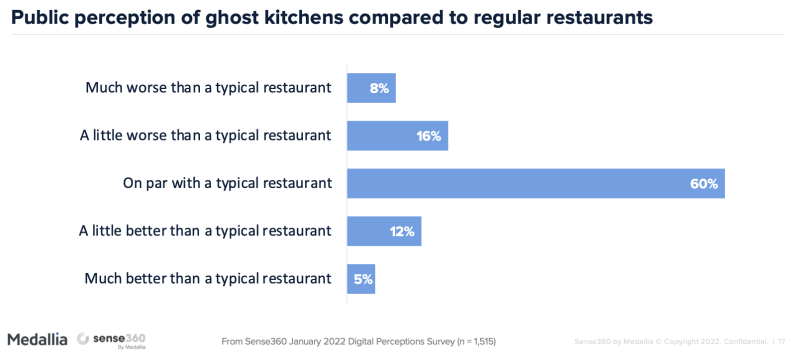 Further surveying found that virtual brands might not want to hide their big-brand heritage. More than half of consumers he surveyed are aware of virtual restaurants, and they tend to like big-brand subsidiaries.
"Should the ghost kitchen emerge as a subsidiary to a company that provides all the overhead, or go the route of going indie but hiding the fact that you're involved to focus on the brand itself?" pondered Custage. "When we ask people if you found out that a ghost kitchen was part of a well-known restaurant chain, people said it improved their perception. It seems like a good strategy to make it known that you're part of a bigger brand. That may create some more trust."
He saw some evidence that customers of Just Wings, a subsidiary virtual brand of Brinker International typically cooked inside Chili's, actually funneled customers to the parent brand.