A new report identifies five key things to watch for in the delivery space over the next few years. As outlined by financial analytics firm Canaccord Genuity, the report points to some ongoing trends, but also attempts to quantify the shift in the space due to the COVID-19 pandemic.
The big macro theme: the online shift is accelerating. That's the real push the industry has seen from the pandemic, a major influx of new diners to delivery platforms. That continues a trend that the firm's authors said was growing steadily already. The penetration of takeout and delivery increased from 7 percent in 2016 to about 20 percent in 2019, but COVID-19 pushed that aggressively.
"According to virtual POS platform Upserve, online ordering from restaurants using its software in large suburbs saw a 3,868 percent increase between February and late April, and we expect COVID-19 to drive further adoption of delivery services in non-urban areas, with many of these new customers likely coming from an older demographic," wrote Maria Ripps, an analyst with Canaccord.
Grubhub orders rose 28 percent during April and May. Uber Eats saw gross bookings grow 80 percent in April. That expansion in sales activity means we're getting closer to the scale necessary for the low-margin business.
The surge, while likely short term in nature (depending on how controlled the pandemic is), means many, many more users are seeing digital delivery as a practical option. That, according to Canaccord authors, steepens the curve for the industry.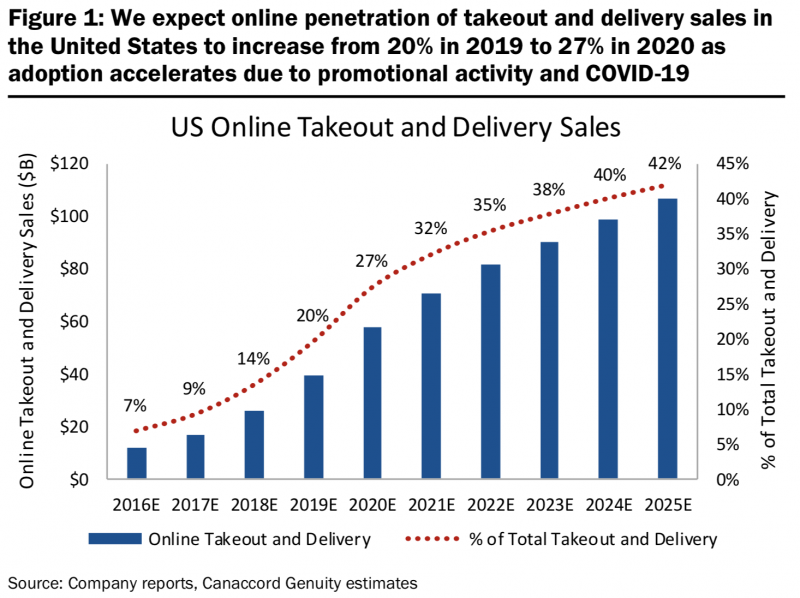 The second key trend is consolidation. The Just Eat Takaway.com acquisition of Grubhub and the potentially late-stage conversations between Uber and Postmates are well known. Canaccord sees this as another spur for industry expansion at least for Grubhub, which can now focus on expansion and rely on scale as the largest delivery platform outside of China to absorb some of the overhead. The DoorDash Series H funding round of about $400 million in the wake of the Grubhub transaction signals further consolidation activity, or more investments in scale.
Loyalty is another key trend, both on the platforms and off. Canaccord points to the various subscription services available on the delivery platforms popping up as a way to keep users in platform loyal via ongoing fees in return for free delivery from some or all restaurants. That's been an important development even if adoption is low, the benefit in a "homogenous" offering across platforms.
"While there was an initial land grab for exclusive partnerships with enterprise brands among delivery platforms, almost all of the top 15 largest national restaurant chains are now available on three or more platforms," wrote Ripps. "As restaurant selection becomes more homogenous across the industry, delivery platforms have turned to subscription and loyalty programs, along with other differentiating features, in an effort to acquire new diners and boost engagement among existing customers."
Takeout has been another big push during COVID-19. People don't want to eat in restaurants, but they also don't want to cook everything. According to a DoorDash survey, 56 percent of diners said they increased takeout, especially among middle-age diners. Diners especially like the affordability, with 44 percent of respondents to the DoorDash survey saying that was the top reason to choose pickup instead of delivery.
Twenty percent of parents said they chose pickup so they could get some alone time.
According to data from point of sale platform Upserve, a lot of people need a few minutes alone in the car.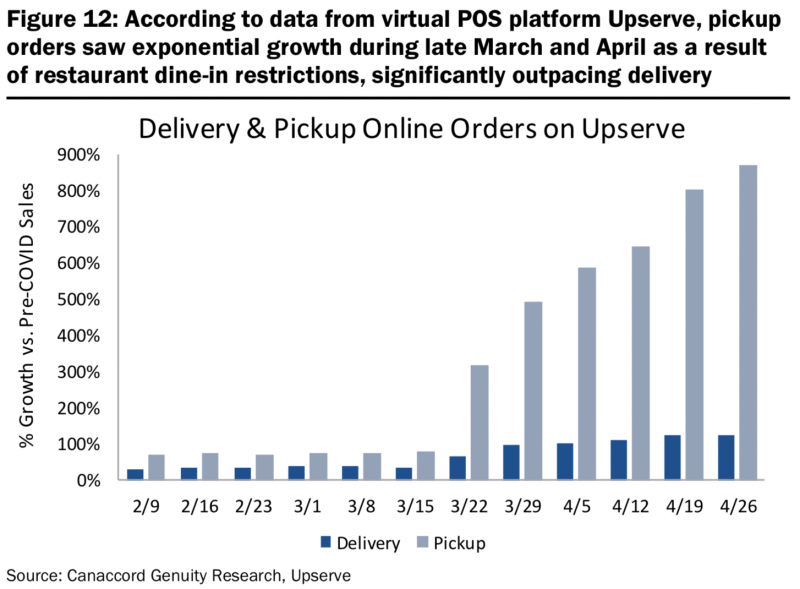 That's the idea behind Grubhub's egotistically named Ultimate technology and DoorDash technology allowing diners to share location data with restaurants to geofence their arrival. Last October, Uber launched pickup service, which it has expanded during the pandemic.
Postmates launched new curbside pickup feature last month to give restaurants more low-contact options that's driven by geofencing technology.
Lastly, Canaccord points to grocery and convenience as big delivery growers during the pandemic. The category saw just 5 percent online penetration at the end of 2019, but Instacart saw its order volume grow 400 percent year over year in April.
According to analytics firm Earnest Research, new customers and existing users are both ordering more. Much like the trial and adoption curve seen in restaurant delivery, the surge may only last through the major effects of the pandemic, but similarly, these new users will see digital delivery as an option going forward.