As third-party delivery continues to grow and evolve, many big questions remain and many more have emerged as business-critical topics the industry struggles to understand. Seeking to answer some of those questions, a Food On Demand conference panel tapped into the massive amount of data for answers.
Moderated by Carl Orsbourn, the author on the recent book exploring the industry, Delivering the Digital Restaurant (and a recent FOD podcast guest).
"This past year has taken us to a whole new level," said Orsbourn.
Digging into the graphs and spreadsheets, he was joined by Andrew Custage, head of analytics at data analytics company Sense360 and Ariane Turley, senior research analyst at insights and analysis company YipitData. They brought a lot of charts and took on some of the big questions in the space.
Where is the growth?
"When you think about the big markets that have experienced third-party for a long time, their growth rates have been good, but not nearly as good as some rural areas that have expanded dramatically. Fort Wayne, Ind., or Macon, Ga., have experienced growth 10-fold in this time," said Custage.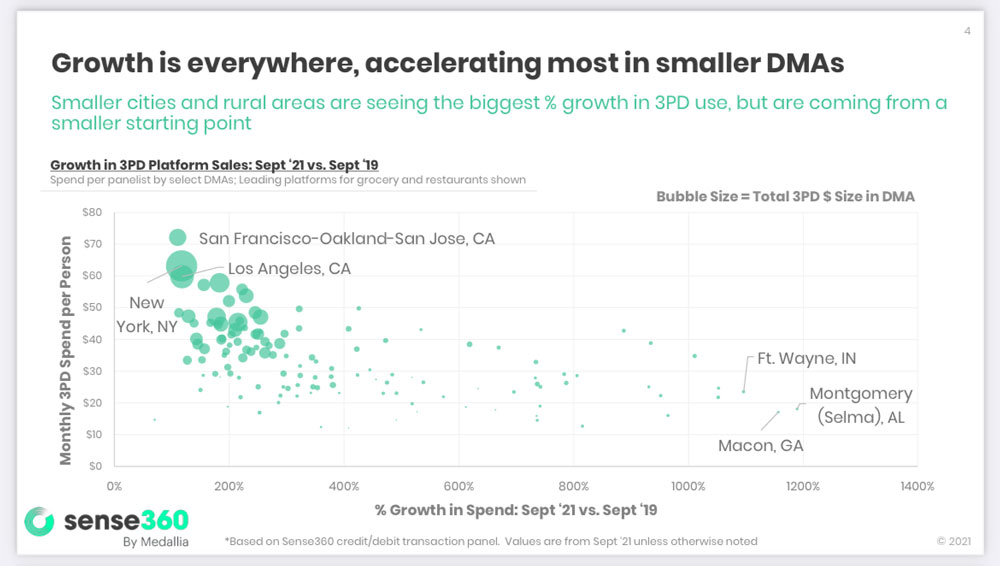 Who's leading?
"It's still one that DoorDash continues to grow its dominance in, back two years go DoorDash was the leader, but it has only solidified that standing. It's definitely something that is true nationwide," said Custage. "Grubhub has been steadily is growing market share. But when you look at some of the largest Northeast markets, Grubhub still has a very dominant position. So, this battle is far from over and depending on where you are in the country, the partnership strategy does really differ."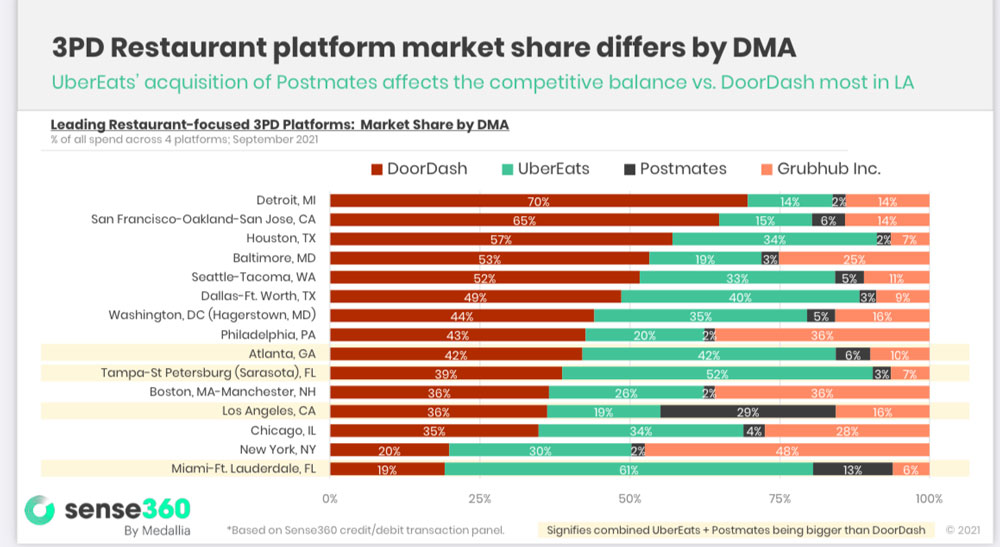 What brands are thriving in delivery?
"One of the big findings has been the massive improvement in chains relative to mom-and-pop providers on platforms. Using the 50 biggest chains it was a little over a third of overall spend, now it's 40 percent," said Custage.
Where is the incrementally today?
"What evidence is there that rests should be even competing in this space? Am I cannibalizing orders that would have gone directly to my brand? What we found is that there is more and more compelling data showing that third-party order would not have been made," said Custage. "If they hadn't been on that platform at that time, they would have made another purchase instead. We're seeing more and more evidence of incrementally."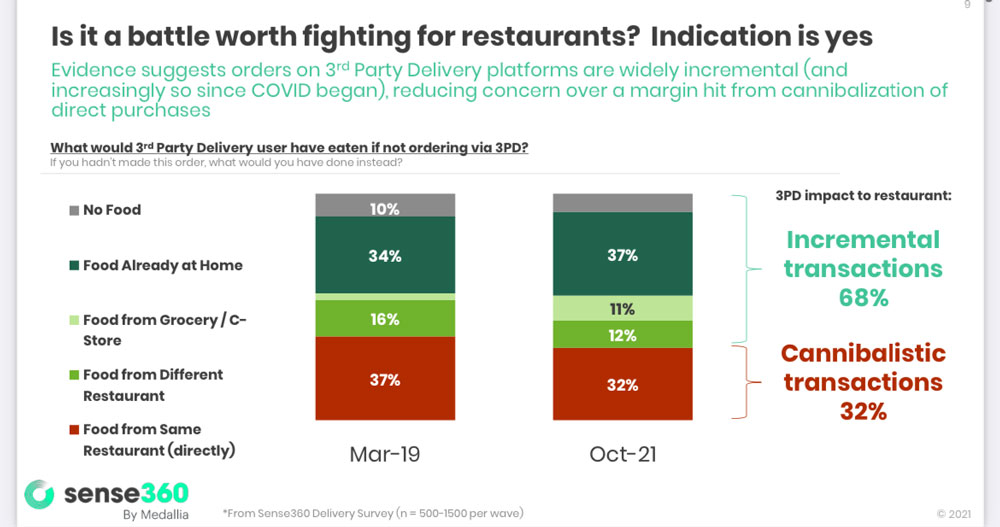 How sticky is the recent growth of delivery?
"We haven't seen the decline some expected as vaccines became avail. Average orders per moth have seen strong growth. Average order volume has increased by $3 since January of 2020 and consumers are ordering four times a month, that's a fundamental shift," said Turley.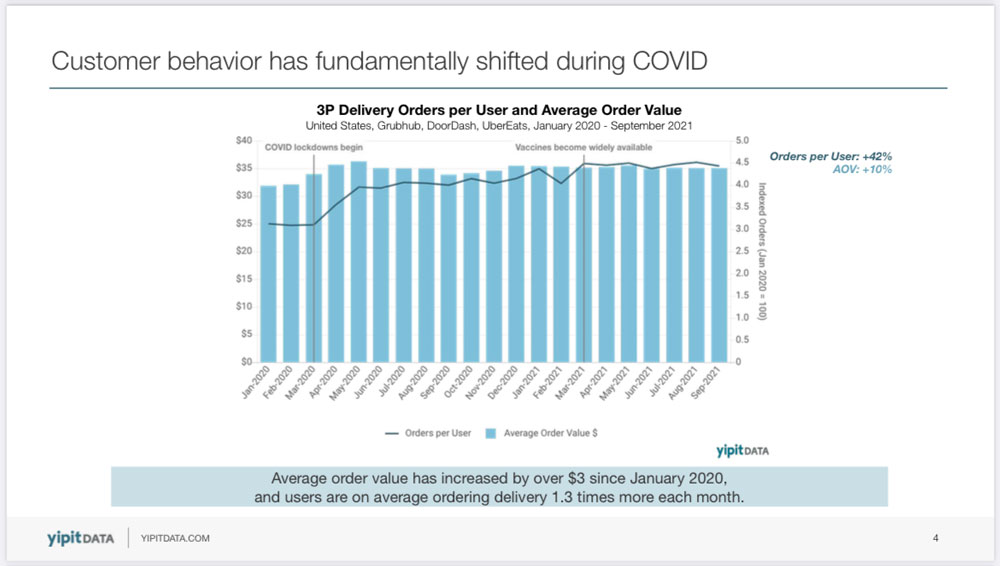 How valuable is the third-party subscriber?
"I think the interesting thing to note here, not only are DashPass and Eats Pass users more frequent, they actually have higher average order volumes s well. What that means is you have to entertain who your consumer is on Uber and DoorDash specifically, you have to understand the different dynamics of the platforms," said Turley.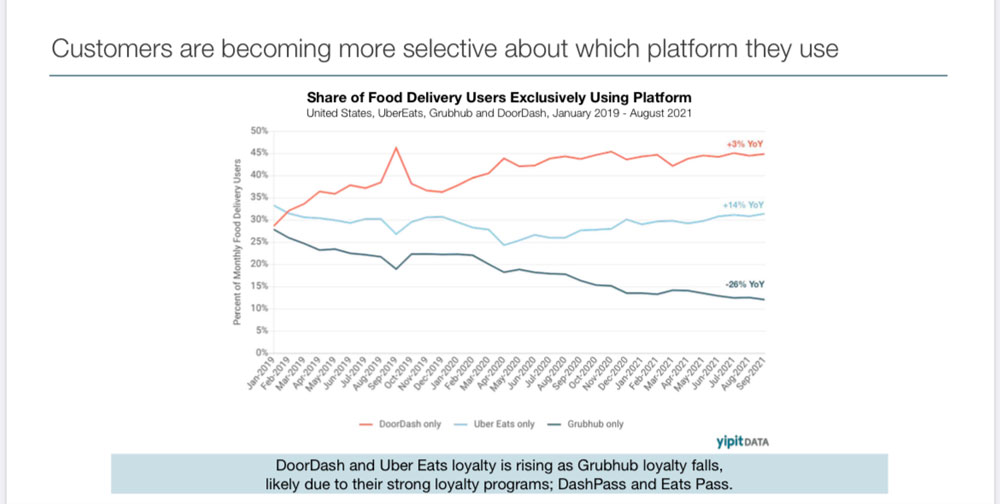 How do users find their food?
"We see it in three scenarios, you know what you want you want a Double Cheeseburger and fries, so you search McDonald's. It's done and there's not a lot of value fighting for or fighting for the consumer. Secondly, if a consumer wants a burger. As they're looking this becomes valuable real estate and it's important to show up as high as possible. The third is 'I'm hungry,' I don't know what to eat. This is where you want to show up on the homepage and in carousels," said Turley. "These third-party platforms are now platforms for search and discoverability. As a merchant, it's how do you become he most visible brand."