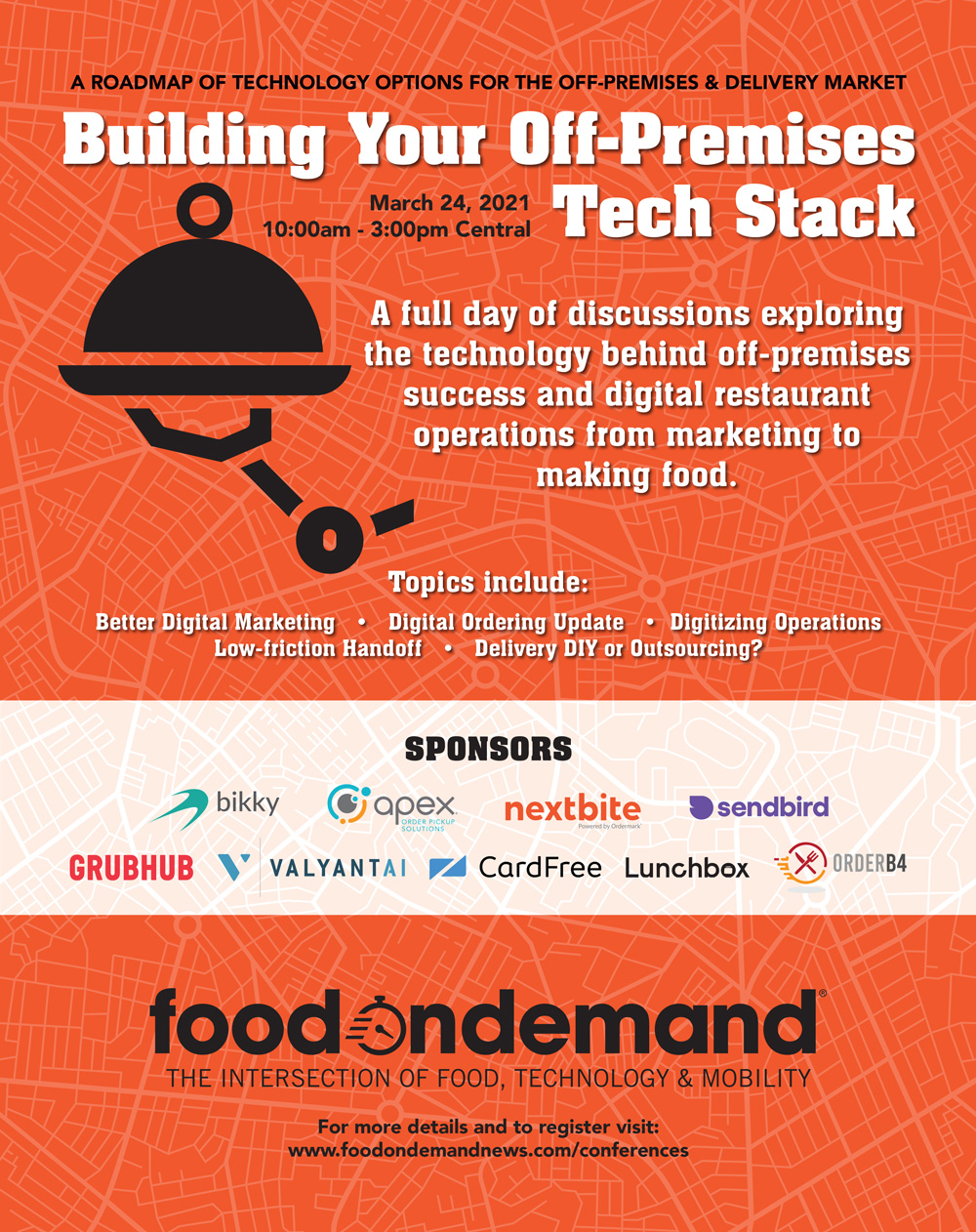 ---
Key Information
Title: Building Your Off-Premises Tech Stack
Date: Wednesday, March 24, 2021
Time: 10:00 am – 3:00 pm Central
Description: A roadmap of technology options for the off-premises & delivery market.
A full day of discussions exploring the technology behind off-premises success and digital restaurant operations from marketing to making food.
---
Sessions
Better Digital Marketing
What is working in digital advertising for restaurant brands? Explore social media marketing, one-to-one potential and how traditional marketing has changed in response to COVID and the shift to pickup and delivery.
10 a.m. CT | 11 a.m. ET | 8 a.m. PT

---
Digital Ordering Update
The shift to digital ordering has happened at a breakneck pace, and so have the best practices and best solutions. What do consumers want from digital ordering? What are the best practices around integration? And, where are the opportunities for restaurants?
11 a.m. CT | 12 p.m. ET | 9 a.m. PT

---
Digitizing Operations
Where are we with digitizing the day-to-day operations? We'll cut through the hype to see what's really possible to make the local ordering process and cooking more efficient and easier to manage.
12 p.m. CT | 1 p.m. ET | 10 a.m. PT

---
Low-Friction Handoff
Curbside? Pickup windows? Sexy shelving? One of the fastest-growing COVID-era channels in the industry is more difficult than it seems. See what's working and how successful operators are making things easier, not harder.
1 p.m. CT | 2 p.m. ET | 11 a.m. PT

---
Delivery DIY or Outsourcing?
What does it take to do delivery right? How do you make the decisions to drive or outsource the last-mile operations? New tools and capabilities expand the potential for third-party delivery.
2 p.m. CT | 3 p.m. ET | 12 p.m. PT

---