For all the articles, news segments and business conference quips that Amazon is responsible for the difficulties seen in the U.S. retail market as once-iconic brands continue to fall, one retail real estate expert argues that the Seattle-based mega-giant's impact is vastly overstated and almost universally misunderstood.
As he travels around the country speaking to retail trade associations and directly consulting for retailers, SiteWorks President Nick Egelanian uses publicly available data points to argue that Amazon isn't killing retail, and it's also not anywhere close to becoming a dominant player in the grocery industry.
"This is an industry with an awful lot of bad information," Egelanian said. "Because there's so much bad information in it, you have a lot of people who are not either knowledgeable that something's happening but knowledgeable of why it's happening and, therefore, making a lot of bad decisions."
While he said most retail execs he works with are not in denial about the severity of problems faced by the category, Egelanian said the collapse of traditional bricks-and-mortar retail brands has been so overwhelming that there are few people left in the industry who haven't been directly impacted. Blaming Amazon for their woes, he argues, is leading many brands to make bad decisions as they sprint to reinvent their businesses amid shifts in consumer behavior and the competitive landscape.
Recapping a recent presentation to the Minnesota Shopping Center Association's monthly meeting I attended in February, Egelanian said full-line department stores including Sears and Macy's have been in decline since the mid-1980s because of proliferating, more specialized big-box retailers that have gradually siphoned off the various departments within full-line retailers.
"If you want to condense this whole part of the conversation down to one thing," he said, "the department store was deconstructed and the volume of the industry went down precipitously."
While this was a popular subject in business reporting in past decades, the rise of ecommerce in general and Amazon in specific has almost entirely removed this topic in favor of pieces about traditional retailers struggling to succeed online, the wholesale decline of malls and the oft-suggested unstoppable nature of Amazon's competitive abilities.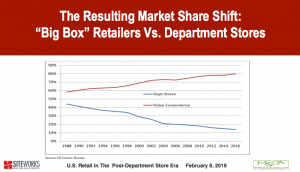 He bolstered his point by showing a market share chart showing a near-perfect relationship between the decline of old-school department stores with the rise of specialized big-box retail like Bed Bath & Beyond, Best Buy and TJ Maxx, a few examples of a whole that's constructed billions of square feet of new retail in the U.S. in the last 30 years.
Citing a Wall Street Journal story from 1963 predicting the demise of retailers due to catalogs, Egelanian said Internet-based retail still hasn't reached 11 percent of the U.S. retail market, a high-water mark catalogs hit decades ago. The U.S. retail market has grown to more than $5 trillion in annual sales, according to the U.S. Department of Commerce. Of that, Amazon only accounted for 1 percent ($260 billion) throughout 2018.
Grocery is another industry where Amazon's impact is overstated, he said, since its 2017 acquisition of Whole Foods. According to Progressive Grocer, Whole Foods is currently the eighth largest U.S. grocery brand with $15.7 billion in annual sales. Walmart and Kroger that collectively account for almost 50 percent of the market.
Whole Foods fares much better on the delivery side of the grocery business, with a recent Brick Meets Click survey showing it has captured 30 percent of U.S. online grocery sales.
"They're too small because together they account for 2.5 percent" of a nearly $1 trillion U.S. grocery industry, Egelanian said. "That's not enough to control your relationship with your suppliers" or out-compete grocery titans like Walmart or Kroger.
He added that Amazon is "a force to be reckoned with," but said retailers, restaurants and grocery brands need to look at actual numbers when sizing up the current environment and making critical decisions for the future.
Careful to separate hard numbers from his own personal opinions, he said it's easy for whole industries to believe information that's not backed up by reality. "The power of suggestion is incredibly persuasive with people," he said.