As more restaurants continue to do takeout, DoorDash is expanding its two-year-old customer pickup feature that shares customer location data so merchants can be alerted to them approaching the store to ease back-of-the-house operations.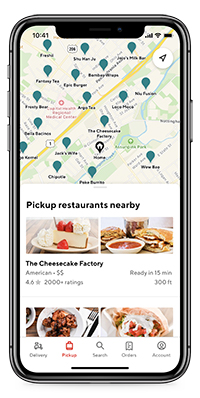 The company, which is the largest U.S. third-party delivery brand, says tens of thousands of merchants are now using the pickup platform to "help generate even more sales for merchants at zero cost to them." The no-fee pickup option gives customers the ability to avoid delivery fees, if they're feeling industrious enough to leave the house and pick up the order with their own two paws.
Included with the announcement on the new service, DoorDash released the results of an in-house survey about customer behavior, with a particular focus on customer takeout. According to its results, 56 percent of customers said they are ordering takeout more frequently, with the 35-54 age bracket the largest adopters of pickup service.
As you'd imagine, parents are also latching onto that ordering stream, with DoorDash adding that getting "some much-needed alone time and a break from the house" being a significant motivator. Affordability is another key factor, with 44 percent of respondents saying the lower cost is the top reason they chose pickup instead of delivery.
DoorDash surveyed users who had ordered on the platform for delivery or takeout at least once in the last 60 days.
DoorDash first launched its pickup feature two years ago, giving merchants an off-premises option beyond third-party or in-house delivery. Now, with the new functionality, restaurants will be automatically alerted when customers who opt to share their location data are approaching the store, easing both sides of the transaction.