Through a new partnership with Grubhub, guests staying at more than 120 Sonesta Extended Stay Suites and Simply Suites hotels in the U.S. can now access mobile ordering and delivery while on the go.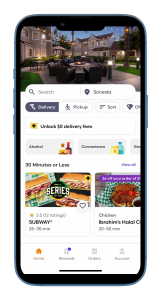 With this partnership, guests at Sonesta ES Suites and Sonesta Simply Suites will be able to order meal delivery through access to Grubhub's network of more than 365,000 restaurants and convenience offerings. Guests will be able to order on Grubhub via geolocation and QR codes around each property that take them directly to the Grubhub Marketplace. The hotel location and courier drop-off instructions will automatically populate at checkout for ease of use.
"We're redefining the dining experience for hotel guests by making it easier than ever to bring more dining options and convenience right to guests' doors no matter where their travels take them," said Eric Ferguson, chief operations officer at Grubhub. "With Sonesta, we're excited to help support a dining need at these properties and play a role in keeping guests fed, happy and energized."
"Sonesta ES Suites and Simply Suites apartment-styled accommodations provide guests with a fully equipped kitchen, giving them a sense of normalcy and a home away from home," said Elizabeth Harlow, chief brand officer at Sonesta. "We are excited to be partnering with Grubhub to provide our guests with easy access to mobile ordering and delivery services which will enhance our extended stay hotel experience."
The Grubhub partnership is now available at all participating Sonesta ES Suites and Simply Suites hotels across the U.S. Guests that affiliate with their hotel will receive two free months of Grubhub+, Grubhub's loyalty program that provides diners access to unlimited $0 delivery on orders of $12+.
More information about Grubhub for hotels is available here.