Taking stock of the third-party delivery market in the second quarter of 2022 largely continues long-term trends, but there are some notable nuggets.
In data from YipitData, a research and analysis firm with a focus on the delivery market, the big market share numbers continue to move in the same direction. DoorDash remains the No. 1 delivery player by far, reaching 60 percent of the total market through the second quarter.
Grubhub makes up 9 percent and has continued to tick down in market share. According to Yipit researchers, the third-largest U.S.-based delivery provider was down 2 percent in July compared to July 2021. It does, retain a strong position in New York, its largest market, but there Grubhub share has also ticked down 1 percent.
In the middle, with about 30 percent of the market share is Uber Eats, which has been in that range since July of 2021. The company lost some share in major markets like Boston and Philadelphia.
Getting down to the market level, secondary markets are currently seeing the most growth. According to Yipit, both Memphis, Tennessee, and Sacramento, California, grew third-party delivery sales by more than 10 percent, as seen in the chart below.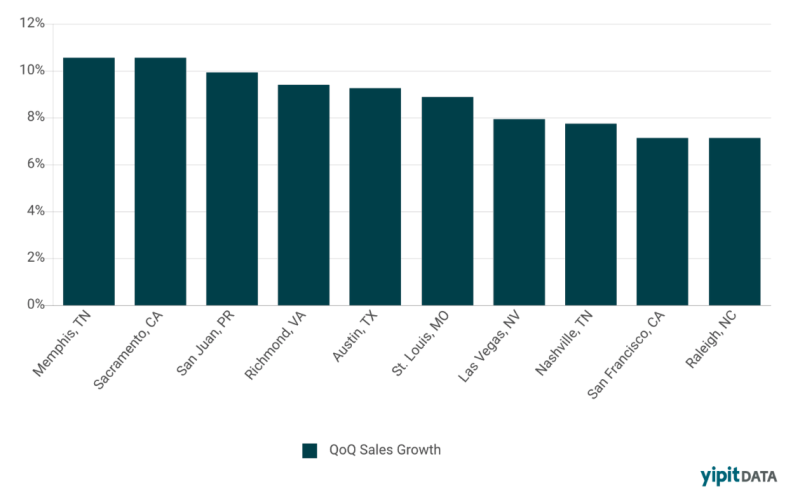 Larger cities, including Chicago, New Orleans and San Diego all saw sales decline slightly. While it wasn't shown in the numbers, that may be due to nice summer weather and a consumer base that is more willing to go out and have fun as pandemic habits wear down.
At the brand level, one of the largest brands by scale was the most aggressive grower. Pizza Hut saw third-party delivery sales explode by 48 percent year quarter-over-quarter.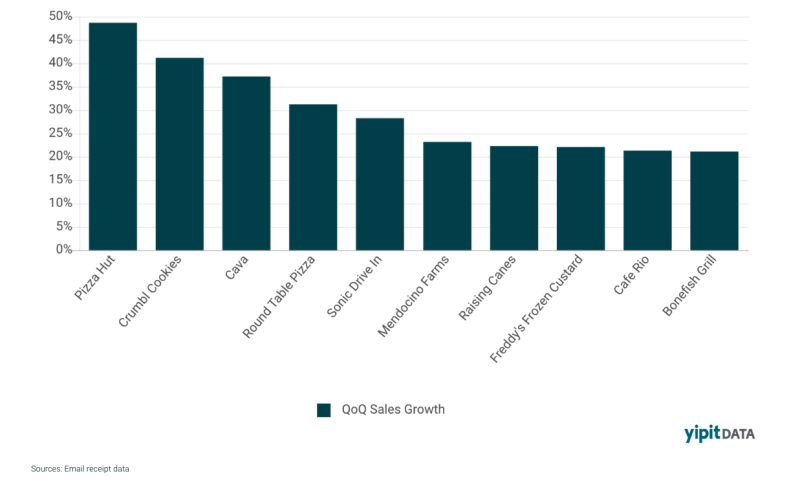 That is right in line with the rollout of third-party in the Yum-owned brand. As Food On Demand covered back in August, the brand has been aggressive in bringing the option for third-party to locations across the country.
"We made progress expanding systemwide adoption of third-party delivery-as-a-service to help address our delivery driver capacity constraints to meet consumer demand. As of the end of Q2, approximately 55 percent of our U.S. locations have implemented delivery-as-a-service, up from 40 percent at the beginning of the quarter," said Yum CEO David Gibbs.
He hinted in the second-quarter earnings call that the company was struggling to hire and retain delivery drivers. Adopting delivery services was in part easing staffing pressure for franchise operators.
It wasn't the only fast grower. Crumbl Cookies shot up by more than 40 percent and upscale Mediterranean fast-casual brand Cava was right behind at just over 35 percent growth. IHOP and First Watch, at either end of the breakfast spectrum, both sank by about 9 percent as more people braved the crowds for pancakes and eggs.
Head over to see the rest of Yipit Data's examination of the second-quarter data, including how third-party players differed in key markets and what markets shrank when it came to third-party delivery sales.