FOD International is a new focus on the international delivery market, and how it differs from North America. Contributing editor Peter Backman is a long-term foodservice sector guru and founder of theDelivery.World, a platform that connects the delivery sector and makes sense of the myriad changes and challenges that affect the sector across the globe.
Subscription services for restaurant delivery are a staple in the USA, where major players have been offering them for several years. Services like DashPass (launched 2018), Grubhub+ (2020), and Uber One (2021) provide subscribers with free delivery and exclusive offers, creating a loyal customer base.
From the delivery company's perspective, these services offer predictable income streams and the chance to cultivate committed customers. However, outside the USA, there is no one-size-fits-all approach.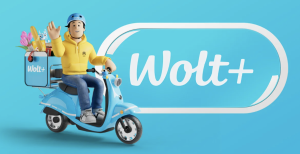 For instance, Deliveroo, the UK-based leader in multiple European countries, has been running Deliveroo Plus successfully for six years. CEO Will Shu credited this subscription service with boosting business after the company's IPO in March 2021. DoorDash-owned Wolt, active in Germany, Japan, and over twenty other countries in Asia and Europe, introduced Wolt+ last year.
Even smaller, regional companies have joined the subscription trend. South American leader Rappi launched Rappi Prime Plus, while Indian giants Swiggy (with Swiggy Super) and Zomato (with Zomato Gold) are on their second iterations of subscription services in their home country.
However, some global players have been less enthusiastic about subscription services. Just Eat Takeaway, owner of Grubhub, introduced Just Eat Plus in some countries five years ago but hasn't been as aggressive in this area. Delivery Hero, based in Germany and active in about 50 countries (many second-tier delivery markets in terms of size), offers subscription services in select countries, like its largest market, South Korea under the Baedal Minjok (Baemin) brand, but not in others.
So, why the variability around the world? Several factors contribute to this diversity.
Market Maturity and Competition: The USA's mature and competitive delivery market, with giants like Uber Eats and DoorDash, is fertile ground for subscription models to thrive. Fierce competition has fostered innovation. In contrast, many global markets are still evolving, with diverse regional dynamics.
Cultural Differences: Food isn't just sustenance; it's culture, tradition, and identity. In the USA, the culture of dining at home and ordering food delivery is deeply ingrained, making subscription services a natural fit. However, globally, culinary traditions and dining habits vary widely, making what works in one country less effective in another.
Financial Considerations: In regions where debt aversion and reluctance to commit to long-term financial obligations are common, consumers may be wary of subscribing to a service that requires such commitments.
Regulatory Environment: Varying legal, financial, and labor laws across different regions can inflate operating costs for delivery companies, reducing the appeal of subscription services and potentially limiting competitive pricing.
Platform models: While companies like DoorDash, Delivery Hero and Just Eat Takeaway focus on restaurant (plus some grocery) delivery, many others, such as Gojeck (based in Indonesia) and Coupang (South Korea) operate a pan-sector platform model, covering everything from booking concert tickets to social media. While they offer subscription services these are not specifically focussed on restaurants.
While these factors contribute to the discrepancy in subscription offerings between countries and regions around the world, it's essential to remember that the restaurant delivery landscape is constantly evolving. What may be true today could change tomorrow as companies adapt to consumer preferences and market dynamics.