DoorDash's shares have maintained their post-earnings jump after the San Francisco-based delivery giant reported its third-quarter financial results showing double-digit increases in total orders and revenue, among others. 
Its shares rose approximately 20 percent after the positive news, and have maintained that increase after DoorDash also reported a much narrower total loss for the quarter. The company said it was its best quarter as a public company in terms of order volume, revenue, adjusted EBITDA (earnings before interest, taxes, depreciation and amortization), as well as its net loss. 
During the quarter that ended September 30, 2023, total DoorDash orders increased 24 percent to 543 million, with gross order value also jumped 24 percent year over year to $16.8 billion. Overall revenue increased by 27 percent year over year to $2.2 billion, with its net loss narrowing to $75 million compared to a loss of $296 million in Q3 2022. Adjusted EBITA rose to $344 million from $87 million in the same quarter last year. 
In DoorDash's shareholder letter expounding on the results, co-founder and CEO Tony XU, as well as CFO Ravi Inukonda, said they believe the industry is in the "early stages of what will likely be a decades-long transition to omnichannel retail" that provides the company with a significant opportunity going forward.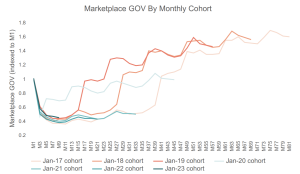 Even amid a number of external challenges, including ongoing inflation, "stout" competition and shifts in regulation, Xu and Inukonda said they were proud of the company's latest results, and believe that ongoing investments are increasing its potential and expanding the scale of local commerce in the communities it serves. 
In an interview with Fast Company, Inukonda stressed that not only are total users going up—with a lot of runway for late adopters to begin using delivery—but existing users are also using DoorDash with increasing frequency. 
The company forecasted "significant levels of ongoing investment" in both new categories and international markets. 
"Despite our ability to improve execution and appeal to more consumers, merchants and Dashers in recent years, we are nowhere near where we aim to be," the executives said. "There are still hundreds of millions of consumers who do not regularly use our service, tens of millions of people that could benefit from dashing who have not yet tried it, and at least hundreds of thousands of merchants we believe we can help."
DoorDash does not break out its order volume by product category. Answering a question during the earnings call, Inukonda said the company is "really pleased" with the performance of its grocery business, and said its teams are focused on increasing the adoption of grocery, as well as other new verticals the delivery platform has added. 
He added that many of the company's first-time customers are using DoorDash for categories outside of restaurants. 
"When you look outside of restaurants and you look at the convenience, grocery, alcohol segments, customers that are adopting e-commerce in these categories for the first time, about half of them are coming to DoorDash first."