West Coast grocery chains Vons and Safeway have reportedly announced plans to replace their in-house delivery drivers with DoorDash drivers in the wake of the passage of Proposition 22, according to multiple media reports.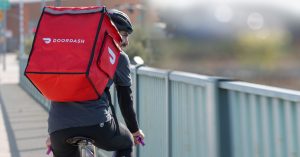 LAist reports that Albertsons-owned Vons, one of the largest grocery chains in the country, will soon eliminate its own delivery drivers. The report added that online Vons orders in the Los Angeles metro area will be fulfilled by DoorDash drivers starting February 27.
The story cited one Vons driver, Glenn Vidrio, who said "We did it during the global pandemic for a year straight and, right at the end, when you feel that there's a light at the end of the tunnel with this pandemic, why are we being shunned this way?"
In a statement emailed to the outlet, an Albertsons representative said "This decision will allow us to compete in the growing home delivery market more effectively."
Meanwhile, further up the Pacific Coast, SFGate reported that Safeway—which is also owned by Albertsons—is also laying off its internal delivery drivers and replacing them with DoorDash drivers.
"While we know that this move will help us create a more efficient operation, it wasn't a decision we made lightly or without a great deal of consideration," Wendy Gutshall, a Northern California Safeway representative, told SFGate. "This decision will allow us to compete in the growing home delivery market more effectively."
The story includes a statement from Taylor Bennett of DoorDash who told SFGate that the partnership was inked prior to Proposition 22.
Whatever the cause of these two moves from one grocery giant, the passage of Proposition 22, which allows gig employers like Uber, Grubhub and DoorDash to continue classifying drivers as independent contractors will continue reverberating across the country.
These moves are a likely sign of things to come outside the borders of the country's most populous state.