Burger King is the latest major brand to plug into Google's Order Delivery button. Google has long been working to integrate online restaurant orders directly into its platform. The addition of one of the largest QSR brands and 5,000 of its U.S. locations is another step toward a commoditized delivery experience.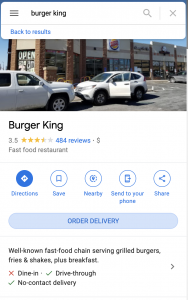 The button is the idea for Google to convert the 5 billion restaurant searches each month. As one might expect from the design-obsessed company, it's simple and intuitive. A search for "Burger King near me" brings up a map result and a little button that says, "Order Delivery."
Plugging directly into the order infrastructure at Burger King, Google's online menu pulls up typical meal bundles and broad categories like breakfast meals, lunch meals, sandwiches, etc. In the Minneapolis market, orders are fulfilled by Postmates. Burger King inked a national partnership with the delivery company back in 2018 and will utilize their platform for the vast majority of Google orders. In markets without Postmates penetration, other providers will fill in.
The user experience is thought through very well, there's even a little modal pop-up to confirm my address to tackle the issue of mistaken directions. A summary screen spits out the pertinent information: timing, contact rules for this COVID era, another look at my address and tipping for the driver. (We didn't actually order, or we would have given a better tip!) It also spits out all the fees, taxes etc. that make up an $18 price for $7 in food.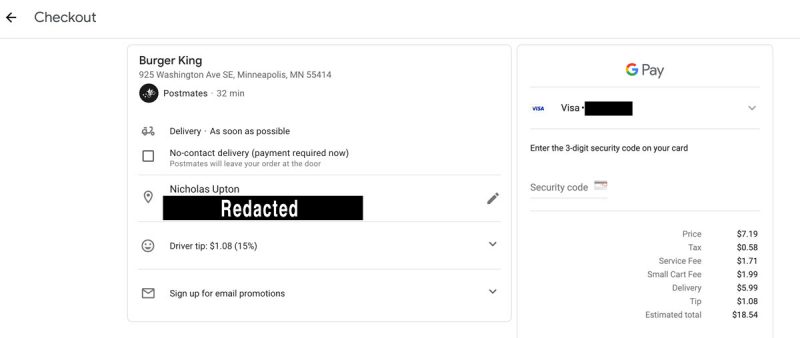 It's a pretty slick way to order delivery with almost no friction and it shows what commoditized delivery looks like unencumbered by apps or brand-specific ordering channels. Given how sticky those avenues for delivery are, however, it will be interesting to see how many people utilize the button. So far Google has been quiet on the usage.
Clearly, the delivery platforms are looking to wall-in their customers more than ever with subscriptions and loyalty perks. This will be a market share battle to watch as "neutral" parties like Google aggregate not just restaurants but the delivery aggregators themselves. One just has to go to orderfood.google.com to see how robust Google's offering has become.