Kitchen United and CloudKitchens aren't the only ghost kitchens in town. Founded in 2015 and based in Los Angeles, Maker Kitchens is building secured, individual spaces aimed at virtual restaurant operators and independent food makers using services like Goldbelly to sell their products directly to consumers.
Rather than renting out open bays in large, semi-communal spaces like most national ghost kitchens, Maker Kitchens provides its tenants secured, lockable spaces with walls extending to the roof and separate ventilation systems. This gives tenants privacy and a guarantee no other users have been in their space, but also allows for kosher or organic certification, which can be especially important for some non-restaurant operators.
Six years in, approximately half of Maker Kitchens' tenants are the virtual restaurant concepts that are common in any ghost kitchen. The other half are so-called food entrepreneurs like meal prep companies, a virtual butcher who ships out thousands of dollars of Wagyu beef across the country, a retired doctor renting a 250 square-foot space to make a probiotic yogurt drink, and a baker known for their sourdough starter.
Maker Kitchens Principal Yossi Reinstein, previously a television producer, uses the analogy of residential apartments to describe the business model. With lockable doors, enclosed walls and independent, separate ventilation ducts, its facilities can appeal to these two diverse tenant groups, which provides built-in advantages for the company.
Beyond diversifying its pool of prospective clients, this mix between catering, food manufacturing and delivery-only restaurants also means Maker's facilities that average 10,000 square feet can be staffed by the landlord with just one or two employees.
In addition, because non-delivery users generate less day-to-day traffic, it also makes it easier to get municipal approval, especially in areas like its upcoming Columbus, Ohio, location that's close to the Ohio State University campus and next to residential and light-commercial uses.
"We've seen some of our competitors get into trouble," Reinstein said about neighborhood traffic concerns. "If you're in a quasi-residential neighborhood and you have 20 restaurants operating, and each one is doing 3-5 concepts, you're going to have such a traffic infestation there that the community is not going to appreciate that. With these wholesale operators and caterers, there's zero traffic … maybe once or twice a week you'll have a distribution truck come, but that's it."
Individual, secure spaces for each tenant means that Maker's build-outs are more expensive than competing ghost kitchens, but Reinstein said that additional complexity is worth the trouble since it allows the company to operate with minimal landlord oversight.
"You're going to take care of your apartment even if you don't own it, that's where that model came from," Reinstein said of the model. "We really only need one or two people maximum, sometimes even none, to staff one of these facilities … Kitchen United probably has about 10 staff members at a location of that size."
At present, Maker Kitchens has three locations open in Los Angeles and two in San Diego. This spring, it will open additional locations in each market, as well as a new facility in Orange County. By the end of the year, its Las Vegas, Phoenix, Denver, Sacramento, California, and Ohio locations will be up and running.
Small-batch diversity
Entrepreneurs in the cottage food industry often start producing in their own home kitchens before moving into a shared commissary kitchen. Once they outgrow that space, Maker Kitchens has proven to be an ideal next step, allowing them to receive proper certification and scale up their operations, whether that's for direct mail, delivery apps, farmers markets or selling inside grocery or other retail stores.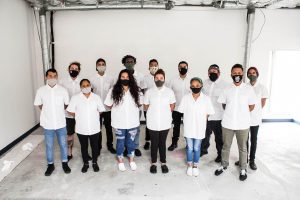 If those food maker tenants outgrow Maker Kitchens, oftentimes their next move is buying their own building and retrofitting it themselves or going the route of a co-packer—dramatically scaling up their business beyond any kind of shared-use space.
Until last year, the company intentionally flew under the radar, operating various parts of the business under separate LLCs with different brand names. Now that it's moving outside of its home state of California, Maker Kitchens is looking to raise its flag for greater visibility within the national ghost kitchen scene.
Reinstein declined to discuss specifics about tenant pricing but said, "We are fitting ourselves into the marketplace as an affordable option, but that means different things to different people."
Essentially housing two business models under one roof, Reinstein said the company is always evolving, but doesn't see a need to build separate facilities, since both uses are compatible with each other—with delivery-based businesses placed closer to entrances to ease logistics. It also doesn't envision morphing into a food hall with a customer dine-in component.
Providing this lower barrier to entry, he said, is a concept that's appealing to a wide swatch of food-focused entrepreneurs who might not be willing to sink millions into their business idea, but are much more comfortable "conservatively" spending $20,000 to get up and running with a direct-to-consumer or delivery-only business.
"There's always going to be people making small-batch food products that need a place to do it, and they can't do it from their home and they don't have the resources yet to buy their own production facility or rent a space for 10 years," he added. "I think this flexible kitchen production space is a need. We've been open for six years and we've had very little vacancy."