Grubhub announced fourth-quarter results, and ultimately delivered a mixed bag, missing analyst estimates for earnings, but growing revenue slightly faster than expected.
Revenues came in at $341 million, a 19 percent year-over-year increase from $288 in the fourth quarter of 2018. Gross food sales were up 13 percent to $1.6 billion and the company added 1.4 million active diners and "more than doubled" the number of restaurants on the platform.
"We are making good progress on the key initiatives we outlined last quarter. We added more than 15,000 partnered and over 150,000 non-partnered restaurant options for our diners and we also launched a number of new loyalty programs for our restaurant partners," said CEO and founder Matt Maloney.
In all, the Grubhub reported 22.6 million active diners, a 28 percent surge year over year. In the earnings call, President and CFO Adam Dewitt said new restaurants, especially independent restaurants, brought in many new diners. He said the company would double the sales force at the restaurant level to invest in that continued growth. In all, Grubhub reported 502,600 active diners in Q4, an 8 percent increase over last year.
The big news is the new scale of coverage. Grubhub now covers more than 300,000 restaurants (155,000 partnered) across 3,200 cities, the same number reported by DoorDash. The many new, non-partner restaurants offer an admittedly worse experience for restaurants and consumers.
"They're getting a lot less volume that they would as a non-partner restaurant and the experience for the restaurant and the diner is not as good," said Dewitt.
Drivers don't like them much either, according to online forums. They are required to call in the order and pay with a Grubhub card, slowing things down. The diner bears all the cost of delivery for such orders. Still, Dewitt mentioned that they have the same success partnering with non-partner restaurants as they do with restaurants with no Grubhub coverage.
As for the "mixed" stock news, earnings fell as everything else rose. Adjusted earnings sank, the company reported a loss of $27.7 million. Earnings per share came in at negative 5 cents, a miss compared to expectations from Wall Street analysts. Earnings (EBITDA) fell to $26.7 million, a 37 percent year-over-year decrease from $42.1 million in the fourth quarter of 2018.
Per-order profits were also a mixed bag according to new metrics shared by the company. With an overhead of $2.51 for every order, it means the average $4 profit on an independent delivery ends up at $1.49, an increase of $1.28 over last year–which is great. For the increasing number of QSR orders flowing through the system, however, the order profitability is $0, costing Grubhub $2.51 per order with the overhead, according to a breakdown of per-order profitability in a letter to shareholders.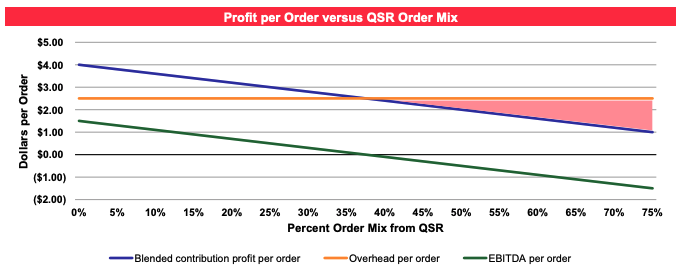 Maloney talked a lot about the new loyalty initiatives, both in the earnings call and shareholder letter.
"We want quadruple the rewards on our platform, we want it to be the place to find all the offers," Maloney added.
He said it would take a few months to roll that out and even longer to bring more robust offers to independent restaurants, but it's proven valuable and may serve as a real lever to help balance the unprofitable QSR orders.
"On QSR, they're just not going to pay for the demand [generation], but they will pay for extra features like loyalty," said Maloney. "This is why we invest a lot in the loyalty and the white label offerings because we'll do that much better than the restaurant brands themselves."
The leadership team also touched on the successful launch of the company's new point of sale, dubbed Ultimate. At the restaurant level, he said an early restaurant saw a 10 percent lift in orders to the restaurant and was able to shed 15 percent in labor costs. It also sets up the "hundreds" of campus outlets and the handful of traditional restaurants for a much better takeout experience, a key $250 billion part of the total addressable market (TAM) for off premises foodservice.
"Half of that is pickup and only we have a solution," said Maloney. "Everyone is fighting for the $150 billion in delivery. But as I've said before, I think is the next supply-side innovation."
He said the POS came right out of the 2018 acquisition of Tapingo, which was focused on digital orders and pickup. Read more about the Ultimate POS here. In the earnings call, Maloney said they would continue that rollout based on geography. He also said it would be open to competitor's digital orders.
"I think it's fine to take orders from competitors because they're transferring all their orders to our infrastructure," said Maloney.
The company guided to first quarter earnings of $350 million to $370 million with EBITDA in the $15 million to $25 million range. According to the company, full-year revenue will hit $1.5 billion on the high end and at least $100 million in EBITDA. Daily average grubs (DAGs) are projected to increase by 6 percent.