Addressing the oven-frustrating topic of reconciling and consolidating complex DSP transactions, Nextbite launched a new product called True Revenue to make that process easier for restaurants. That feature integrates with the DoorDash Reporting API to give restaurants reporting and in-depth analytics that can help brands optimize their menus.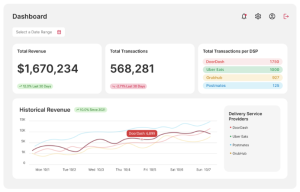 The True Revenue solution collects all of a restaurant's delivery service transactions (such as orders, rebates, and cancellations), reports from multiple DSPs into a standardized format, and then reconciles them together, producing a unified overview financial statement. It provides a streamlined tool for post-sales reporting and accounting from all online DSPs.
Created to work as a standalone product or with Nextbite's Ordermark online ordering/delivery management platform, the True Revenue solution addresses a significant resource drain for restaurants currently forced to process each DSP separately post sales.
"We're excited to launch our financial reporting solution that helps restaurants see an accurate and unified overview of their business," said Paul Allen, co-president of Nextbite. "With True Revenue, restaurants now have full visibility into their off-premises business, and it eliminates the possibility of manual error, delivering a high degree of accuracy for grouping and reconciling large volumes of DSP transactions."
The True Revenue solution is now available for restaurants, and more information is available at https://www.nextbite.io/truerevenue-dd/.