SOCi Inc., a marketing platform for multi-location brands, announced it has raised a total of $120 million to invest in what it calls a revolutionary line of AI marketing products, as well as plans to expand into new markets.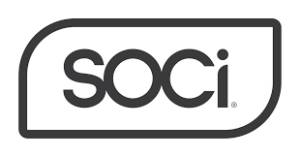 This round was led by JMI Equity, an equity firm focused on investing in enterprise software companies, with participation from Vertical Venture Partners, Blossom Street Ventures, and strategic investor Renew Group Private Limited, owner of 5-hour Energy International and other brands.
Led by a group of neuro and data scientists, SOCi says it will leverage the new investment to change the relationship its customers have with marketing software, including the use of artificial intelligence and machine learning.
SOCi recently launched the first "Genius" product with OpenAI integration into the company's review response management tool, which uses ChatGPT's natural language model to enable instant, intelligent responses to online reviews.
"SOCi's customers have thousands of marketing decisions to make across hundreds or thousands of locations. The opportunity for optimization is incredible, but at such a scale it's stunted by true human capacity issues," said Afif Khoury, CEO and co-founder of SOCi. "Our 'Genius' products are the answer, as they will leverage sophisticated data science models to drive recommendations and automate data-driven decisions across the organization."
In addition to its investment in A.I. technology, SOCi will use the funding to expand into new markets, including manufactured goods. While hundreds of global brands across dozens of verticals such as food & beverage, retail, auto, telecom, grocery, health, fitness and more have already taken advantage of the SOCi platform to more reach local audiences, SOCi has recently developed specific products and features that help brands in consumer products and other manufactured goods categories leverage the marketing assets of their local dealer networks to reach new audiences.
The funding round comes at a time when many companies are struggling to raise capital due to the challenging economic environment.
"Multi-location brands face a unique challenge in their effort to scale marketing initiatives to multiple locations, not to mention optimizing performance for each of them. This is true for traditional brick-and-mortar, as well as for the consumer products being sold in them," said Suken Vakil, general partner at JMI Equity. "SOCi is the category leader in multi-location marketing, and its new line of AI-driven 'Genius' products will only put more space between the company and its competition."