Through partnerships with Chicagoland chefs Fabio Viviani and Rick Tramonto, Foodhaul is a new company that's looking to bring upscale food to underutilized restaurant and hospitality kitchens across the Upper Midwest and beyond with a new spin on the virtual restaurant model.
Foodhaul Founder Bill Stavrou owns a restaurant group in the Windy City and grew up in the business, and he's now using that experience in the industry to highlight his understanding of branding, staffing, distribution and costing for the kitchens he wants to attract to his platform. Rather than searching for restaurants in dire need of extra revenue, he and his team are focused on finding stable kitchens that can meet its selective screening process for food quality, service and hospitality.
Calling his take on virtual restaurants "a little more boutique in nature," Stavrou's plan to transplant big-city chefs into non-top-tier Midwestern markets is intended to avoid competition from large ghost-kitchen providers like Kitchen United and CloudKitchens, while also bringing higher-end offerings to less-urban markets that don't have their own culinary all-stars on delivery apps.
So far, Foodhaul has 25 operating licensees and recently crossed the milestone of $1 million in revenue, which Stavrou said is impressive for a bootstrapped operation that hasn't completed "any significant capital raises." The company has raised $1.25 million from investors, and currently has six virtual restaurants under its wings, with a couple more expected to drop within the next two months.
Brands include Toscana by Fabio Viviani, Smokeheads by Anthony Bosko, Three Kings Pub and Pluck'd Wings by Dirk Flanigan, and Kid Oh's—notably upscale offerings compared to the wings, grilled cheese and fried chicken sandwiches that have become cornerstones of the virtual restaurant landscape.
"We have licensees that are doing a $250,000 a year run rate for a single location, which is pretty unique in the ghost and virtual space, and well in excess of where I believe our competitors are on an average," he said. "From a location and concept standpoint, we've taken a very methodical approach to proving unit economics and really being smart, I believe, about understanding how we can control customer experience better and what best practices there are, who's our ideal fulfillment partner and really taking a much slower approach."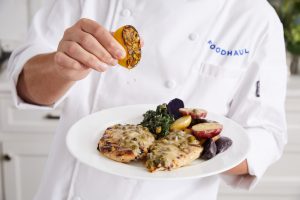 Stavrou sees white space in the VR scene for brands "that have some real heart and soul" and said his broader goal is bringing these concepts to all of the U.S. markets outside of the top 15 cities to "really create access of the consumer to have unique culinary experiences that they otherwise wouldn't have access to."
Adding that delivery and "truly high end" don't typically pair well together, he said a crucial crux of the formula is developing casual virtual concepts, rather than truly high-priced options like some of his partnered chefs have at their brick-and-mortar locations inside Chicago's city limits.
Foodhaul began exploring the virtual restaurant market before the pandemic hit in 2019, and Stavrou said its aim for host kitchens is not cannibalizing their existing dine-in business. The company's ideal hosts are local establishments with good track records in terms of health standards, reputation, available excess capacity, as well as a willingness to demonstrate true ownership of the incoming brands, both for at-home customers and the chefs behind the concepts.
The company's early experience with up-and-running locations in Milwaukee, Chicago and northwest Indiana have shown that the sweet spot of revenue comes when host kitchens pick up at least two of the concepts, which can provide synergies in terms of distribution and choices for delivery customers looking to satisfy multiple desires with one basket.
Breaking down the economics, Foodhaul receives 35 percent of every dollar brought in and provides all marketing, customer acquisition, technology, support, as well as paying for last-mile delivery through third-party providers. On the host kitchen side of the equation, each virtual concept was designed for food and packaging costs to come in at or below 30 percent, leaving approximately 35 percent in net revenues.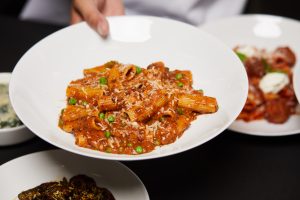 Seeking to avoid the pressures of being an entirely investor-backed entity, he said the company wants to take a slow-and-steady approach to growth so it is not in a perpetual cash-burn mode. Instead, accelerated growth may come through partnerships with regional third-party delivery providers and national hospitality groups, both of which are currently in talks with Foodhaul about possible partnerships.
As the company looks to expand its geographic footprint, Stavrou said cities with populations of 50,000 and up are its primary target, underscoring that "a huge part of our population lives there, number one, and, number two, it really insulates us from the big competition that's going to be out there."
Above any other priority, Stavrou said the company wants to provide something that's good for the restaurant industry, especially existing, sophisticated operators and talented chefs looking to reach new, underserved markets across the country.
"I was born into it, so I am sympathetic to running a bricks-and-mortar restaurant and I think it really plays into every decision we make," Stavrou said. "I want it to be a layer of revenue on top of what they already do, that they can do in a profitable fashion. I don't want to be the next third-party aggregator who everybody in the restaurant industry says is dipping into the pockets of everyone. I truly want it to be revenue they otherwise would never have seen and that it's profitable to do."