By Nancy Weingartner Monroe
While the big players are trying to outrun each other on the delivery treadmill, some smaller companies are offering fun additions to the food on demand category. Plus there's no shortage of unusual nourishment you can get in the mail.
For instance, what liberal wouldn't want a meal engineered by President Obama's former chef, Sam Kass? Kass is no longer withstanding the heat in the kitchen, but rather out providing nutritional guidance for Sprig. Cities receiving the meal kit services are San Francisco, Palo Alto and Chicago.
To further distinguish themselves, meal-kit delivery services are providing choices based on customers' health goals. Fitness Kitchen LA has three plans, "Trim," "Maintain" and Train." Can the options "Gain," "Maintain" or "Refrain" be far behind?
MyTable meals are cooked by a private chef, who then receives the lion's share of the cost of the meal. For people who are concerned with fairness, this seems to be a valid selling point.
In the Twin Cities, Insomnia Cookies delivers cookies during the late hours for people who need a good cookie to dunk in their warm milk once the late, late talk shows are off the air and sleep still eludes them.
Angel Food Bakery in Minneapolis sells a variety of interesting treats, such as the Valentine's Day voodoo donut dolls. The good donut (left, in above picture) comes with a smile and two gumdrop cupid arrows. The bad donut has shards of sugar "glass" in its heart and a cherry filling that when it's disemboweled, looks like ooey, gooey gopher guts. What better tribute to a broken relationship than this?
Other Angelic mailings from the quirky bakery include alphabet donuts, which can spell out any message. "Happy Birthday" and "I love you!" and "It's a girl (or boy)" are the most common, but anything is fair fare. The cost is $28 for 13 letters, plus $2 for every letter thereafter. Double-checking the spelling of your message is also advised on its website, although deleting an extra letter in this case is delicious.
All proceeds from their pink, coconut-sprinkled Pussy Pastries goes to Planned Parenthood. The raised donuts, gluten-free cake donuts and cupcakes look like a cat thanks to its almond ears and chocolate frosting whiskers. We're imagining them best served while wearing a pink Pussy Hat and protesting.
Amazon, like the blog-hog it is, also has some fun food on its site to be delivered:  squid ink sachets for $9.99; pre-filled communion cups for $23.61, increase the number to 500 and add wafers and the cost goes up to $72.04; condiments for your dog's food: Petchup, Muttstard and Mutt-N-Naise (all three for $23.70), southern dogs may prefer Bark B-Q; and Bugapoop tea, 5 tea bags for $12.99, with higher nutrition value than regular tea (it's moth droppings, in case that matters). And then there's Traders Joe's Cookie Butter, a spread made with crushed biscuits that taste like gingerbread and can be spread on bread, or the better way, eaten off a spoon like peanut butter.
And last, but certainly not least, there are just the local food delivery services whose names we like to say, such as Clustertruck, which serves food-truck-style food in the Indianapolis and Bloomington, Indiana, area.
Need we say more?  Probably not.
---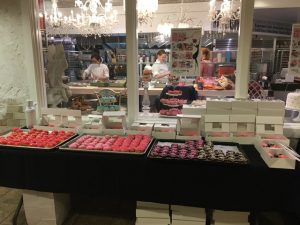 Q&A with a Different Kind of Angel Investor
Angel Food Bakery isn't shipping yet, that's Co-owner/Pastry Chef Katy Gerdes' 2017 project to figure out, but they do deliver all over the Twin Cities. Here's Gerdes' sweet answers to our probing questions:
Funniest thing anyone has spelled out in donuts
I think my favorite thing anyone ever spelled out was for a co-worker who was leaving the company, so they had us make "You are dead 2 us" donuts. Super funny!
How are they packaged for delivery?
We package message donuts in a box that has a "window" on the top so people can see the donuts inside. We also add a dab of buttercream on the bottom of each donut so they stay in order of the message and don't slide around while being transported.
Are cakes, especially wedding cakes, ever mailed or FedEx'd?
We've shipped some small cakes before, but never something as important as a wedding cake. Yikes! Shipping birthday cakes is my to research project this year. It's really tricky to figure out how to make it work since you have to freeze the cakes in order for them to stay intact while being shipped. It's also hard to package them if they have any kind of delicate decoration since you don't want those to be bumped or dented.
What kind of numbers are you doing? And how crazy are holidays, such as the upcoming Easter one?
Holidays can be pretty crazy. Valentine's is our biggest holiday for sure, with National Donut Day (first Friday in June) as the runner up. For Valentine's Day we have thousands of donuts that are pre-ordered (we make all our raised donuts in a heart shape). We had a company this year that ordered 100 jumbo heart donuts to hand out to their employees. On a typical night we have two donut bakers working, but on Valentine's Day we have 12 people working 12+ hour shifts. It's so crazy in the bakery that we even expand our workstations into the hallway outside of the bakery to do the decorating.
Any kind of specialty donuts or cupcakes coming up?
We have a brand new idea we're working on for Mother's Day… but I'm not sure I should share it yet. It involves donuts and collaborating with an amazing floral designer in town. 🙂