In the midst of ongoing renovations, my husband and I celebrated an early Valentine's Day with an all-inclusive, take-and-bake meal from James Beard nominated chef Jamie Malone's Paris Dining Club. The star of the show was clay-baked salmon, alongside foie gras in a jar, a "petite plateau" course with king crab, shrimp, and scallop crudo, and an opera cake from Patisserie 46.
This pick-it-up-yourself meal kit was the superlative at-home dining experience. The packaging was beautiful and exciting, instructions were detailed and approachable, and the delicious multi-course meal even included amusing Valentine's Day cards and a Spotify playlist created by the chef—and it was good!
We poured our first glasses of wine, fired up the music and dove into unboxing the two large packages I picked up from a nondescript warehouse in downtown Minneapolis. Just unboxing it all and admiring the excellent packaging and presentation was its own experience—and one that felt generous for the price.
Once we read what sauces and sides went with what proteins, we fired up the oven and set two saucepans on the stove. Once the baguettes and the endive tart were toasting and the clay-encased salmon was roasting, we brought the beurre rouge (red butter sauce) and pommes purée (French-style mashed potatoes) up to temperature.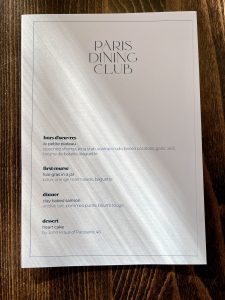 There really wasn't much to the reheating process, and nothing looked like it lost its sparkle after a day spent dwelling inside our fridge. We had a few instances of confusion, trying to decide what the garlic aioli went with or what the agrumato (lemon) oil was for. We decided to do what felt right, and tried some combinations the chef likely didn't intend. Is foie gras on a baguette good with pine honey and bitter orange marmalade? Well, we discovered like brave pioneers, it truly was.
These minor points of confusion could have been avoided with one (and only one) set of instructions, rather than separate pieces of paper—first world problems, for sure.
Pulling the salmon out and breaking it out of its hardened clay shell was the high point of the meal. What emerged looked appealing and smelled lovely. The fish was delicious, as promised by the employees I spoke with at pickup. The braised endive tart was crunchy and substantial, with a little container of fresh endive as a garnish.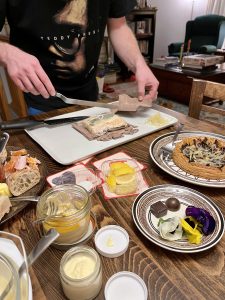 Somehow, we ate almost everything included, with just a few sauces left over for later. As it should, the dessert took us over the edge into gluttony—the raspberry cream of the opera cake was perfect for a Valentine's Day theme. The portions for every course were perfect; not too large or too small.
I'm curious about profit margins with such elaborate packaging, but this meal kit felt fairly priced at $177, after a 20 percent discount as a new customer. Delivery is a $30 up-charge.
The Paris Dining Club offers one-off meal kits like our holiday box, or monthly kits for $80 per person for three courses, with a member gift on the side, along with "exclusive optional add-ons" that are probably rather exciting based on everything we experienced. There's also a winter escape collection for three months to take the edge off the harsh Minnesotan winter.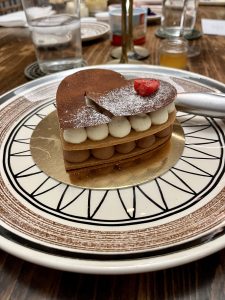 With our wine finished and the dishwasher cleaning up the remains, it was clear such a high-end at-home experience is its own kind of occasion, rather than a direct replacement for dining in. Whether it's V-Day, New Years, Mother's Day or other times when restaurants are crowded and reservations are hard to come by, this is the ideal solution when you want to feel fancy, turn up the music and have some fun, without the research, prep and clean-up that comes with true home cooking.
Back in early 2021, we covered what Malone was cooking up for at-home experiences. Since then, they zeroed in on branding, but have largely held the line on pricing, which is impressive. After this, I'd love to try The Alinea Group To Go next time I'm in Chicago.
This superlative experience doesn't beat what Jamie and company accomplish in person, but this was one of our more memorable meals at home. For two home cooks looking to take it easy on a celebratory occasion, it doesn't get much better than Paris Dining Club.