Delivering regular shipments of fresh, wild-caught fish from Alaskan coast to U.S. consumers is a fundamentally different challenge than restaurant delivery. No matter the complexity, the business that has exploded in popularity since the start of the pandemic as consumers embraced a range of subscription and delivery services for keeping their kitchens stocked.
While Sitka Salmon Shares is the old guard of fish subscriptions, a school of competitors have sprung up in recent years. Even so, the 10-year-old company tripled in size during the early months of COVID-19 and, soon after, doubled in size yet again.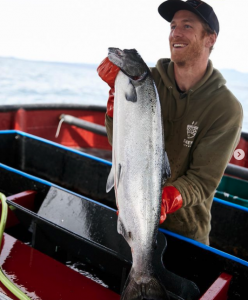 "It wasn't until the year of COVID, 18 or 19 months ago, that everything changed over the course of three months," said Sitka Salmon Shares Chief Technology Officer Joe Barneson, who joined the company in late 2020. "We are still on a trajectory to double again in the next 15 months, and … it doesn't necessarily show signs of slowing down after that."
Frequently advertised on NPR, where the company finds a pool of consumers eager to pay more than $100 for monthly fish deliveries, Sitka's membership offering goes beyond fish to include a newsletter, blog posts, and a range of content including stories from the sea, recipes and on-demand advice from its in-house culinary team. That rich content, the company asserts, is the key to staying above subscriber churn to keep growing as many food-based subscriptions struggle to keep customers beyond the initial trial period.
Sitka Salmon Shares is a model of vertical integration, owning the entire supply chain from fishermen trolling the Alaskan coastline, to the gutting, processing and packaging of wild-caught fish that are only frozen once before being shipped throughout the continental United States.
Much like a CSA program, where at-home consumers pay for regular deliveries from nearby farms, Sitka Salmon Shares calls its business model a CSF, which stands for community supported fishery. Based in Sitka, Alaska, on the Pacific side of Baranof Island south of Juneau, the company has been hugely boosted by changes in consumer behaviors as more customers embrace a range of subscription and delivery services in recent years.
A big part of Sitka's messaging is environmentally harvested fish, which is why its boxes of shrimp, crab, halibut and salmon are delivered by trucks, not airplanes. Then, local home delivery networks in key markets take over. It also partners with UPS to fill in the holes of its complicated, ground-based logistics network. As its subscriber base continues skyrocketing, Sitka Salmon Shares is also opening new distribution centers to ease the challenges presented by growth.

"One man's nightmare is another man's opportunity," Barneson said of scaling up its distribution. "The way we have structured our business is very difficult to scale, that is definitely true, but for us it's not just about profit" being a triple-bottom-line company that's equally concerned with the environment and employees as it is with its profit margin.
Like many corners of the delivery space, Sitka Salmon Shares' growth rate was already accelerating before the pandemic, partially through partnerships with Martha Stewart, Bon Appetit and other big-name affiliates.
"We landed word-of-mouth recommendations at exactly the right time, and then we were doing a lot of social media advertising," he said. "When new prospects suddenly wanted to look for us, we happened to be there in the right place and the right time for them."
Avoiding subscriber 'death curve'
More than any celebrity's endorsement, however, the company's sustaining success is carried on the back of enthusiastic customers who have brought in four or five friends into the company's network through referral programs. The company contracted with Bold Commerce, which provides modular commerce solutions for more than 90,000 merchants, to improve its technology and offer additional flexibility to Sitka's customers.
Bold Commerce co-founder Jay Myers said Sitka is a successful model for other direct-to-consumer food brands to emulate as the category continues expanding.
Myers' Winnipeg, Manitoba-based company specializes in membership programs with particularly complex use cases. With Sitka, that primary challenge is fish needing to be kept within a tight temperature window, as well as the inherent seasonality of oceanic fisheries.
As existing restaurants piloted and found success shipping directly to consumers during the pandemic, along with shipping-only upstarts continuing to spring up, Myers said the subscription economy is transitioning to a new phase where simply offering click-and-subscribe offers with small discounts is no longer enough. In this pandemic-driven era, Myers said finding long-term success beyond a short-term pop will come from bringing in additional, referred users without casting too wide of a net. Keeping on the positive of that ratio avoids what he calls the "subscription death curve."
"You can tell when a company does it wrong," he added about retail subscriptions. "You can almost look at it and say, 'Yeah, there was a board of directors there that said we need to do subscriptions,' so someone slapped on subscriptions on their website … not understanding that, to be a successful subscription company, you have to change from the inside out."
That death curve refers to brands losing more subscribers than they pull in on a monthly basis. If Brand X has 100,000 customers and is losing 10 percent of them every month, that's a costly problem that's hard to overcome over the long term. With its recent growth, Sitka Salmon Shares is far beyond that balance point.
"I always tell brands to look at referred-by-friends, that should be your number one metric, because you can figure out what your viral coefficient is, and that's how many people a customer has to refer to break out of your churn," he said.
Subscribed brand customers have a "different level of commitment," Myers added, saying that building a deep relationship that isn't simply transactional builds a community of enthusiasts who are passionate about the brand, its backstory and its customer service. Crucially, they're presumably also close with similar people who might become equally enthusiastic, especially compared to random price-driven shoppers.
Personal, from a distance
Bold Commerce has helped Sitka Salmon Shares has made several changes to its offering in recent years, including automated billing and allowing customers to sign up for shorter, seasonal subscriptions and the ability for one-time purchases. It has also given its customers the ability to alter their delivery frequencies, "because we're not just trying to squeeze a monthly delivery out of every customer," Barneson added.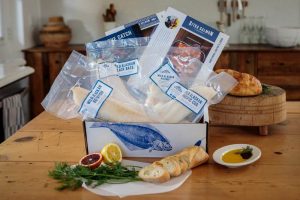 Not unlike the unexpected challenges the ocean can throw at Alaskan fishermen, more recent supply chain and shipping delays have stressed Sitka to maintain its on-time deliveries. This situation has underscored its long-term strategy of owning everything from the supply chain through last-mile delivery whenever possible. That has even extended to producing its own dry ice, which has recently been hard to find and is critical for shipping frozen fish across such a vast continent.
Barneson said the company has explored the possibility of delivering through third-party providers like DoorDash, but stressed that "losing some of that personal touch" means that isn't a mere casual consideration for the brand.
Myers advises clients to focus on owning the customers, rather than giving those customer contacts and relationship management duties to an outside provider. Whether that was big-box stores disaggregating retailers from product manufacturers a generation ago or direct delivery providers doing the same today, he said "these delivery networks, a lot of them are actually getting back between the customer and the brand, and that doesn't follow the storyline and narrative going [directly] to the consumer—it's not going to last."
Right now, it's a matter of survival for a lot of brands and they're saying yes to the devil … because they need to get deliveries out, they need to solve for the now," Myers added. "I think that will last for a little bit, but I don't think it will last forever because it goes against what's happening right now with brands going directly to consumers because that's all the benefit is when they own that relationship—whenever I'm looking at things like that, I get right down to who owns the customer and I can tell you instantly if this is going to be long term."