If you believe the hype, virtual restaurants are a savior for existing restaurants struggling to turn a profit or looking to monetize excess kitchen capacity. For the countless operators now buying into virtual concepts from existing restaurant players, well-capitalized technology brands or celebrity-backed newcomers—often fueled by private equity—2021 is the year the industry will learn whether the promises of almost no hard costs and sweet, incremental revenue from virtual restaurants will pan out or fall flat. 
Diving deeper than the sales pitches for a true picture of the economics of virtual concepts now flooding the U.S. market, we spoke to a number of virtual restaurant providers and three very different operators who are traveling into this newly discovered, still mysterious corner of the restaurant industry. 
The expanding virtual restaurant galaxy
Before getting into the details, it's worth zooming out for the full picture of participants in this virtual restaurant land rush.
"Host kitchen" upstart Franklin Junction epitomizes the foundational concept of virtual restaurants designed for large-format, casual-dining restaurants that were bleeding traffic before the pandemic. Created by NRD Capital, parent company of Ruby Tuesday and Frisch's Big Boy, Franklin Junction bills itself as a matchmaker between under-capacity restaurants and growth-minded brands looking to expand into new geographic areas. 
The basic premise is that a Ruby Tuesday, let's say, most likely has excess line capacity that could easily accommodate totally different cuisine types, such as Wow Bao and Nathan's Famous Hot Dogs, two brands that have tested the waters with Franklin Junction, with little impact on in-store operations. 
Like most virtual-restaurant players, Franklin Junction stresses that the only significant startup costs are food, since the existing restaurant is already paying for labor, utilities, rent, etc.—so the first sales of a brand coming into a host kitchen are purely profit. 
While this sales pitch is common across this nascent industry, and NRD Capital's team is composed of seasoned restaurant veterans, the all-gravy-no-bone messaging recalls the vibes employed by the timeshare industry generally viewed as too good to be true.
Further down the spectrum are companies exclusively creating their own virtual concepts for existing restaurants to deploy, whether that's in their existing kitchens or delivery-only, ghost-kitchen facilities. 
Nextbite, a subsidiary of delivery integration software brand Ordermark, is the most visible virtual provider in this vein—and it recently attracted a $120 million war chest from SoftBank. As a pioneer in the category, Nextbite offers delivery-only brands like Grilled Cheese Society, CraveBurger, Firebelly Wings and HotBox by Wiz, a blazer-friendly partnership with popular rapper Wiz Khalifa. 
"The restaurant industry is in the midst of the e-commerce phase, where restaurants must get creative by embracing technology and new sources of revenue generation to reach customers outside of their four walls," said Ordermark CEO Alex Canter. "Since day one, our mission has been to help restaurants adapt to changes in consumer behavior and, right now, there's nothing that's been more disruptive to a restaurant than what's happening right now."
Part of Nextbite's messaging is that, due to being part of Ordermark, it can pair its virtual concepts with the technology required to integrate additional brands into existing operations with a single dashboard.
Other players include Virtual Dining Concepts, started by Robert Earl, who had a long career in various parts of the hospitality industry. VDC quickly made a splash in the space with celebrity-backed ventures, including MrBeast Burger, named for one of the most popular YouTube personalities; Mariah's Cookies; Tyga Bites; Pauly D's Italian Subs; and Mario's Tortas Lopez—in partnership with Grubhub. 
"I am one-stop shopping. You can choose the brands subject to your [existing] equipment and they are A-to-Z complete where you are only buying your food and packaging from our nominated suppliers, so that the quality is assured," Earl said. "Sadly, most of us have spare capacity and I'm saying, 'Have I got some brands for you.'" 
The Local Culinary, a virtual restaurant exporter with a franchised business model, was launched by Alp Franko, a restaurateur with private equity experience who also operated 25 different restaurant brands at his peak. Originally looking to set up a ghost kitchen to explore what he called "the future of hospitality," Franko started The Local Culinary in 2019 and has scaled up to approximately 55 virtual concepts on offer. 
So far, the company has nine franchisees and counting, with half of its inquiries coming from existing restaurant operators. As Franko put it, it's for "people who want to invest in something new, something oriented for millennials." 
"When I had the idea to spread The Local Culinary to other kitchens, it was in support of how can I help other restaurant owners," he added. "I said, 'OK, guys, let's do a franchise, because at the end of the day we are bringing them knowledge and training, we have our own model, so that's a franchise.'"
Yet another permutation comes from ClusterTruck, which calls itself "America's first delivery-only kitchen." Compared to other ghost kitchen operators like Kitchen United or CloudKitchens, which bring outside restaurant concepts into their multi-tenant facilities, ClusterTruck's brands are all created by its own internal team. 
Billed as a "virtual food truck" cooking multiple cuisine types out of one central kitchen—where meals can be paid together or on separate tickets—ClusterTruck has expanded its offerings to include more than 100 different menu items ranging from breakfast and loaded tater tots to arroz con pollo and dry rub ribs. 
Founded in Indianapolis in 2015 by former tech executive Chris Baggott, ClusterTruck recently inked a deal to bring its facilities into Kroger grocery stores, one of many clear indicators that the real estate side of virtual restaurants has potential beyond juicing the economics of traditional restaurants. 
Commercial development firms are also testing the waters, which makes sense given the huge stakes that mall operators, property owners and commercial brokerages have in the restaurant industry. 
The most visible real estate firm getting into virtual kitchens is SBE Entertainment, a global operator of hotels, restaurants and nightclubs. Through its new C3 subsidiary, it's bringing new food halls and ghost kitchens to high-profile real estate, including malls through a partnership with Simon Property Group. 
C3 is especially interesting, as several large-scale urban development projects like Manhattan West in New York City were designed with huge food and beverage spaces in the days before COVID. Now, C3 and its partners are helping refocus such spaces with a delivery component that's much more viable in a world actively trying to avoid crowded spaces. 
Of course, the elephants in the dining room are the third-party delivery brands themselves, which have tested the virtual waters, such as Grubhub partnering with Lettuce Entertain You, Bon Appétit and Barilla on delivery-only concepts.
Many industry watchers predict that the delivery providers themselves will get into the business of cooking food and directly competing with restaurants. It's an idea that could be rolled out quickly thanks to the scads of data these brands have collected about consumer ordering preferences. 
Going beyond the sales pitches
Virtual restaurant marketing copy tends to cover familiar ground: If you have the necessary equipment and excess kitchen capacity, all you need is to order the food and learn the recipes to get incremental sales rolling in. For a more detailed look, we spoke with a number of virtual-concept founders on the potential profits and costs once up and running. 
Aziz Hashim, managing partner of NRD Capital and the founder of Franklin Junction, says the best-case scenario for a host kitchen is creating enough volume with incoming brands that hiring additional staff becomes necessary. 
"You have to buy a little bit of inventory, but that's it," Hashim said of its projected startup cost. "The moment you have to add additional employees to support your Franklin Junction concepts is a hallelujah moment, that means you're doing so much business that you actually have to add an employee—that is nirvana."
Adding multiple delivery-only brands into an existing casual restaurant could conservatively add 10 to 20 percent in additional sales, which Franklin Junction estimates could bring in an extra $60,000 into an existing restaurant. Hashim said it's conceivable to add another $500,000 in additional sales in an ideal situation, which "at a 40 percent flow-through" could mean a $200,000 bump in profit. 
Of course, such glowing projections should be viewed very carefully at this point, as it's likely that no virtual restaurant operators are far enough along to be bringing in those kinds of numbers. 
The sales from this additional concept in the host kitchen are subject to the same set of fees that anyone would pay in a delivery setting, "because you're going to pay your third-party delivery provider, and you're going to pay the royalty to whoever's brand you're selling, because they deserve that," Hashim added. "You're using their name and their recipes, and a small Franklin Junction service fee for being the matchmaker—and not only the matchmaker, but providing business intelligence on an ongoing basis about what's working and what's not working."
With a celebrity-driven approach, Virtual Dining Concepts' focus is on "creative ways to give restaurants a third part of their business profile." The Florida-based company offers its customers the gloss of celebrity- and celebrity chef-backed brands, along with the marketing, on-boarding, training videos, social media and ongoing support for independent restaurants to get up and running with any combination of its virtual brands. 
Stressing that its model is a distribution and licensing agreement and not a franchise, Earl said his biggest call to action with potential clients is, "I don't want you to incur any extra labor, that's why there's a healthy bottom line."
The company declined to disclose the commission it charges clients, but conversations with VDC and other virtual operators suggests commissions typically range from 5 to 40 percent of total sales, give or take, with additional fees for marketing in some cases.
Earl said his goal is for restaurants to pick up two or three of VDC's concepts for optimal financial results. He added that his company also provides ongoing support beyond the "beautiful packaging," training materials, limited-time offers and social media promotions. It also staffs a helpline clients can call if they're having any issues. 
"I can assist you to add $150,000 in sales during the year, which is $3,000 a week … $400 per day, and I can give you two or three brands that give you that incremental [revenue], which is six orders of each of the three brands with a basket size of $25," he said. "I believe I can do that for you, and I have, honestly, as well as enhancing myself, I have changed the destiny of that small restaurant because they will throw off a third of that to their bottom line."
At The Local Culinary, the first franchised virtual restaurant provider, Franko said his goal is reaching 1,000 locations within the U.S. in the near future, even though he added that "the most important thing today is to grow slowly and steadily."
After an initial $50,000 franchise fee, The Local Culinary charges a 6 percent royalty fee on sales, plus an additional 1 percent fee for marketing services. Franko said his company is "the cheapest in the market" and said that his platform is less expensive than other virtual providers in the space, specifically calling out Nextbite. 
"I want you to make money, so we are focusing with you to be visible, to be profitable and find you the right product at the right price for the market," he said, noting that he is avoiding the celebrity connection.
"I'm not the guy believing a star chef or any name can give more importance to the food quality and to the right price to the right location. Everything is 100 percent kosher and transparent. You get directly paid by the third-party delivery [provider], so we are just at the end, a franchise supporting you, but you get paid by Uber, Postmates, Grubhub and everything."
Virtual restaurant pioneers
For a look at virtual restaurants already up and running, we spoke with three diverse operators: first-time franchisees, Robert and Marylisa Carrier; high-end restaurateur Alistair Levine; and fast-growing franchisor, André Vener of Dog Haus, who has also created his own virtual brands. 
The new enthusiasts: Robert and Marylisa Carrier
Reno, Nevada, Burgerim franchisees and first-time restaurant operators, Robert and Marylisa Carrier, credit Virtual Dining Concepts and the MrBeast Burger brand with saving their family business that buckled during the first months of the pandemic. 
After opening their Burgerim location in October 2019, they quickly found themselves in dire financial straits that required emptying their savings, selling two personal vehicles and each working more than 60 hours a week to keep their unit of the beleaguered burger franchise afloat as the majority of that system experienced turmoil.
They later exited the Burgerim system but continued in-store operations with a slightly tweaked menu. The Carriers discovered the MrBeast virtual brand before they had ever heard of MrBeast himself—a YouTube sensation with more than 52 million subscribers—when they were two to three weeks away from permanently closing their doors. 
"It literally saved us," said Robert Carrier. "This is bringing us at least twice as much [volume] as the store is doing … and we didn't want to close down by any means." 
After cutting hours and laying off much of their staff, the Carriers have since recalled staff and quickly trained them to handle both MrBeast Burgers and Mariah's Cookies, VDC's cookie-focused brand with Mariah Carey's likeness. With so much volume coming from their virtual brands, they are in the early stages of expanding their kitchen. It's a turnaround the couple attributes to MrBeast and his seemingly infinite cohort of millennial and Gen Z followers. 
"They've taken the time to really research the people they're bringing on and the concepts that they're adapting, so we're going to stick with this and, at some point, we've talked about just opening a virtual dining restaurant—no storefront—because that would pretty much eliminate a lot of labor," Carrier said. 
The Carriers expected labor costs to go up more than they have. Before bringing in virtual brands, labor costs hovered around 20 percent of revenue. Now, that number is at 33, but Carrier said their profit margin is higher through virtual orders, since "if you base it off of your hard costs that are already covered … a breakeven point there is all you really need."
"It's a little grubby burger and that's what a burger is supposed to be," Carrier said of the MrBeast product. "The only one I don't understand is the MrBeast fries, because it has a bunch of stuff on them … but whoever wants to eat it, more power to them."
VDC covers all of their marketing, so "we haven't had to spend a dime," and their delivery commission through DoorDash for the virtual concepts is 30 percent, which is "the same thing as using DoorDash or Grubhub for our own indoor stuff."
Because of the simplicity of the MrBeast Burgers and Mariah's Cookies, the couple is considering further changes to decrease their reliance on the in-store, fast-casual restaurant in favor of additional virtual restaurant brands that come with fewer costs and operational hassles. 
The cautious integrator: Alistair Levine
Alistair Levine is part owner of a group of restaurants along the West Coast, including the upscale Left Bank Brassierie and LB Steak in the Bay Area. He's also the managing partner of Vine Solutions, a consulting firm focused on the hospitality industry. He has approached the rise of ghost kitchens and virtual restaurants with an academic perspective. 
When COVID hit, his restaurant group started "dabbling our toes into delivery" and said he wasn't expecting to make money doing it, but said "we were starting to try and learn how and what that might look like" for his stable of restaurants, which also includes Mediterranean and farm-to-table concepts. 
Part of that experimentation included creating a mac-and-cheese virtual brand, which was chosen for its appealing food costs. Getting that brand up and running only cost $2,500, including branding. 
Seeing positive initial traction from delivery customers, Levine's team expanded its delivery-only offerings to include a sangria and taco shop and a Mediterranean kabobery. With goals of offering five to six different concepts at each of its existing brick-and-mortar restaurants, Levine's team quickly gravitated toward the idea of a virtual food hall where customers can order from multiple concepts and have it fulfilled in a single order. 
Adding that there's no easy way to handle that through most large third-party delivery brands, he likes the idea of maintaining control over their platform to ensure they collect customer data, which is especially valuable for remarketing to previous guests. 
Point-of-sale integration has also been a stumbling block for operators of multiple virtual brands. Levine is about to open inside of a CloudKitchen facility "to see if that integration works better and makes everything a little more seamless."
The jury is still out on whether his virtual brands are strong enough to stand on their own inside a ghost kitchen, which entail their own expenses beyond rent. Levine explained he sees so many issues with the accounting side of virtual concepts, along with additional costs that don't tend to show up in marketing materials. 
"How do you know what your true food costs are for a virtual brand?" he asked. "It's accepting no deliveries, its fulfillment costs are all rolled into your other concepts, [so] are you really making money? Are you not? Hard to say, and this is one of the things I'm grappling with [in] my own restaurants."
Levine said he's curious what happens in restaurant groups like his where there are different investors attached to each brick-and-mortar concept. He speculated that bringing virtual brands to multiple brick-and-mortar locations would only further complicate arrangements for multi-concept restaurant groups. 
Underscoring his desire to maintain control, Levine believes DoorDash, Grubhub and Uber Eats will inevitably get into virtual restaurants as part of their push toward profitability. 
"If somebody's going to take all of your recipes and go fulfill it for you, that's a huge red flag for me, because at some point they're not going to need you anymore," he added. "If you're going to let someone else fulfill and do all of it for you, just expect that within three years they're going to be doing it themselves, you're not going to be in the picture."
The brand protector: André Vener
Dog Haus, a fast-growing, fast-casual gourmet hot dog, burger and fried chicken sandwich brand, finds itself at the center of this still-swirling sea change. 
After launching its Absolute Brands platform of eight virtual restaurant concepts in early 2020, Dog Haus founding partner, André Vener, said the California-based company is rolling out additional virtual brands to each of its 40 brick-and-mortar Dog Hauses, effectively turning them into ghost kitchens. Vener said existing franchisees have seen positive initial results and are "doubling down and buying more territory, so we're feeling lucky." 
To capitalize on the fast rise of ghost kitchens and virtual restaurants—which Vener said both are unequivocal hits in the marketplace—Dog Haus experimented with different new-age formats, but thus far has elected to maintain tight control at the expense of a faster rollout or turning over operations and recipes to third-party operators. 
"We're not ready to give up our brand and the quality to everybody," Vener said. "For the same reasons Shake Shack is not going to do it and Chipotle is not going to do it—we just don't feel comfortable having our brand and our quality of service be out there at the moment." 
Compared to national ghost kitchen providers, where certain suppliers might be part of the contract or one type of French fry is required to be used across the multi-brand facility, Vener said giving up that control and then sharing the revenue with outsiders is leading the company to continue its internal-only approach—at least for now. 
Vener expressed concerns about the economics of companies that are selling virtual concepts to existing restaurant operators, noting that his Dog Haus franchisees currently have a 15 percent profit margin, meaning there isn't a lot of wiggle room to share profits with outside providers. 
"When these virtual brands say we take a 40 percent cut, the food is 30 percent, that's 70. The other 30 is your profit, it's like, what are you talking about the other 30 percent?" Vener asked. "If you're giving them a 40 percent commission or a 20 percent commission … you still have utilities, you have janitorial, you still have everything going on, so I don't get that, if you're making a 15 percent profit and now you have to cut somebody a 30 percent check. How is that possible?"
Asked about virtual restaurant providers that say all hard costs are already being paid by brick-and-mortar restaurants, Vener said that mindset is inaccurate. Many expenses like rent, insurance and worker's comp can be based on total sales, meaning that many unexpected costs could go higher with additional delivery-only brands brought into an operation. That also doesn't take into account training a staff to handle new products.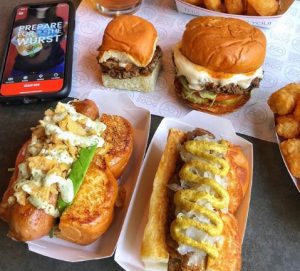 "Here's a way to get money up front or here's a way not to front anything, buy the food and just sell it, mark it up, but it doesn't quite work that way," he added. "At the end, it's going to catch up to you. You're going to get the free product, you're going to get the 21-day terms and you're going to get revenue and feel like it's great, and about three months later you're going to realize this isn't adding up." 
Vener said restaurant operators kicking the tires on virtual options need to "treat it like a real business," conduct a proper pro forma on the economics, examine where distribution would be coming from and whether that would require new suppliers. They also need to try out the product and its packaging to make sure the food travels well and would retain customers after that first curious order. 
"It's a restaurant, so the food has to be good and service equals warm food in nice packaging to their doorstep on time—if those two things don't work, it's not good," Vener said. "At least try it, because everybody can come up with a cool name, a funny name, get some awesome food porn photography, anybody can sell somebody the dream to open up a virtual restaurant, but the reality is they have to try the food and have to be like, 'wow, this is good.'"
Supersonic growth continues onward
Plenty of existing restaurant operators have understandable concerns about the supersonic growth of virtual restaurants in the industry, but it's likely this land rush is far from over as more players signal their interest in this expanding universe. 
While virtual restaurants shift from trendy to mainstream, the biggest questions remain unanswered about the impacts this new supply will have on a hollowed-out restaurant industry and whether consumers will care what entity is behind their favorite new delivery concept, and also whether the rise of virtual restaurants will save—rather than sink—struggling operators grappling for a lifeline. 
For whatever it's worth, it seems the most likely result is this latest industry disruptor will create winners and losers on both sides of the fence. If that "both/and" mindset pans out, restaurant operators should be extremely careful in their due diligence before signing on the dotted line to go all in on virtual brands. 
From his perch as the CEO of the most visible ghost kitchen operator, Kitchen United, Michael Montagano suggested that Dog Haus' cautious approach appears to be the best way forward.
"Existing restaurant brands creating and developing their own virtual brands off of their same menu stack, the same mature supply chain that can be fulfilled in an operationally efficient way on a kitchen line" tends to work the best in his experience, Montagano said. "To be seen is whether that will be a long-term sustainable part of their business model when dining rooms become full again and capacity becomes more of an issue and operators have a choice of making something that is their passion and they love or something that they adopted in order to help make the business viable during a challenging time."