Ghost kitchens don't exactly conjure up the sexy, flashy image of the best restaurants in the world. These multi-tenant, delivery-focused spaces are often built in non-desirable real estate, with the priority on access for delivery drivers and affordable rent to make the numbers work for tenants looking to profit with high-volume delivery. That model is being flipped on its head by SBE Entertainment Group, the Los Angeles-based global operator of hotels, restaurants and nightclubs.
SBE's new C3 subsidiary is branded as a cutting-edge food and beverage platform that's bringing new food halls and ghost kitchens to high-profile real estate, while also repurposing what it calls "second-generation" restaurants that literally need a new lease on life, including malls through a partnership with Simon Property Group.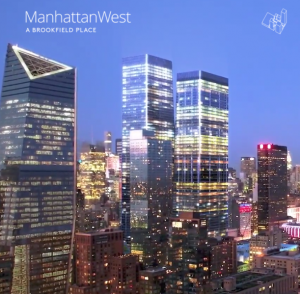 One of its highest-profile projects is still under construction in the towering Manhattan West development adjacent to Hudson Yards on the west side of Chelsea. Encompassing more than 5.4 million square feet in a massive, shimmering blue skyscraper with gracefully rounded corners, Manhattan West is a mixed-use project by Brookfield Properties, which is also a partner in C3's foody project.
It will include a 40,000 square-foot food hall with eight quick-service brands created by the C3 team and a basement-level ghost kitchen with no customer dining spaces. The enormous public space within the office tower will also include a full-service restaurant by 3-star Michelin chef Dani García, a full-service katsuya restaurant with a 6,000 square-foot terrace and a caviar-and-champagne concept called 12 Chair with—you guessed it—only 12 chairs for privately exclusive gatherings.
To date, it's the swankiest application of a delivery-focused food hall to date, and it is moving into the hottest part of New York City during a time of great uncertainty about large-scale public dining and city life in general, but nobody's doubting the partnership's formula of building a massive public-facing eatery that's bankrolled by off-premises sales going out the back door.
Bradford Reynolds is C3's chief operating officer, and his Beverly Hills-based team is moving aggressively to be a first mover in both the infrastructure and technology part of its global food hall and ghost kitchen projects. At the same time, the company is working with celebrity chefs to design restaurants and delivery concepts that run the gamut from quick-service restaurants in a mall setting all the way up to exceptionally high-end restaurants—all designed with delivery in mind.
Reynolds, formerly Smashburger's CFO, is leading an impressive roster of long-term project partners through a three-year plan that happens to coincide with across-the-board uncertainty and anxiety about the future of dining out. Delivery is a foundational part of the equation, which is intended to add significant volume to mega projects like Manhattan West all the way down to repurposed malls and other formerly high-traffic areas where the C3 team sees opportunities to bring convenient food to new places across the globe.
After Manhattan West is off the ground, with the first portion opening before November and the full-service restaurants opening next spring, the C3 team is gearing up for a second food hall in Atlanta's upscale Buckhead district.
"Everything we're doing is about repurposing, reutilizing and, in most cases, better utilization of existing kitchen infrastructure for optimization of space for real estate developers that are either looking for an elevated food hall experience or better utilization of existing restaurants and kitchens," Reynolds said. "What we're doing is re-looking at everything that exists in a traditional restaurant format and throwing the traditional playbook out the window."
Thinking lower scale than C3's initial mega projects, he added that a major part of the plan is developing in-house restaurant concepts that can work all the way down to an 800-square-foot kitchen that's pumping out food from as many as eight different brands and able to bring people multiple cuisine types from one single delivery drop.
Because COVID is having such a deleterious impact on restaurants, especially those in especially high-traffic spots, C3 is also looking at what it calls "second-gen" restaurant spaces where its team sees ways to bring multiple brands into a shuttered or underperforming restaurant space. That approach will factor hugely in its work with Simon, which will include the redevelopment of many malls and large-format shopping centers, many of which are bringing in hotels, office space and residences to formerly retail-only spaces.
"Whether that's hotels, multi-unit residential, student housing on college campuses, we're looking at all these opportunities and partnering with some of the biggest names in the game to provide a better solution where you don't have to just have a single-use tenant from a restaurant perspective," Reynolds said. "You can have an operator like us in there and we can have, basically within 45 days of handing us the keys, four to eight brands operating out of one kitchen and serving high quality stuff—it really serves as an amenity to the immediate trade area and to whatever is upstairs or next door."
Because SBE Entertainment also develops and operates hotels and nightclubs, it's easy to picture countless cases where food halls, ghost kitchens or any combination between the two new-age formats can present a modern solution to turn around underperforming properties as more of the global restaurant market shifts to off-premises formats.
Calling its collective approach "the ultimate verticalized platform with the food component being the core centerpiece," C3's future projects will include redeveloping full-service or fast-casual restaurants in a "one brand in the front and six-plus brands out the back" format designed to make it as easy as possible for delivery drivers that will help such projects pencil out. Reynolds said the company is working closely with Brookfield and Simon, but also with mom-and-pop-style landlords looking to rejuvenate their own properties.
Rather than solely relying on third-party delivery providers like Uber Eats and DoorDash, C3 is exploring its own delivery operation, which the team views as an important part of its internal economic forecasts. Like many restaurants increasing delivery and loyalty efforts, the company will have a major focus on driving its customers into its proprietary app and web-based ordering platform.
To meet such ambitious goals, the company is currently recruiting 1,000 employees with a goal of opening more than 100 ghost kitchen facilities by the end of 2020, underscoring the future of food's import on a now-struggling U.S. economy.
As to whether building these facilities will attract the diners required, be they at home or in person, Reynolds said his team "obviously" has the perspective that the world will get back to normal, and that people will always want to travel, socialize and hang out in person.
"There's a lot of people that are doing pieces and parts of the total equation, but there really aren't any operators … that are owning the IP building the brand switch a strong culinary background that have the relationships we do with world-renowned chefs and are also the operator," he said. "We look at ourselves as really the only full-service solution that's out there right now, and certainly the only company that is trying to not just be the largest and fastest growing, but have the most optionality within our restaurant ecosystem."