Ghost Financial CEO John Meyer predicts we'll soon reach a point where it will be more economical for the vast majority of Americans to order delivery for every meal of the day—largely due to the innovation coming from ghost kitchens and automation.
While he has financial reasons for optimism as the CEO of a new company providing financing for ghost kitchens and other restaurant ventures, the multi-time startup founder confidently predicts ghost kitchens and virtual restaurants will soon be a trillion-dollar industry. The way he explains it, if Uber and CloudKitchens founder Travis Kalanick is leading the way, he'll enthusiastically follow close behind.

Earlier in 2022, Ghost Financial emerged from "stealth mode" after completing a $2.5 million pre-seed funding round. As the name suggests, the Austin, Texas-based company provides loans and business services for ghost kitchen restaurant operators, as well as ghost kitchen providers. It has since widened its focus to include foodservice businesses of all kinds, including food truck operators.
Meyer's premise is simple: traditional lenders don't understand the restaurant business, especially the newer worlds of delivery and ghost kitchens populated with takeout- and delivery-only restaurants. The company is primarily focused on mom-and-pop operators that have a successful ghost kitchen operation and are looking to scale up.
While he's a multi-time technology entrepreneur who created one of the first iPhone flashlight apps among other resumé bullet points, Meyer knows what he speaks of, having created his own virtual restaurant that he operated within a ghost kitchen in his home market of Austin. That experience, and unsuccessfully trying to get a loan from a traditional bank, cemented his idea that the on-demand side of the restaurant industry needed a financial partner that understands nuanced underwriting metrics like hourly sales and customer ratings on the big delivery platforms.
"Legacy banking not only doesn't know the space," Meyer said. "When we took a deeper look into why when we talked to hundreds of restaurant ghost kitchen operators, they feel completely ignored by banks…[and] they don't have the technology nor the data to properly offer either credit or loan financing to not only the ghost kitchen space, but it turns out, the whole restaurant sector."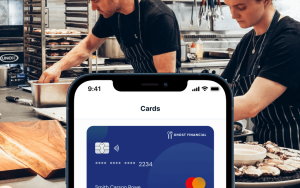 Since coming out of the shadows in the wake of its fundraising round, Ghost Financial has received an intense amount of demand from "nationally scaled" ghost kitchen restaurant operators, but also those on the real estate and construction side of ghost kitchens, serving as their financing provider to expand their multi-tenant kitchens or build new locations.
In July, the company announced a partnership with Cruising Kitchens, a mobile ghost kitchen builder and food truck fabricator based in Texas, which Ghost Financial hopes is a sign of things to come as it seeks to work with additional ghost and mobile kitchen providers.
In addition to providing expansion financing, Ghost Financial also provides incentives like cash-back credit cards to fund inventory expenses, which it claims can result in a nearly 10 percent boost in profit margins for growing foodservice operations.
Addressing the failure rate of independent operators in ghost kitchen settings, Meyer believes that can be improved through better education. To that end, his company has rolled out GhostU, an online, video-based training program operators can purchase for $1,000—but are currently discounted to $250. The coursework provides step-by-step instruction for ghost kitchen operators with a focus on reaching profitability in 60 days, including marketing techniques and negotiating skills.
As more restaurant operators unlock the keys to successful ghost kitchen businesses, along with the rise of kitchen automation, Meyer believes the price premium of delivery will come down, eventually reaching parity with cooking grocery store foods at home.
"For 75 percent of Americans, at a minimum, it will be cost effective to order food for every meal of the day instead of going to the grocery store and cooking," he said. "There's an inherent consumer need for way more variety of delivery food options, so that creates a massive opportunity for both national brands and, most certainly and especially, even more than national brands—what we call average foodies with a dream."
Reaching that goal, he added, will require many more ghost kitchen facilities. Meyer and his team say they're hearing from multiple parties that the available supply of ghost kitchens is no longer meeting the demand that exists in the market.
The CEO added that he's open to working with chain restaurants, but said his priority remains independent, mom-and-pop-style operators that want to use delivery-only venues as a way to build their businesses.
"I'm building this for myself and my peers, so we're not out there to nickel and dime folks," he said. "We're there to solve problems and create solutions for issues I'm literally facing as a ghost kitchen operator."