SoftBank, the Japanese private equity firm that has been a major backer of DoorDash and Uber, announced a $120-million funding round for L.A.-based Ordermark to help the online order management provider and virtual restaurant operator grow and expand its offerings.
"2020 has been a tough year for restaurants and that's why we're focused on providing products and services to help keep their doors open," said Ordermark CEO and Co-founder Alex Canter.
"With 92 percent of restaurant traffic now off-premises, this funding gives us the opportunity to provide more restaurants with innovative ways to reach more consumers. The restaurant industry is in the midst of the e-commerce phase, where restaurants must get creative by embracing technology and new sources of revenue generation to reach customers outside of their four walls."
Ordermark's online order-management technology is used by thousands of independent and chain restaurants nationwide. It consolidates mobile orders across online-ordering services and sends them to a single printer—enabling what the company calls omni-channel ordering and delivery.
"We believe Ordermark's leading technology platform and innovative virtual restaurant concepts are transforming the restaurant industry," said Jeff Housenbold, managing partner at SoftBank Investment Advisers. "Alex and the Ordermark team have a deep understanding of the challenges that independent restaurants face. We are excited to support their mission to help independent restaurants optimize online ordering and generate incremental revenue from under-utilized kitchens."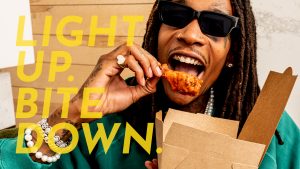 Ordermark also operates Nextbite, one of the earliest pioneers in the virtual restaurant space. With Nextbite, qualifying restaurants can offer popular delivery-only brands, including HotBox by Wiz, a partnership with Wiz Khalifa, out of their existing restaurant space.
The rise of ghost kitchens and virtual restaurants, often referred to as the third wave of food delivery, have paved the way for a larger addressable market for online food delivery. Virtual brands empower independent restaurants to increase their revenue and profitability by offering virtual-only menus through online delivery channels.
Since the start of COVID-19, Nextbite has launched 15 brands and has added more than 1,000 delivery-only restaurants nationwide.
This latest nine-figure investment underscores that investment money continues to flow for delivery- and takeout-oriented concepts and also reaffirms SoftBank's ongoing interest in the space, while giving Ordermark a massive war chest as it continues to diversify its product offerings.