As the founder of Ordermark and its Nextbite virtual restaurant platform, Alex Canter has become one of the biggest names in the delivery space. Now that SoftBank has invested $120 million in his vision, Canter's stature is expanding on expectations that one of its delivery-only concepts will perhaps become the next Domino's Pizza—no pressure.
While that's almost an impossibly lofty goal, as Domino's is a $14-billion global giant with a huge R&D budget, Canter delved into the details of his Ordermark growth plans, why he's not spinning off Nextbite, whether an IPO is in the offing and how virtual restaurants can be a boon to restaurant operators, rather than yet another investment-fueled competitor.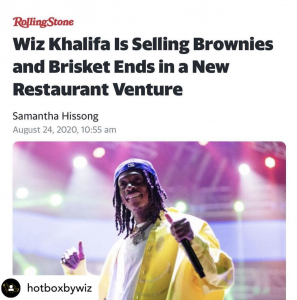 With critics, competitors and restaurant analysts watching, Canter is doubling down on both business models while his family's Canter's Deli in Los Angeles continues delivery and takeout operations inside a closed dining room. With Ordermark now making headlines for its nine-figure haul, the stakes have never been higher.
"This investment allows us to go bigger, faster and help a wider net of restaurants to adapt and survive what's happening right now," Canter said of the investment. "Since Day One, our mission has been to help restaurants adapt to changes in consumer behavior and, right now, there's nothing that's been more disruptive to a restaurant than what's happening right now."
In last week's Food On Demand story about the Ordermark-SoftBank announcement, Jeff Housenbold, managing partner at SoftBank Investment Advisors, said "Ordermark's leading technology platform and innovative virtual restaurant concepts are transforming the restaurant industry."
Asked if Canter had plans to spin off Nextbite into its own separate entity, he pivoted by saying the company "would not be able to do what we're doing with Nextbite without the technology of Ordermark that brings all the orders together in a manageable way," and that keeping the two companies combined remains the going-forward plan.
With his family's deli operation having laid off the bulk of its back-of-the-house staff, the not-quite-30-year-old CEO acknowledges this remains a very dark time for the restaurant industry "and I see it happening everywhere."
As news of a possible COVID-19 vaccine has boosted global stock markets, Canter said that for independent restaurants to survive this moment, creativity will be the key, which includes bringing in virtual restaurants to sop up excess kitchen capacity that's especially prevalent in the casual-dining side of the industry and restaurants that previously relied on catering volume.
"More and more restaurants are realizing this is not going to be turning around any time soon, and that's making it even more necessary to start taking really calculated risks, taking chances, experimenting and doing things you would not normally do or consider," he added.
Taking his virtual restaurant predictions a step further, Canter said "the next McDonald's or Domino's Pizza could very well be a virtual-only restaurant that only exists online" in the mold of retail concepts like Allbirds and Warby Parker that originally started as online-only ventures. He was clear that one of his virtual concepts like Red Wagon Grille, Outlaw Burger or Monster Mac have that potential—with additional brands coming soon.
Zach Goldstein, founder and CEO of customer engagement platform Thanx, offered a counterpoint, saying this investment represents another layer of competition for restaurants that are already struggling.
"I am a big fan from a business and personal standpoint of what Alex is doing at Ordermark," he said, "but restaurants should be very aware that sum of [investment] money was because of Ordermark's plans to build an army of ghost kitchens and compete with restaurants."
Because Nextbite's virtual restaurants can be used to boost historical downtimes at a given restaurant, and shut down during lunch or dinner rushes, Canter said his concept is specifically designed to benefit restaurant operators, rather than increasing competitive pressures.
"We have restaurants turning on Nextbite concepts after their lunch rush, only from 2 to 10 pm, we have a restaurant that would normally close at 10 pm and now they're opening from 10 pm to 3 am to service the late-night crowd with some of our late-night brands with just one or two staff members hanging out and fulfilling these orders," Canter said. "It really gives restaurants the flexibility to have more digital real estate within these platforms to reach a different kind of audience."
Only ghost kitchen operators like CloudKitchens, Kitchen United and Zuul, Catner said, have a differing approach from his team's, with their model predicating on building additional kitchen spaces in cities.
"There are all of these ghost kitchen facilities that are popping up," Canter said. "In our view, there's already so much extra capacity in the existing restaurants that there isn't a huge need to have additional infrastructure for delivery-only restaurants when every restaurant could actually become operators of multiple brands out of their same kitchen."
Canter declined to offer a yes or no on any plans for an initial public offering, saying that the recent round of financing means the company already has opportunities "to grow an even bigger business than we were initially planning on."
Whichever side of the ghost and virtual side of the restaurant industry ultimately wins out in the market, recent investment dollars clearly show that investors worldwide are still placing bets on both sides of the table.
"We have ambitions internationally and that's a challenge in itself," Canter added in closing. "It's a very exciting thing to think about and the implications of having global brands that exist around the world excites me and, obviously, it's a big hurdle to jump over."