With thousands of new delivery-only restaurants opening in the coming year, a range of opposing business plans are raking in a deluge of investment funds, bringing virtual concepts into existing restaurants and purpose-built ghost kitchen spaces. Whichever model eventually wins out, existing restaurant operators are left to ponder the impact of a tsunami of new supply hitting the market from several well-capitalized players.
No company in this future-of-restaurants ecosystem has been more elusive than CloudKitchens, which The Wall Street Journal reported spent more than $130 million on 40 commercial properties for new multi-tenant ghost kitchens across the U.S. Led by Uber co-founder and CEO Travis Kalanick, CloudKitchens has shunned media outlets, including Food On Demand, seeking to learn more about its strategy and growth plans.
Based in Los Angeles, CloudKitchens says it can open a new facility in as little as a month, giving restaurants and up-and-coming chefs the ability to test multiple food concepts in a low-risk environment that, on paper, claims to maximize profits while minimizing startup costs.
Pasadena, California-based Kitchen United is Cloud's closest competitor, employing a similar model of building new multi-tenant ghost kitchens across the country. Thus far, Kitchen United is operational in eight U.S. states, with well-publicized plans to eventually open 400 locations.
Through appearances at industry conferences and media interviews, Kitchen United has been more transparent than its rival. That strategy could change under its new CEO, Michael Montagano, who was previously CFO and replaced former CEO Jim Collins.
Adjacent, smaller competitors like ClusterTruck and Franklin Junction are taking a markedly different approach. ClusterTruck recently inked a partnership with Kroger, the largest U.S. grocer to provide a variety of freshly prepared on-demand meals with no service or delivery fees. Rather than bringing in outside restaurant concepts, ClusterTruck has a range of exclusive concepts under its umbrella that are all cooked by its staff out of in-store kitchen spaces.
Franklin Junction was launched this year by NRD Capital, the parent company of Ruby Tuesday, Captain's Boil and Frisch's Big Boy. Its model offers expansion-minded restaurants the ability to expand into new markets or add supply in existing territories without the expenses and hassles required in ghost kitchen environments. Franklin Junction is seeking a trademark on what it calls a "host kitchen" model.
NRD Managing Partner Aziz Hashim said Franklin Junction is especially appealing to smaller, independent and minority-owned restaurants that don't have the resources of enterprise-scale brands that can afford to experiment with new-age business models.
Hashim said "the more exotic" CloudKitchen format isn't a direct competitor for his upstart, adding that "the question mark is, for the vast majority of small restaurant owners who want to participate in e-commerce, how do you get in when you don't have the money and technology?"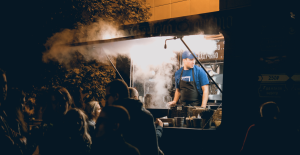 So far, the Cloud/KU model appears to be winning out, both in terms of investment dollars and in operational locations throughout the country. Outfitting a ghost kitchen bay can still cost tens of thousands of dollars, even as various providers pilot different payment formats, including all-in-one or monthly charges, rather than large upfront outlays. Either financial setup pales in comparison to the typical cost of opening brick-and-mortar locations with dining rooms.
It's likely that other national restaurant brands—especially full-service, casual chains in the mold of Franklin Junction—will blaze a similar path. In a recent report on the ghost kitchen landscape, commercial real estate giant Cushman & Wakefield provided a list of new entrants to the market this year, including Butler Hospitality, which focuses on hotels, Dubai-based iKcon that caters to chains and restaurants with existing brick-and-mortar locations and Inspire Brands, parent company of Arby's, Buffalo Wild Wings, Jimmy John's and Sonic.
Inspire recently trademarked the names Alliance Kitchen and Inspire Kitchen, and it's easy to see other multi-brand restaurant groups going in a similar direction by building their own ghost kitchen spaces without the involvement of a middleman.
As featured in this week's issue of Food On Demand, delivery integration provider Ordermark has rolled out its own range of virtual restaurant concepts, which existing restaurants could bring into their facility to monetize excess kitchen capacity.
The third-party delivery brands themselves are yet another waking giant in the space, with each of the "big four" providers outlining divergent strategies during this year's Food On Demand Conference. While Uber Eats has said it will not get into the business of cooking food, it has piloted two virtual concepts to learn more about the costs and operational hurdles its merchants will encounter in spinning up their own delivery-only formats.
The concept of ghost kitchens and virtual restaurants makes so much sense on paper that it's likely the market will see even more players from the restaurant, commercial real estate and technology worlds, making for an extreme amount of new supply hitting third-party delivery apps in the coming months.
One thing's certain amid all this noise: the DoorDashes and Grubhubs of the world—and their investors—will surely enjoy the coming promotional war between existing restaurants and delivery-only newcomers that will all be fighting for prime placement to entice a growing number of delivery and takeout consumers.