Sales pitches for virtual restaurants and ghost kitchens are certainly promising, but a panel of diverse restaurateurs and category experts shed some much-needed light on the real-world economics restaurant operators are seeing in these still-new industry channels.
The first panel of Building Success with Ghost Kitchens and Virtual Restaurants, The Economics of Ghost Kitchens and Virtual Restaurants, included André Vener, founding partner, at Dog Haus and Absolute Brands, BBQ Holdings Chief Operating Officer Al Hank, Nextbite's Chief Growth Officer Geoff Madding, and Marylisa and Robert Carrier, first-time restaurant owners who brought MrBeast Burger into their struggling restaurant operation  last year.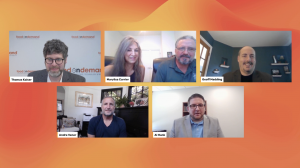 They all shared details on the costs, potential revenues, delivery commissions and overall balance sheets they've experienced in virtual restaurant and ghost kitchen environments. Beyond the numbers, they also covered operational necessities that can make or break the utility of a virtual restaurant or ghost kitchen location, including SKU crossover, the opportunity to reduce spoilage and waste, and their impacts on labor within a wider restaurant operation.
As one of the founding partners of the Dog Haus restaurant franchise, which created its Absolute Brands virtual restaurant offshoot in early 2000, Vener said it is currently operating its portfolio of virtual restaurant brands at all of its ghost kitchen locations, including all of its brick-and-mortar locations.
With nine ghost kitchens in four states, and more than 40 restaurants acting as host kitchens, its ghost kitchen locations are doing approximately 50 percent of the sales of a typical brick-and-mortar restaurant, with significantly less startup costs—approximately $75,000 to get fully up and running, including fees, marketing and equipment.
The company's Absolute Brands are currently contributing 20 percent of all sales at its brick-and-mortar locations, which Vener called "a big number," especially during 2020 when its overall sales dropped 30-40 percent during the first months of the pandemic. That allows the brand to finish the historically touch year up nearly 14 percent in same-store sales. "We give that credit to the Absolute Brands," he added.
For Hank at BBQ Concepts, with 127 brick-and-mortar locations for Famous Dave's and locations inside 20 ghost kitchen facilities, its many experiments with virtual concepts and in ghost kitchens has been used to test out the economics and market viability of new concepts, but also as a way to test out the viability of new markets, exploring the potential of opening up new brick-and-mortar restaurants.
Hank said each virtual concept has to be treated differently, whether that's due to name recognition or product mix, but noted that the company targets a 30 percent or higher profit margin and said, "if you're unable to do that, at some point, it's probably not worth it to continue." One of the primary keys to achieving that, he said, is being very careful to limit the additional SKUs virtual concepts bring into the kitchen, as well as the impacts that added complexity has on staffing, training and basic back-of-the-house operational flow.
Nextbite's Madding agreed with Hank and Vener on their basic numbers, stressing that his company's philosophy focuses on finding the right virtual concept to match the specific restaurant and its capacity, existing labor model and infrastructure, to "make it much more profitable by basically throwing more restaurants and incremental revenue on top of a fixed-cost model."
Madding said a virtual restaurant can work for some restaurants at lower volumes, but agreed that a 30 percent profit margin is a good general target.
"If I'd give advice to any restaurateur on any of this, just make sure two things: one, make sure you're getting the right concept for your location … [and] on the other end, if you do stuff that's really close to what you're already doing in your core business, how much are you cannibalizing?"
MrBeast operators Robert and Marylisa Carrier, who opened their first restaurant franchise in Nevada after careers in other industries, said bringing the celebrity-backed virtual concept into their business saved them when they were approximately two weeks away from shutting their doors during the pandemic's first wave.
"We did really well up to January, and in April we dropped 90 percent once COVID hit, so that pretty much put us on our feet … and we worked the store 12 hours a day, 7 days a week and kept going with just family," Robert Carrier said. "Then, in December of 2020, I was approached by a lady that was part of Checkmate, and she mentioned something about MrBeast and this VDC concept; we figured we had nothing else to lose at that point."
Without impacting their labor, requiring additional equipment and only the addition of a new hamburger bun, he added that the additional sales were enough to "pad a little revenue on top of what we were already doing … and it pretty much saved us." To date, their MrBeast line is operating at a 33 percent profit margin, which exceeds what they were told to expect by parent company VDC.
During the rest of this hour-long panel, speakers delved into hitting those profit margins with the burden of third-party commissions, tactics to monetize or reduce waste with virtual restaurants, and how every experiment in these new channels doesn't ultimately have to live on in perpetuity for it to be a worthwhile learning experience.
Click here to register and check out the full session, along with other four panels part of the virtual event.