Kitchen United's long-time CEO, Michael Montagano, is stepping down from the ghost kitchen pioneer and is taking the reins of Dog Haus after working together as a corporate partner and serving on the fast-growing restaurant's board of directors for the last three years. 
During his tenure at Kitchen United, Montagano became one of the industry's most visible thought leaders on restaurant delivery, ghost kitchens, virtual restaurants and the future of restaurant real estate in general. He was the company's CFO before becoming CEO in September of 2020. 
Dog Haus is a 52-unit franchise known for gourmet hot dogs, burgers and fried chicken sandwiches. The Pasadena, California-based company launched Absolute Brands, which has grown to eight delivery-only restaurants featured in the brand's brick-and-mortar locations. Kitchen United is also based in Pasadena. 
Kitchen United did not immediately announce a successor, but Chief Business Officer Atul Sood said the company will be making an announcement about its transition plan in the coming weeks. 
In an interview with Food On Demand, Montagano stressed how much he's enjoyed his experience at Kitchen United over an intense run that included several massive industry shifts, including the global rise of delivery, an industry shifting pandemic, a torrent of outside investment within the industry and ghost kitchens being viewed as the savior or enemy at various points over the years. 
Montagano's tenure also includes signing a landmark contract with grocery giant Kroger that placed Kitchen United centers inside many of its locations. Since that deal, Kitchen United has teased upcoming partnerships that Montagano said "will absolutely transform the company." 
The outgoing CEO stressed his relationship with investors, board members, coworkers and friends as they took Kitchen United through "some of the most unusual headwinds and tailwinds that I think most have ever experienced" in business. He added that his departure "has very little to do with the five years at Kitchen United and the wonderful experience I had there, and everything to do with the wonderful opportunity at Dog Haus." 
Montagano said he's extremely excited about the burger and hot dog brand's next phase, as it seeks to accelerate its rate of growth while pushing into new geographic areas. He added that he's incredibly passionate about the food, and that it has quickly become a staple in his hometown of Pasadena, which is also Kitchen United's home base. 
Having worked with what he characterized as many of the country's best restaurant brands through his Kitchen United tenure. Looking forward, Montagano said representing both the Dog Haus founders, as well as its customers and franchisees, is what he's most excited about. 
He also highlighted the Absolute Brands portfolio, especially its Bad-Ass Breakfast Burritos virtual brand that is outperforming expectations and achieving a rare goal: finding consistent success in delivery during the breakfast daypart.
At present, nearly 50 percent of Dog Haus's overall volume comes through off-premises channels, which Montagano finds especially notable for a brand known for its bars and beer gardens. Dog Haus expects to have 60 U.S. locations open and operating by the end of 2023. 
"We're not talking about a pizza concept that delivers by nature," he added. "I'm excited to dive into that further and help advance the technology for our franchisees…through first-party [ordering] and to continue to run up the score on the marketplaces, as well, to create an even richer experience for our franchisees. That, to me, is what I'm excited for and it's also a breeding ground to add in new, innovative things." 
On LinkedIn, he said Montagano has been an "instrumental" leader in the growth of Kitchen United, as well as a very close friend. 
"The team at Dog Haus is lucky to have him," Sood added. "He is a good man and a bad pickleball player. It might be his biggest area of opportunity. But his hair is great." 
New ground for Dog Haus
The CEO role is new to Dog Haus, as the company has been led since its 2010 inception by founding partners and longtime friends Hagop Giragossian, Quasim Riaz and André Vener. In addition to their professional work, Montagano is also close friends with Vener and the rest of Dog Haus' leadership team.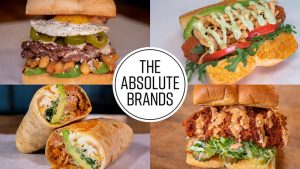 "We believe Dog Haus is positioned for exponential growth and, as such, we recognize the need to bolster our leadership team with a seasoned executive who can guide this brand, and our franchise partners, into the future—and Michael checks all the boxes," said Vener. "Michael's expertise in growing franchises, expanding virtual brands and delivery, and implementing new technologies and marketing strategies is exactly what we need as we capitalize on our momentum in the marketplace."
"Over the past several years working with Dog Haus, I've seen first-hand impressive store growth, world-class menu innovation and diversification, and soaring off-premise demand," said Montagano. "This is an exciting time for the brand, and I'm eager to work with the partners to continue the initiatives underway to enhance our technology, expand our brands, and maximize our online and in-store strategy, all in an effort to add meaningful value for our franchisees and guests."
Throughout his 20-year career in the restaurant industry, Montagano has worked in a variety of strategic commercial contexts with many of America's favorite restaurant brands – from national partners such as Chipotle, Chick-Fil-A, WingStop, Cinnabon and Jersey Mike's to hyper-growth brands like Portillo's, Dave's Hot Chicken, Hawaiian Bros and the Halal Guys. He brings with him a proven track record of driving growth, strategic partnerships, cutting-edge technology, institutional investment and operational excellence, along with expertise in online ordering and delivery. 
Kitchen United has expanded to more than 150 kitchens across the country—in both suburban and urban trade areas—while securing partnerships with, and institutional funding from, Restaurant Brands International (RBI), grocery giant Kroger, Alimentation Couche-Tard (the owner of Circle K convenience stores), Google Ventures, Fidelity Investments, HAVI, RXR, Simon Property Group, DivcoWest and Rich's Food Products.
According to Crunchbase, Kitchen United has attracted $150 million in funding through its 22 different investors. During Montagano's leadership, the company also purchased New York-based Zuul Kitchens, which was another early-stage ghost kitchen provider, in 2021. 
"I am incredibly honored to join my close friends at Dog Haus in this new role," Montagano continued. "My friendship with André began more than five years ago at a school function for our children and has continued to grow ever since. Over time, I developed an equally close and productive business relationship with all three partners. I look forward to supporting André, Hagop, Quasim and the entire Dog Haus team as we build this incredible brand into a haus-hold name."
Prior to his time leading various food-tech and restaurant companies through growth, financings and acquisitions, Montagano practiced M&A and corporate finance law for one of the country's largest law firms, working primarily on private equity transactions.
He received his Master of Business Administration from the University of Chicago's Booth School of Business and his Juris Doctorate from Indiana University's McKinney School of Law.
Michael grew up in a restaurant family, anchored by an Italian restaurant and a neighborhood grocery store and butchery founded by his grandparents.