After announcing plans to grow Kitchen United's ghost kitchen portfolio from four to 20 locations by the end of 2021, CEO Michael Montagano teased upcoming partnerships that "will absolutely transform the company—I promise you that."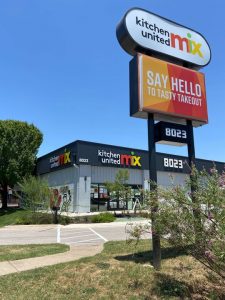 During an exclusive interview with Food On Demand days after detailing Kitchen United's dramatic growth plans during the ICR Conference, Montagano said global delivery trends and pandemic-driven behavior changes here in the U.S. are conspiring to make 2021 the best year yet for the California-based company that has become the most visible player in the ghost kitchen industry throughout its short four years of existence.
After serving as Kitchen United's chief financial officer for two years, Montagano took over the CEO role last fall after its previous leader, Jim Collins, departed for personal reasons.
"Based off of what we've seen from retail over the last decade, based on what we've seen from other countries around the world, we had prepared for massive expansion for off-premises [operations] so we've sat well positioned in order to help our restaurant brands capture it," he said, noting that the U.S. industry reaching the milestone 50 percent of off-premises orders "quite frankly happened in 60 days."
Kitchen United currently has ghost kitchens operating in its home city of Pasadena, California, as well as Scottsdale, Arizona; Chicago; and, its latest, in Austin, Texas. The company has also announced future locations in Los Angeles and San Diego, Dallas, Houston and Boston
Montagano said forthcoming locations in New York City and the Bay Area are especially notable, adding that "you will see each quarter new sites that we will roll out along the way, and great brands that are continuing to expand with us and new brands that we're very excited about."
Speaking of the restaurant brands already operating in Kitchen United facilities, Montagano said those tenants have seen 600 to 700 percent order-volume growth, with 400 percent of that sum representing same-store sales growth. That is notable even taking into account the huge shift toward off-premises orders due to the pandemic.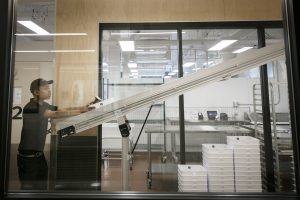 "Clearly we've had a good year, we're not ashamed of that," Montagano said of its unit-level economics. "Our facilities are profitable, [and] we believe our facilities to be one of the few or only ghost kitchens in the country that are profitable."
As the company brings additional restaurants into its fold, the CEO said that maintaining the existing approximate balance of one-third being so-called "anchor" brands like Chick-fil-A, White Castle, Wendy's, Portillo's and Panera; the second third being "fast-growing middle-market" brands like Dog Haus, Capriotti's and Grimaldi's Pizzeria; and the final third being local operators "that have a true affinity for the trade area."
It's worth noting that Montagano is a board member of Dog Haus, and personal friends with its co-founder André Vener, whom he said is an "extraordinarily valuable customer" of Kitchen United.
Asked if the pandemic has changed KU's real estate strategy, Montagano said it will prioritize locations where people live and work, which he said differentiates the company from other players in the ghost kitchen space. He stressed that maintaining a balance of pickup and delivery orders is the key, which includes being in centrally located places in both urban and suburban areas that provide easy access for delivery drivers and takeout customers.
"The centers for us are both in densely populated urban areas, but also populated suburban areas where people live and work—I would say that continues to be our focus and it won't change in 2021 either in partnership or in our more traditional facilities," he said.
Without naming names, Montagano suggested that "great developers, great landlords and other partners" will soon be announced for the company's upcoming growth surge. He stressed that these partners would be transformational for the company.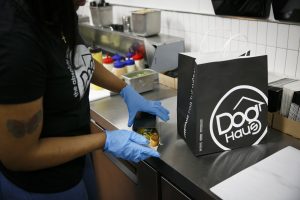 When speaking of the competition, Montagano didn't explicitly name CloudKitchens, its primary competitor founded by Travis Kalanick, the former CEO of Uber. Citing Euromonitor stats that claim the global ghost kitchen market could swell to a trillion dollars by 2030, Montagano said the market and opportunity are both so large that Kitchen United and its biggest competitors could expand over the next five years without "even being in necessarily overlapping trade areas." Even growth of competing brands, he added, is good for creating awareness and getting ghost kitchens on the radar "of restaurant brands big and small that this is a viable business model."
Taking the opportunity to differentiate his own company's offering, Montagano said its Mix platform that allows customers to order meals from several restaurants on the same bill has allowed Kitchen United to bring its tenants approximately 25 percent of its overall volume "with a fraction of the take rate that they would experience from the [third-party delivery] marketplaces."
However the global pandemic ultimately winds down, he doesn't see ghost kitchens, or Kitchen United specifically, becoming any less valuable for the restaurant industry, even though he added that he's excited to get back inside traditional brick-and-mortar restaurants.
"We think it's just as attractive in the second half of this year as it will be next year and the year after that," Montagano added. "Those trends of delivery penetration, I don't think we're going to come much off of that, I think a lot of this is here to stay."