Brinker International has partnered with Flytrex and Serve Robotics to test drone and sidewalk robot deliveries in the Dallas-Fort Worth metro area. Details are scant, but the Texas-based restaurant giant is including its Chili's and Maggiano's Little Italy brick-and-mortar brands, as well as its It's Just Wings and Maggiano's Italian Classics virtual concepts in the projects.
In an email to Food On Demand, Brinker said it wasn't prepared to share details about its future plans, but said it was "very focused on the guest experience as we test our innovation efforts and work with Flytrex and Serve Robotics.
Israeli drone delivery provider, Flytrex, partnered with Brinker to launch its drone delivery service in Granbury, Texas, just outside of DFW. As part of the deal, Flytrex will expand its partnership with Chili's and Maggiano's Little Italy, as well as the company's virtual brands, to deliver orders in the suburban market with a flight time of five minutes or less.
The service will operate in cooperation with longtime partner Causey Aviation Unmanned under a newly granted Federal Aviation Administration (FAA) waiver allowing a delivery radius of one nautical mile—reaching thousands of potential homes. Eligible households that have opted into the service can order food via the Flytrex app.
"We're thrilled to be soaring into the Lone Star State—an outsized achievement for ultra-fast home delivery," said Yariv Bash, CEO and cofounder of Flytrex. "After establishing drone delivery as a preferred option in North Carolina, we are excited to bring our unrivaled speed and convenience to Texas, where big things happen. We look forward to bringing drone delivery to backyards across the U.S. as we expand our service nationwide."
Dallas Innovates, a local tech-focused publication, said Brinker is also testing the Bear Robotics "Rita" table service bots at Chili's locations in the Dallas area, in addition to its work with Flytrex and Serve Robotics.
Flytrex spreading its wings
For Flytrex, this launch follows a series of additional milestones. Most recently, the drone delivery company received a waiver from the FAA enabling it to expand delivery service to 10,000 homes in cities across North Carolina as North Carolina Department of Transportation's partner in the FAA's BEYOND program.
Flytrex has been operating in the 'First in Flight' state since September 2020, beginning in Fayetteville, and expanding to the town of Raeford. In October 2021, Flytrex launched its third drone delivery station in North Carolina at the Holly Springs Towne Center, delivering food orders from It's Just Wings, to residents' front and backyards. Flytrex has already completed thousands of drone deliveries—more deliveries via drone than any other company in the U.S.—conducting all operations while maintaining "the highest safety standards."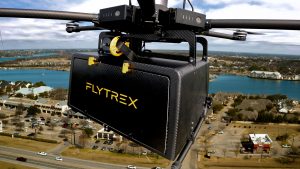 "As we continue to drive awareness and grow our virtual brand, It's Just Wings, we continue to explore and leverage technology and innovation," said Wade Allen, SVP, Innovation, Brinker International. "With a focus on guest experience and convenience—alongside our killer wings—this new outpost in partnership with Flytrex is another exciting step in the right direction."
While Dallas-Fort Worth is a big city with two downtowns, Flytrex's focus is on the suburbs. Although there are roughly 80 million homes in U.S. suburban areas, on-demand delivery has been largely seen as commercially unviable as traditional couriers are only able to make around two deliveries per hour in such areas. Flytrex says it is providing on-demand drone delivery directly to consumers' homes in these underserved neighborhoods, offering a better, faster, more sustainable service at more affordable prices.
Since successfully launching the world's first fully autonomous urban drone delivery system in Reykjavik, Iceland, in 2017, Flytrex has played an integral role in getting drone delivery off the ground. Flytrex is working with the North Carolina Department of Transportation, a lead participant in the FAA's BEYOND program, tackling the remaining challenges of UAS integration.