Known for its trendy tacos, late-night eats, and bold restaurant design, fast-casual Velvet Taco has continued to spur growth since its debut in 2011. 
The brand now has over 35 locations across the U.S. with plans underway to add another to its roster in Frisco, Texas. This restaurant will have greater emphasis on its off-premise business while setting a precedent for future openings. 
Velvet Taco is no stranger to the evolution of to-go, which accounts for a significant portion of the chain's business. 
"About 50 percent of our food is now to-go," said Clay Dover, CEO of Velvet Taco. "Pre-pandemic levels were around 35 percent, during the pandemic it got to a high end of about 70 percent, and has now levelled at about 50/50." 
Over the last few years, the fast-casual brand searched for sites with drive-thru lanes to repurpose, while also building some from the ground up to provide guests with an order-ahead, pickup lane. The chain also rolled out a mobile ordering app and loyalty program dubbed "The Velvet Room." 
"We had one original restaurant in Dallas that we had taken over that had a drive-thru pickup lane, so we had a nice little test location in which we could try different things," said Dover. 
Redesigned Taco Lane
While the model did well, Dover says they found that several guests were asking to order at the window, rather than download the app and order prior, thus the redesigned Taco Lane was born.
"Now guests can go to the window, we have signage, we have menu boards, you can pick up your food if you already placed an order on the mobile app or you can order at the window," said Dover.
The new model sets aside six to eight parking spots dedicated to Taco Lane parking for car-side delivery. Dover says this system works best as its items can take a little longer to make compared to a typical fast-casual drive-thru.
The Taco Lanes also speed up third-party delivery, a perk that has been attracting drivers. 
"We found that third-party drivers were telling the other drivers, 'Hey, they have a drive-thru pickup lane you can just drive through, grab the order and go," said Dover. 
The pickup lane also provides a greater opportunity to convert customers to order directly through their in-house app and join the loyalty program. 
'What has been interesting is that the [to-go] funnel has continually been filled with new guests still trying it for the first time," said Dover. 
At the window, staff hand out QR codes and a rewards flyer, while explaining the benefits of becoming a member. Dover says they've seen roughly a 50 percent conversation rate so far. The fast-casual ties its loyalty program to a credit card token to track repeat customers. 
Adapting to off-premise
Although the fast-casual has seen success in its to-go sector, Dover says he thinks one of the challenges for Velvet Taco and the industry as a whole, is adapting without losing brand DNA. 
"I don't have the same ambience, I don't have the same music, service, lighting, so it's really a challenge to maintain the brand experience in a takeout vehicle," said Dover. "For us and others in the fast-casual space that relies on more of an experience, that's going to be challenging as we continue to go down the road of eating outside of the restaurant."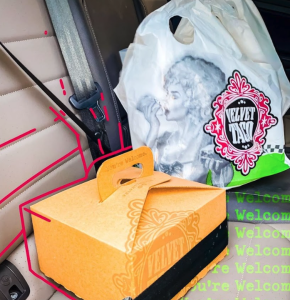 But Dover relays that what's important is to be willing to adapt to changing business dynamics while meeting consumers' needs. 
"I think it's a general reflection on the industry, as restauranteurs, it's important for us to be flexible and understand where the guests are going to be consuming. We look at trends within dining, third party, takeout, delivery," said Dover. "The more channels that we can be present in, the more beneficial it is, not just to Velvet Taco but anyone within the industry."
In addition to several other upcoming restaurant openings in the U.S., the brand has plans to open more locations in Texas this year, in Waco, Allen and Round Rock.