Nearly three years after opening its first eponymous ghost kitchen in Redwood City, California, DoorDash opened its latest DoorDash Kitchens facility in downtown Brooklyn with a mix of local, regional and national restaurants. 
This new East Coast location is clear evidence DoorDash is scaling up its shared-kitchen offering that allows restaurants to outsource all operations, including cooking, to the largest third-party delivery provider. The Brooklyn location, inside Nimbus—a New York City-based shared kitchen—joins the original California location, now in North Hollywood, and a full-service kitchen in San Jose that is reopening soon. 
We've previously covered DoorDash's Kitchens business model, including an operator's look inside two of its ghost kitchen facilities in California.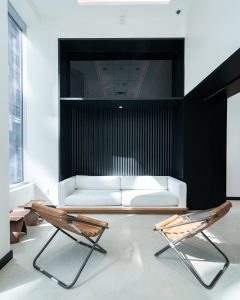 The initial menu of restaurant partners include DOMODOMO, Kings Co Imperial, Pies 'n' Thighs, Moonbowls and Little Caesars. In addition to the core restaurants, customers will also be able to order beverages from Birch Coffee, pastries from Kado Patisri and treats from Milk Bar.   
"New York is one of the many hubs for noteworthy dining experiences and we're proud to bring DoorDash Kitchens to Brooklyn in partnership with Nimbus, adding even more options for food-lovers to choose from in their neighborhood," said Ruth Isenstadt, senior director of DoorDash Kitchens. "While this location is delivery-forward in nature to enable the growth of restaurant partners, we're looking forward to offering a dine-in area for upwards of twenty guests—a first for DoorDash Kitchens."
"We're proud to partner with DoorDash by providing turn-key kitchen infrastructure and community event spaces to their restaurant partners," said Camilla Opperman, co-founder and CEO of Nimbus. "DoorDash has fiercely advocated for the growth of these restaurants by supporting their delivery and pick-up operations, so we're thrilled to complement these efforts by managing the real estate, supporting kitchen operations, and running events from our community front-of-house."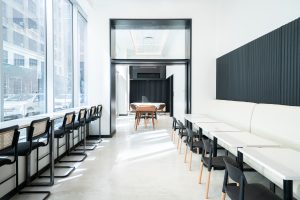 DoorDash Kitchens Brooklyn is located at 383 Bridge Street and customers in Dumbo, Park Slope, Cobble Hill, Fort Greene, Brooklyn Heights, Gowanus, Clinton Hill, and Prospect Heights will now be able to order delivery from these restaurants (anyone in the area can place an order for pickup), many of which are expanding to Brooklyn for the first time. While specific restaurant hours will vary, dine-in at DoorDash Kitchens Brooklyn is available from 7:00 AM-10:00 PM, with takeout only available late night from 10:00-11:00 PM.
"We take pride in providing diners with fresh, delicious sushi whether they're dining in or ordering to-go," said Chef Brian, executive chef and co-founder of DOMODOMO. "Partnering with DoorDash Kitchens is enabling us to meet customer demand in Brooklyn without fully committing to a second brick and mortar location."
"Our Williamsburg location is just a few miles away from the new DoorDash Kitchens location, yet this new location will make our food even more accessible to our customers," said Josh Grinker, chef and co-owner of Kings Co Imperial. "We're excited about partnering with DoorDash Kitchens Brooklyn, as this is a natural extension of our existing partnership and helps us get our food to our loyal customers faster, hotter, and better."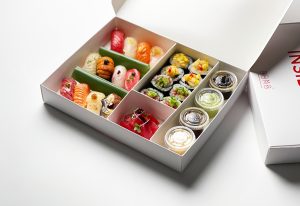 "DoorDash Kitchens in Downtown Brooklyn will not only bring new restaurants to the neighborhood but offer an exciting new gathering place and create good local jobs for the community," said Regina Myer, president of Downtown Brooklyn Partnership. "We hope the neighborhood will join us in welcoming this innovative new space to Downtown Brooklyn."
More information about DoorDash Kitchens can be found here and information about Nimbus can be found here.