DoorDash is going bigger with ghost kitchens as it introduces DoorDash Kitchens Full Service, a new model allowing restaurants to license their brands and outsource many of the tasks associated with opening a new location, including hiring, meal preparation and ingredient sourcing. The company is debuting this new model out of its ghost kitchen facilities in San Jose and Redwood City, California.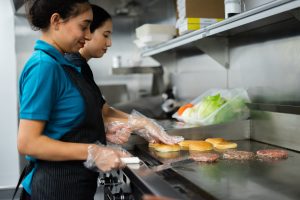 The San Francisco-based company, which is the largest delivery provider in the United States, said this new format gives businesses the ability to expand without the operational and economic investment of opening a brick-and-mortar store. This comes as many restaurants are looking for creative ways to expand after a year and a half of turmoil caused by the pandemic and widespread labor shortages, following several years of upheaval caused by the rise of delivery, ghost kitchens and virtual restaurants.
"We've worked with several local restaurants to help them expand through delivery-forward kitchen models, whether helping them to set up operations in their own delivery kitchens, opening a new location in our Redwood City kitchen or helping restaurants like Krazy Hog BBQ in Chicago reopen their doors after closing during the pandemic," the company said in a press release. "We've witnessed, especially over the past year, the power that delivery-only models and kitchens can have in helping local partners succeed as off-premises operations become an important part of their business."
DoorDash first launched the DoorDash Kitchens program in 2019, with the goal of helping restaurant partners expand their geographic footprint in new markets and reach new customers with lower overhead costs. Since then, the company said it has learned many restaurants need more than just help with upfront real estate costs, and are "looking for even less expensive and operationally intensive options to expand."
The company added that outsourcing operations of a delivery-only facility could free up capacity for dine-in orders as the world reopens, others want to test a new geography with minimal risk, and others just want more hands-on support for a location as they grow their business.
Here's how it works:
Hiring: Depending on the facility, DoorDash either hires cooks or partners with a culinary operator, such as A La Couch to staff the facility. DoorDash also hires managers for each of its facilities and front of house staff to supervise the delivery and pickup orders.
Training: Each restaurant will be actively engaged in determining the optimum menu for each location including coordinating training sessions to ensure kitchen staff are creating high-quality food expected of a brick and mortar. Partners will also provide a list of ingredients and preferred sourcers to ensure consistency with other stores' menus. Over the course of a few weeks everything from plating to packaging to cooking takes place together—with several tastings in between.
Operating: DoorDash will run the day-to-day operations of the facility. Restaurant partners will receive a portion of the revenue in return, all without much day-to-day responsibility, in turn creating a light-touch growth opportunity. Where it makes sense, some partners may choose to sell their products wholesale to DoorDash.
Some restaurant operators will undoubtedly have a different take on this announcement, as many industry leaders have warned third-party delivery services will inevitably begin cooking and delivering their own meals. While this new model would cross a notable mile-market with DoorDash employees actually preparing food, this new business model is based on working in partnership with restaurants, many of which are independently owned and operated.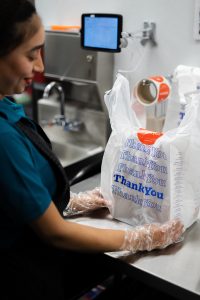 The new DoorDash Kitchens San Jose, billed as a pop-up kitchen, is bringing a mix of local and national brands to the metro area, including Aria Korean Street Food, Canter's Deli, Curry Up Now, Milk Bar, The Melt Express and YiFang Taiwan Fruit Tea.
"Through DoorDash Kitchens, Canter's Deli is able to expand beyond Southern California to bring our West Coast deli experience to the Bay Area," said Marc Canter, owner of Canter's Deli. "Customers know about Canter's Deli beyond Los Angeles, so we knew we wanted to jump at the opportunity to partner with DoorDash to reach more people in new communities. We appreciate the flexibility of being able to test new markets without committing to a long-term lease required of a brick-and-mortar location."
By launching in San Jose, DoorDash Kitchens creates opportunities for merchants and Dashers, but also will generate upwards of 25 new roles spanning from line cooks to head chefs who will train alongside restaurant brands and cook their menus, in addition to front-of-house staff to oversee the delivery and pickup orders.
"San José has always served as a launchpad for new ideas that help businesses flourish and allow our residents to access the best that the world has to offer," said San José Mayor, Sam Liccardo. "The launch of DoorDash Kitchens in San José will empower local restaurants to grow their business during this time of recovery, and will also allow San Joséans to order food from a selection of incredible brands from across the U.S. for the first time."
More information about DoorDash Kitchens, its Redwood City location and the Full Service partnership model is available here.