Uber Eats is expanding its hybrid delivery offering through a new partnership with Cartwheel that will make it easier for restaurants across the globe to build a white-label fulfillment program that lowers the total cost of delivery for operators.
Hybrid or white-label delivery has become a flashpoint for restaurants operators as delivery captures an increasingly large portion of the global restaurant sales. As restaurants seek to lower the cost paid to outside meal delivery providers, many have relied on in-house drivers for delivery fulfillment or only using third-party marketplaces like Uber Eats and DoorDash to fulfill delivery orders, rather than bringing new customers to restaurants via their online marketplaces.
The new partnership is only the latest for Cartwheel, an on-demand delivery management software provider. The Los Angeles-based company has recently announced other partnerships with Square, Omnicart, ChowNow, Nash, RMDA, and deepened its connection with Olo in recent months.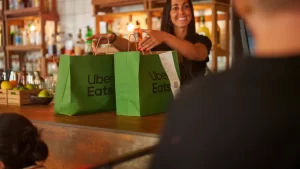 This latest tie-up brings Cartwheel's Hybrid Delivery technology to restaurants of all sizes, regardless of whether they have their own in-house fleets. By integrating Uber Direct into its ecosystem, Cartwheel enables restaurants to enhance delivery coverage, reduce costs and increase service levels. Restaurants will gain access to a vast network of delivery drivers and the necessary tools to manage them, at what Cartwheel calls "competitive" rates.
The partnership further addresses the pressing challenges faced by the restaurant industry, including the ongoing shortage of restaurant employees and delivery drivers. Cartwheel claims that restaurants using its Hybrid Delivery technology have reported an average revenue increase of 20 percent.
"We are excited to partner with Uber Direct to expand driver coverage and provide competitive rates for our Hybrid Delivery solution," said Alex Vasilkin, co-founder and CEO of Cartwheel. "This collaboration also opens up opportunities to work with brands that don't have in-house fleets. In a market where the availability of delivery drivers is scarce, relying on a single fleet or fulfillment method is no longer sufficient. There always has to be a backup."
Uber Direct brings significant advantages to Cartwheel's delivery ecosystem. By leveraging Uber Direct's vast network of drivers and their expertise in logistics, restaurants utilizing Cartwheel's platform will enjoy a reliable and efficient delivery experience for their customers.
"We are excited to bring increased coverage and reliable service to the restaurant industry through this new partnership with the team at Cartwheel," said Bernie Huddleston, head of Uber Direct across the US & Canada. "Working together, we can improve the way restaurants fulfill their delivery orders—and ultimately boost customer satisfaction and business growth."