In a recent survey, consumers shared their attitudes and perceptions of delivery. In some ways, it has shifted as more people utilize third-party delivery and off-premises in general, but a lot of pre-pandemic attitudes remain the same.
In a survey of more than 1,000 consumers by the Australian restaurant software developer Dragontail Systems (ASX: DTS), the company asked various questions about the overall delivery and off-premises experience.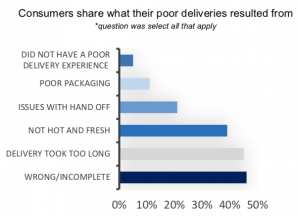 The biggest takeaway: Consumers still fault the originating restaurant for a poor experience that began on a delivery app. Nearly 40 percent of respondents said they blamed the restaurant. Of the respondents, nearly half (46 percent) said they have had a bad delivery experience. Of those, 46 percent said the issue was an incomplete order and likely the fault of the restaurant; 39 percent said the issue was due to freshness and temperature and 45 percent said the order took too long. Other respondents said there were issues at the hand off (20 percent) and poor packaging (12 percent).
This echoes some of the same sentiments found in our own Food On Demand research in partnership with SeeLevel HX. Ultimately, consumers blame the restaurant for a lot of issues, highlighting the need to choose good partners and keep close track of the delivery process and outcomes.
Finding good delivery partners has become all the more important during the COVID-19 pandemic, especially around consumer health and safety. In the survey, 70 percent of respondents said they would be deterred from ordering via a specific restaurant again if their delivery driver was not wearing a mask. And 30 percent said they weren't confident restaurants were safe at all. The latter means operators need to demonstrate their disinfection practices and market them loudly.
On drivers wearing masks, that's hardly something the restaurant can always ensure with third-parties doing the work, but yet another thing restaurant operators have to monitor and worry about right now.
Cost is also a key consideration during the pandemic, with 27 percent of respondents who had ordered delivery prior to the pandemic saying cost was a deterrent to ordering delivery. Among the 30 percent of respondents who said they hadn't ordered third-party delivery before the pandemic, 20 percent said they would still stay away because of the cost. Despite the cost consideration, almost every delivery consumer said they were tipping the same or more than pre-COVID-19, and nearly half said they were tipping more.
As for moving forward, respondents said they actually preferred contactless carryout to delivery because of those additional touch points and the quality issues with delivery. In all, 53 percent said they preferred carryout.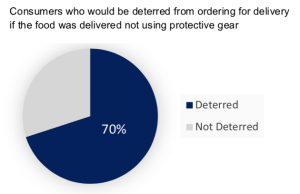 Those using third-party platforms more than they had before COVID-19 overwhelmingly said they would prefer to order carryout—70 percent of respondents said they would do so if given a contactless solution. Those that were spending more were slightly more inclined to order contactless carryout; 73 percent of those respondents said they would be more inclined to do that compared to delivery.
How exactly those questions were asked by the company that offers contactless service is not clear, but that's a big insight for both delivery providers and operators. The former still has work to do around consumer experience and the latter needs to figure out a contactless solution.