"To the victor goes the wallet," read the headline on exclusive research prepared by SeeLevel HX and presented by Food On Demand at the conference April 1, and the victors in the food delivery business are clear—so far.
According to respondents in Minneapolis and Moline where the study took place, DoorDash had 58 percent of the market; Grubhub, 50 percent; UberEats, 39 percent; Postmates, 21 percent; Amazon Restaurants, 13 percent. Bite Squad had 3 percent, but with its recent acquisition by Waitr, National Sales Director Scott Leffel, who helped to explain the research, expects growth ahead.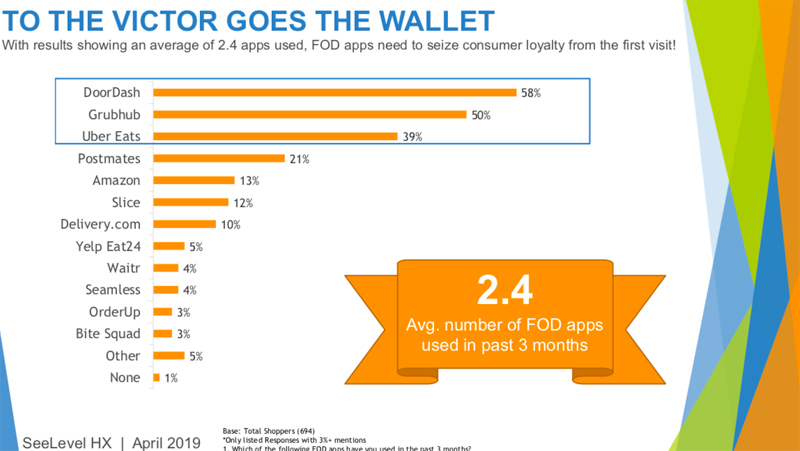 "Part of what this tells us: When somebody uses your app, you want to keep them," said Lisa van Kesteren, CEO of SeeLevel HX. "These days because of technology, things are evolving so quickly. The ability to order food on demand is becoming more of a commodity. And I think it's moving further up the commodity continuum."
The reasons people use delivery apps have changed since 2017, the first time the survey was given. Replacing cooking at home was the reason for 47 percent of respondents in 2017; that dropped to 43 percent in 2019. Replacing visiting a restaurant in person was the reason for 20 percent in 2017, rising to 24 percent in 2019.
"It's a tough decision for restaurants, but more and more we're seeing if you're not there it's going to be tough to retain those customers," van Kesteren said.
Half of users have had a negative experience with delivery, the 2019 survey said, about the same as last time. Leffel offered tips to avoid the complaints: Make sure your menu matches what you have in the restaurant, he said, also recommending "coaching of the drivers, to make sure they're doing their due diligence" and checking their orders and addresses.