Some new data in the grocery space showed just how explosive the growth of grocery delivery has been and which players are gobbling up market share. The big number: $6.6 billion. That's how much people spent on online grocery sales in May 2020 alone, according to a survey by Brick Meets Click and Mercatus. That's up more than $1 billion and nearly 25 percent from April even as people begin to reemerge from the pandemic shelter-in-place rules.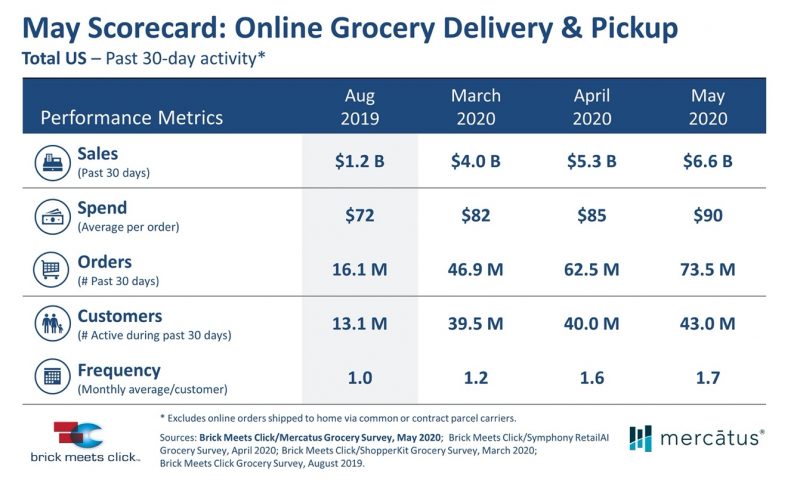 David Bishop, a partner at Brick Meets Click, which is a strategic advisory firm that explores how digital technology is changing foodservice, said the global pandemic is accelerating these trends drastically. "COVID-19 is affecting the way people shop for groceries," said Bishop.
Other industry data supports his findings. According to Coresight Research, about 36.8 percent of consumers bought groceries online in 2,019, a rise from 23.1 percent in 2018. In 2020, more than half (52 percent) of consumers have bought groceries via online channels and nearly two thirds (62.5 percent) plan to buy online in the next 12 months.
And there is significant month-over-month growth, according to Mercatus, an advisory firm that helps food retailer figure out the digital space. The total number of online grocery orders increased 18 percent month over month, from 62.5 million in April to 73.5 million in May.
The big driver is simply capacity, as just about every grocer signed on with a delivery provider, expanded their internal systems or cobbled something together when COVID-19 hit and turned buying eggs into a potentially fatal errand.
"COVID-19 has accelerated online grocery adoption at a rate the industry hadn't expected to see for years," said Sylvain Perrier, president and CEO, of Mercatus. "The online surge may level off slightly as various states strive to return to 'normal.' However, what has changed in shoppers' eyes is the realization of the immediate benefits of online grocery shopping."
How many of those shoppers remain online grocery consumers once restrictions loosen up remains to be seen, but data shows they are getting accustomed to the idea. Mercatus pointed to higher frequency—it's up 10 percent in May versus April—and greater order sizes point to consumers being more comfortable with the concept. Sentiment is going in the right direction for online grocery, too. In May, 56 percent of customers said they were likely to order again within the next 30 days compared with 47 percent in March and 50 percent in April.
May's average monthly purchase frequency climbed 10 percent versus April's, illustrating that online grocery shopping is becoming more established among a broader base of households. In fact, active households in May placed an average of 1.7 online grocery orders for either delivery or pickup, up from 1.6 online orders in April.
The average order value climbed nearly 6 percent to $90 in May, an increase of almost $5 compared to April. Contributing to this trend were higher consumer prices starting in April, improvements in product availability and more customers becoming familiar with online grocery shopping all.
Beyond the scorecard metrics, the new research showed a rebound in shopper satisfaction from the March low. In May, 56 percent of customers were extremely or very likely to shop the same provider again within the next 30 days, compared to 47 percent in March and 50 percent in April. Even at 56 percent, purchase intent is still considerably lower than pre-COVID rates, which were closer to 80 percent according to previous Brick Meets Click research.
Who benefits from that increase in sales is changing dramatically. Instacart is now heavily favored by online grocery shoppers compared to other outlets.
According to data analytics firm, Second Measure, Instacart now controls 57 percent of the market for online grocery delivery. Instacart, which made a massive hiring push and implemented many other tweaks during the early days of the pandemic, seems to have moved faster to meet consumer demands than other brands. Walmart, which controlled 40 to 50 percent of the market prior to COVID-19, dropped precipitously to just 25 percent of online grocery sales. In reviews, Walmart was dinged for slow service, sub-par experiences and poorly packaged orders.
According to Marcel Hollerbach, CMO of Productsup, a digital experience management company, as people trialed all manner of online grocery for more of their shopping, one bad experience was often a deciding factor.
"When it comes to Instacart toppling Walmart's lead in the space, it's clear that even with abundant resources and funds, Walmart's ecommerce and supply chain strategies fell flat. While consumers are overwhelmingly more open to grocery delivery after global lockdowns, one bad experience—even with a brand as recognizable and powerful as Walmart—is enough to turn someone off from a service forever," said Hollerbach.