As once-temporary pandemic habits become set in stone, Mercatus has released an update on what it calls the "egrocery" market, looking at what factors are impacting online grocery shopper loyalty and what features are becoming most important to shoppers who are now buying their weekly staples online.
At a high level, Mercatus and its consumer insights partner Incisiv predict that online grocery will account for 21.5 percent of total grocery sales by 2025, which is a more than 60 percent increase over pre-pandemic estimates.
The partnership's new "eGrocerys' New Reality" report surveyed online shoppers in 20 U.S. states with 60,000 respondents and a claimed 48 million data points to point the way forward as grocery continues its sudden shift to online channels.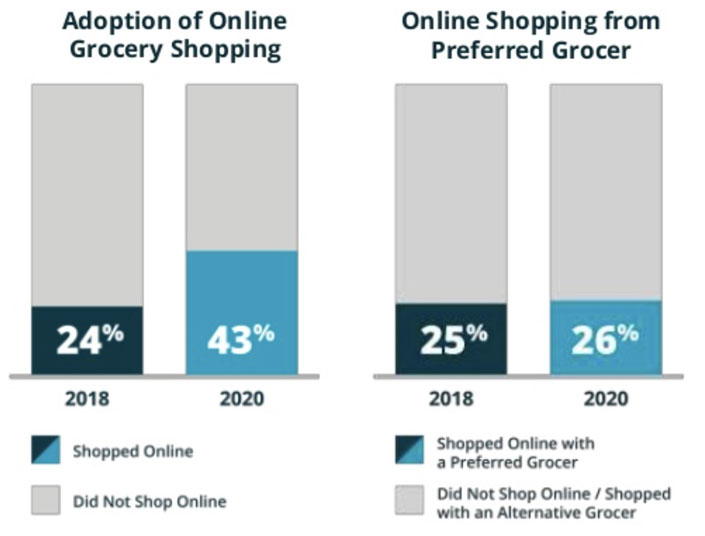 Compared to 24 percent of respondents shopping online in 2018, a full 43 percent reported shopping online in the last six months. The report suggests these numbers are "indicative of a highly competitive marketplace and experimentation by customers" that's driven by attractive discounts and promotions, stock availability, diverse fulfillment options (curbside or home delivery) and other online order incentives.
Illuminating the degree of flux in the grocery category, 46 percent of respondents reported a change in their shopping destination. Digging into the motivations behind those shifts, 62 percent picked COVID-19 concerns, while 61 percent of respondents pointed to convenience and 42 percent said time savings.
Eighty-seven percent of shoppers in the survey said they were satisfied with their preferred brick-and-mortar grocer and 58 percent said they were satisfied with the online shopping capabilities at said retailer, but that they would like more functionality added to online promotions and advanced product searching.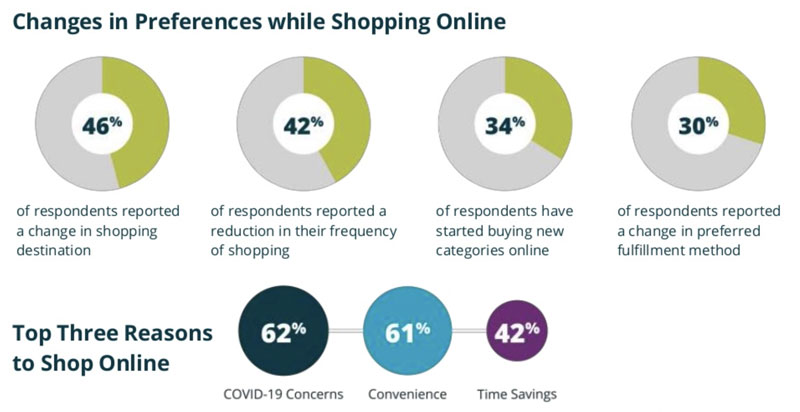 These findings aren't a surprise for anyone who's gone through the click-storm of selecting a week or two's worth of groceries on a cell phone or computer screen. Even so, the survey's findings suggest that a sizable portion of online shoppers will stick with their new habits, even after the pandemic ends—whenever that might be.
"The growth of online grocery in 2020 and its predicted long-term impact, coupled with customers' continued loyalty to brick and mortar, makes it clear that these avenues must complement each other in creating a great customer experience across a grocer's entire brand," said Mercatus President and CEO Sylvain Perrier. "In order to round out the loyalty to online channels, this data makes it clear that brands should make investments in digital functionality, especially regarding product search, discovery and product integration."