Uber's rumored deal to acquire Grubhub is officially off the table, with news coming late Wednesday afternoon that Just Eat Takeaway.com has agreed to combine with Grubhub in an all-stock, $7.3 billion transaction that would create the world's largest online food delivery company outside of China. 
That transaction size is a notable premium to the alleged Uber bid of $4.9 billion.
An Uber spokesperson confirmed that the global rideshare giant walked away from talks with Grubhub just before news broke that Amsterdam-based Just Eat Takeaway.com has inked a deal with Chicago-based Grubhub, which just over a year ago was the largest U.S.-based third-party delivery provider before being overtaken by DoorDash. 
"Like ridesharing, the food delivery industry will need consolidation in order to reach its full potential for consumers and restaurants," an Uber spokesperson said. "That doesn't mean we are interested in doing any deal, at any price, with any player." 
Because Just Eat Takeaway.com is based in the Netherlands, the transaction is unlikely to face U.S. antitrust scrutiny that was rumored to be a major sticking point between Uber and Grubhub, along with Uber's hesitation to agree to a "break-up fee" that was allegedly part of the ill-fated negotiations. 
If approved, this transaction would mark a massive sea change in the U.S. restaurant delivery scene, and is Just Eat Takeaway.com's first move into the world's largest economy and, by far, its largest restaurant market. 
In a press release, the two companies said that the combined group would be "built around four of the world's largest profit pools in online delivery: the U.S., the United Kingdom, the Netherlands and Germany, increasing the combined group's ability to deploy capital and resources to strengthen its competitive position in all its markets."
Just Eat Takeaway.com owns the leading Canadian delivery business, SkipTheDishes, and the combined entity would be "one of the few profitable players in the space" and processed approximately 593 million orders in 2019 with more than 70 million combined active customers globally, according to the release.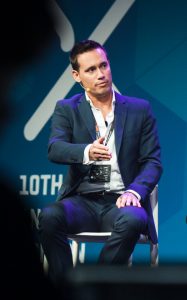 Speaking of his work with Grubhub CEO Matt Maloney on the deal, Just Eat Takeaway.com founder and CEO Jitse Groen said, "Matt and I are the two remaining food delivery veterans in the sector, having started our respective businesses at the turn of the century, albeit on two different continents. Both of us have a firm belief that only businesses with high-quality and profitable growth will sustain in our sector."
Maloney said he's known Groen since 2007 and added that "his story is much like mine." He said that combining the two brands will "mean that two trailblazing startups have become a clear global leader" and that "we intend to accelerate our mission to be the fastest, best and most rewarding way to order food from your favorite local restaurants in North America and around the world. We could not be more excited."
Expounding on the strategic rationale for the deal, the joint release said that since Takeaway.com's founding in 2000, it has "chosen only to enter into markets in which it believes it can become a leader and be profitable. In fact, it is one of the rare examples of a profitable food delivery platform." Just Eat Takeaway.com believes Grubhub is "the best food delivery company in the U.S. and it is the only one which is culturally similar" to its own model. 
By building what it called a"leadership position in North America, the combined entity said it will "prioritize sustainable growth over profits, as this has been a major driver of its strategy and success in Europe."
A source close to the Uber-Grubhub negotiations said Uber had "genuine and significant concern" about Grubhub's business practices, which was a sticking point in the negotiations and would have resulted in Uber jettisoning "many of their mainstay practices, like cybersquatting and phone charges."
That well-placed source went on to say that Grubhub's largest and most valuable market, New York City, is currently facing regulatory scrutiny, which was another obstacle to the deal, and alleged that Uber's board and management team "grew tired of Grubhub's immaturity, stalling, leaks [and] unrealistic views of their competitive position/reputation."
Grubhub did not immediately respond to a request for comment on those allegations, but Maloney previously addressed what he called "misleading stories in the media" regarding the company's driver tips and practices related to its restaurant contracts that birthed a raft of negative news stories over the last 10 months. 
In a widely shared letter to shareholders last August, Maloney said "to date, we have driven billions of dollars in orders to restaurants (including $5B last year alone), helped net more than $2B in tips to drivers, and facilitated meaningful connections between the 125,000 restaurants and the 20 million active diners in our platform … to be clear: Grubhub/Seamless is committed to transparency and to being the best partner for restaurants." 
Under terms of the transaction included in the joint Grub-Just Eat Takeaway.com announcement, Grubhub shareholders will be entitled to receive American depositary receipts representing 0.6710 Just Eat Takeaway.com ordinary shares for each Grubhub shares, representing an implied value of $75.15 for each Grubhub share, for a total value of $7.3 billion. Grubhub shareholders are "expected to own ADRs representing approximately 30 percent of the combined group on a fully diluted basis." 
The deal would still require approval from both Just Eat Takeaway.com and Grubhub shareholders, as well as other so-called customary completion conditions. Subject to approval, the transaction is anticipated to be completed in the first quarter of 2021. The combined group would be headquartered in Amsterdam, with a North American headquarters in Chicago and a "significant presence" in the U.K. Both respective company boards are recommending approval of the transaction to their respective shareholders. 
If the deal is completed, Matt Maloney would join the Just Eat Takeaway.com management board and would lead the combined group's business across North America, and two current Grubhub directors would join Just Eat Takeaway.com's supervisory board. 
Sizing up a newly reshuffled U.S. delivery landscape, industry watchers and analysts will likely be eyeing up Uber and Postmates to see if there's another possible love connection in the offing, or if these two non-leading players are better off just friends. 
Nicholas Upton contributed to this story.