Dark kitchens and virtual restaurants continue to expand across the country, but as the pendulum of food spending swings back toward grocery, a similar model is expanding rapidly there as well.
While a dark grocery store sounds like nightmare fuel out of a zombie movie or something, these new "microfulfillment" centers, as described in a recent Pitchbook report examining digital grocery operations, are expanding rapidly and attracting millions in investment.
The key driver has been—as are most trends in 2020—the consumer behavior shift during the COVID-19 pandemic. According to the USDA, food-at-home consumption increased 6.5% year-over-year in February and was 18.8% higher in March, year-over-year. That's a quick reversal just a few years after the grocery category lost majority share of spending to food-away-from-home (the USDA term that encompasses all non-home and restaurant dining).
And as the Pitchbook report titled "Delivery Technologies Are Reshaping the Grocery Industry," stated the share of digital grocery orders has shot up at a fairly dramatic pace. As we explored last week, online grocery and pickup sales have hit historic highs, reaching 73.5 million orders and $6.6 billion in sales.
That dramatically changes the outlook for the digital grocery world, as seen in the chart from Pitchbook and market research firm IBIS below.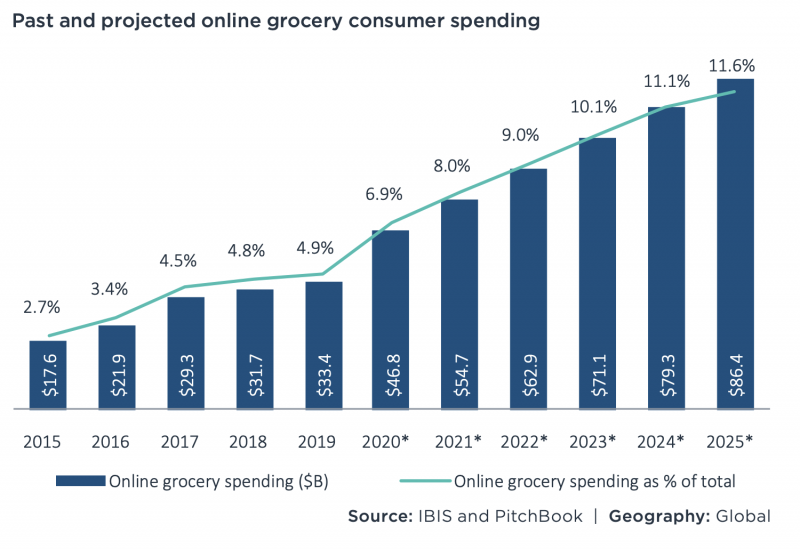 That puts 2025 estimates for online grocery sales at $86.4 billion or 11.6% of the overall grocery market. That's a higher percentage of overall sales going digital than the prepared food delivery space if estimates hold true.
Hence, a rapid deployment of dark grocery stores or microfulfillment centers with, who else, Amazon leading the way. The delivery juggernaut has had two AmazonFresh pickup locations in Seattle for years, but COVID-19 brought a quick acceleration in development, according to Pitchbook researchers Alex Frederick and Asad Hussain.
"Amazon was in the process of building out several Amazon-branded grocery stores in Los Angeles when the pandemic hit and has converted one location to a dark store exclusively to fulfill Whole Foods Market online orders," they wrote. "The firm has also recently transformed at least six other new and existing Whole Foods locations into delivery-only dark stores—although this may just be temporary until cities reopen. The dark-store conversions have mainly occurred in neighborhoods near universities or offices, where foot traffic has been reduced."
Do all those reopen, or do customers who adopted online grocery delivery stop shopping for the perfect avocado or the nicest sounding melon and instead order online as they have been?
While we wait and see on that front, other grocery chains are leaning into the trend. Kroger converted a Cincinnati location to pickup only, Giant Eagle has opened two and Stop & Shop has a 40,000-square-foot fulfillment center for pickup and another smaller facility for delivery only. Walmart, Albertsons and others have tests going as well. Whole Foods, a subsidiary of Amazon, now has six dark grocery stores, according to Grocery Dive. The latter pivoted to dark operations during COVID-19 as well, and three have reopened already to the public fully or on a limited basis.
Whether all that pivoting sticks around, the trend is clear: when people get comfortable ordering groceries digitally, they tend to stick with it in some capacity. That's driving gobs of investor cash into the industry with the image of fully automated warehouses a la Amazon's warehouses for not just plastic gizmos and books, but lettuce, ground beef and pantry staples, as well.
According to Pitchbook, there have already been 23 investments in this category in 2020, compared to 51 in 2019. In all, the 2020 transactions sit at $686 million, suggesting a run rate of $1.2 billion compared to 2019, which saw $1.6 billion in deal and investment activity. That may accelerate if some of these models prove out in the "new normal."
That money is flowing to Instacart, certainly, but also to companies like RightHand Robotics, which has created a robotic arm for pick-and-place operations in warehouses; it nabbed a $23 million series B round for $88 million valuation. GreyOrange has developed a modular system to zip around warehouses and pick goods; it secured a $140 million investment.
Both companies saw those investments back in 2018, but given the renewed interest in the space (and the run rates for such word-mashing startups) they could be in the mix for the back half of the year, investment wise.
Just like dark kitchens do away with or dramatically reduce the front-of-house in favor of efficient kitchens, watch for more from the dark grocery space. If consumers just realize we're going to have to wait a day to use that avocado regardless of who goes to the store, it just might be a big part of the grocery future.