The U.S. online grocery market totaled a stout $6.9 billion in May of this year, but that's a 3.4 percent drop compared to last year's $7.2 billion in sales according to new industry research from Brick Meets Click.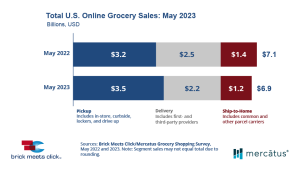 The grocery specialists reported that pickup orders defied the downward trend and captured its largest market share to date—pulled from its monthly Brick Meets Click/Mercatus Grocery Shopping Survey that was fielded throughout the month of May.
Fewer households buying groceries online led to the slight decline during May, as well as a decline in the number of orders placed by active online shoppers.
"The decline in order frequency is the result of the growing number of [active users] who placed only one e-grocery order during the month. This accounted for one-third of all active customers and caused headwinds across all the segments," said David Bishop, partner, Brick Meets Click.
BMC's report called out mixed results across three primary segments, with pickup recording the only year-over-year growth, growing 9.1 percent to a total of 50.7 percent of the total e-grocery category.
Ship-to-home orders fell 17 percent compared to the previous May, comprising 16.8 percent of e-grocery sales—a decline that has continued each year since 2020. Grocery delivery declined 11.7 percent compared to the previous year, with its dollar share dropping nearly two points to 32.5 percent for the month.
Overall, its latest report shows fewer households buying groceries online, while those who do are placing fewer orders than they used to. Spending per order for pickup and delivery increased by nearly 8 percent, "largely due to higher prices" rather than saucier customer ordering patterns.
More information from the report is available HERE.