Refuting what consumers predicted in 2021, a new Deloitte survey shows nearly 70 percent of people are ordering as much takeout or delivery than they did before the pandemic. In addition, 55 percent said they were dining inside restaurants the same or as much as before COVID-19 arrived on North America's shores.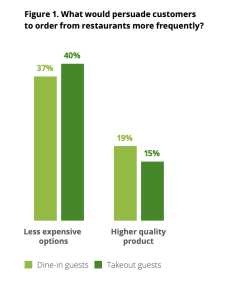 The new findings are from Deloitte's latest restaurant report, "The Future of Restaurants: The New Normal and Beyond." It surveyed 750 customers during March 2023, with two themes emerging: customers love the convenience of takeout and delivery and, when dining inside, the importance of a "frictionless digital experience" is paramount.
In addition to refreshing its 2021 survey data, Deloitte turned to its future-of-the-consumer industry analysis to anticipate further industry changes over the next 10 years.
One of the survey's focal areas illuminated an interesting, if not unsurprising paradox: diners are feeling the pinch economically, while wanting both less expensive options and higher quality products. More specifically, 40 percent of takeout guests want less expensive food options, compared to 37 percent of dine-in guests.
On the flip side of that, 19 percent of dine-in guests want to see higher quality products, while 15 percent of takeout guests said the same—which is a notable finding given the known issues with delivery temperature, order accuracy and food quality.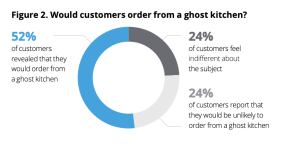 Underscoring what the report's authors called "the takeover of takeout," Deloitte found that customers generally prefer to order through a restaurant's direct channels. In 2023, 40 percent of respondents said they preferred to order directly, compared with 13 percent who expressed a preference for third-party apps and websites.
This is in line with similar surveys that have reported a similar preference to order directly from restaurants, rather than delivery apps or other third-party services.
Addressing the cost of delivery, 87 percent of consumers said a delivery fee of $5 or less is fair. The study added that "to protect direct sales, restaurants should work to make their direct-order channels, including delivery fees, equal to or less expensive than third-party options."
A clear majority, 60 percent of consumers, said they were unlikely to accept lesser quality when ordering takeout food. When a problem does arise, 55 percent reported preferring using the phone to address complaints, however preference for mobile chat and text increased from 20 percent in 2021 to 27 percent in 2023.
Approximately 52 percent of customers revealed that they would order from a ghost kitchen. This is an interesting finding, as many local news outlets have run stories highlighting customer concerns with delivery-only facilities, compared to traditional restaurants consumers are familiar with.
Twenty-four percent of respondents said they were indifferent about ghost kitchens, while 24 percent said they would be unlikely to ever order from a ghost kitchen.

Delving into automation, 47 percent of diners said they would order from a restaurant that offered drone or driverless car delivery, with 53 percent saying they were already receiving contactless deliveries more than half the time.
A strong majority, 79 percent, said they were at least somewhat likely to return to a restaurant that uses automated voice systems for drive through, with 74 percent saying the same for phone systems and 70 percent for dine-in use. Those numbers are likely to shift as automation and artificial intelligence bleed into nearly all aspects of a modern restaurant operation.
Regarding kitchen automation, 60 percent of consumers reported being likely to order from a kitchen that prepares food, at least in part, through robotic technology. Only 19 percent had experience with a cashier-free restaurant, while 62 percent said they were somewhat likely to order from one given the opportunity.
Given recent trends in the restaurant space, these findings generally suggest consumers are willing to try new restaurant formats, even though some diner education will likely need to be part of the equation—if consumers even notice these changes over time.