One of the next frontiers in restaurant evolution is adopting modern payment technology to prevent customers needlessly waiting for servers or the bill, reduce staffing levels and minimize credit card fees generated by multiple transactions during a single guest visit.
Mobile payment and online ordering platform CardFree is shifting its attention from pandemic-driven fires to helping restaurants adapt their business models to this new era. Aside from labor and processing fees, its middleware payment technology also helps operators capture valuable guest data, even if they're not enrolled in a brand's loyalty program.
CardFree, based in California and founded in 2012, recently began pushing into the hotel space after signing a few clients in the category to improve digital menus and ordering or the ability to swipe a card once, rather than several times throughout a guest's stay.
Chief Revenue Officer Alan Paul says both hospitality and restaurants still have a lot to learn from the retail world, but feels major progress has been made, including bringing Google Pay, Apple Pay into the mix. He predicted Venmo and PayPal will soon make payments even easier for consumers, while also reducing chargebacks from disputed transactions for restaurants—which he said is a growing problem in the industry.
For establishments looking to reduce staffing, next-generation payment technology can allow restaurants to reduce the labor required for curbside pickup or even eliminate the need for servers in some locations, instead letting customers order and pay themselves and using employees as dedicated food runners.
"In the beginning of the pandemic it was mobile pay at the table, but text-to-pay for phone orders has really been much more of a driver both from a merchant and consumer adoption perspective" in recent months, Paul added. "Any time a guest is putting in their own order or paying on their own mobile device, that just frees up time for servers to do something else, or in the case of not having servers, you can the model a little bit and turn people into runners and let the guests completely drive the ordering experience."
While processing fees are top of mind in this inflationary environment, Paul stressed that an even larger concern is improving the guest experience when many restaurants are skating by on less-than-ideal staffing levels.
"If I'm a consumer waiting for my check for 15 minutes, and that's the last thing I do, that's going to leave a really bad taste in my mouth—so putting in technology doesn't have to replace labor, necessarily," he said. "It just fills in the experience to make sure that guest does have a good experience, and isn't just sitting there waiting for somebody to come around and serve them or give them the bill."
Omnichannel tokens save on interchange
By using an omnichannel token for customer payments across various channels, restaurants can get some basic data about customers who might use their Visa inside the restaurant and then use the same card for an online order.
"It allows us to see a customer's behavior across all channels," Paul said. "Now, all of a sudden, I can say, hey, I may not know who this person is but from a BI and analytics standpoint, I can see this individual visits in store six times a year and they order online 12 times a year or whatever that may be."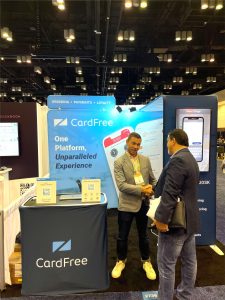 That data, which can sometimes include email and phone numbers, can allow brands to send opt-in offers customers could jump on even if they're not part of a restaurant's loyalty program.
Reducing guest friction and scrounging up data are both valuable, but Paul stressed that reducing chargeback rates is especially important for some brands that have seen increases in disputed charges in recent years.
He said the key to avoiding such chargebacks—when consumers dispute charges to their credit card provider—is technology that allows employees to avoid manually keying in credit card information, whether that's through using EMV devices so customers aren't swiping a chip-enabled card or using text-to-pay features.
Thinking back to those early pandemic days where guests adapted to scanning QR codes for the menu and, in some cases, using their phones to pay separately for each additional beverage, Paul said those clunky setups are bad for diners, but also expensive for merchants due to multiple processing fees for each card swipe.
Middleware payment processors allow restaurants and merchants to keep tabs open, so only one payment is passed onto credit card companies. That can be especially impactful in fast-casual settings where it might be more common for guests to order items in stages, compared to more high-touch dining formats.
"If a customer can sit down and open up a tab, essentially, and order as much as they want and only pay at the end, that's a better guest experience," Paul added. "It takes out the friction of having to pay every time, but it's also better for the restaurant from an interchange perspective."
While there are certainly financial incentives to reduce servers on the floor, Paul said he doesn't expect the middle ground between QSR and fast-casual restaurants on one side, and casual and fine-dining on the other, to go away any time soon.
Instead, he expects some restaurants will experiment by having one area of the dining room dedicated to table service, while another would be more of a fast-casual model where the customers take themselves through the ordering process for a quicker experience start to finish.
"We only have one [client] that has said we are going to fully switch from this casual, dine-in table service to fast casual—and that's not an easy move to make," Paul said. "If a guest wants to have more of a fast-casual experience in your restaurant, I think you can do that with technology and not need to necessarily change a whole lot else—and you can also keep your table service if you want to."