New York City Council passed a raft of bills last week that would significantly alter the relationship between NYC restaurants and third-party delivery services. The bills include:
Extending the city's 20-percent fee cap through February 17, 2022. Previously established as an emergency pandemic protection, the cap was set to expire in mid-August.
In the instance a restaurant listing on a delivery platform includes a phone number, delivery platforms will have to disclose whether or not the phone line goes directly to the restaurant or a platform intermediary, and include a phone number that goes directly to the restaurant.
Delivery platforms will be prohibited from charging restaurants for phone calls that do not result in an order. In a written statement, the NYC Hospitality Alliance claimed some third-party platforms have a well-documented history of charging restaurants for phone calls regardless of whether they resulted in an order.
Delivery platforms will be prohibited from listing a restaurant without prior written permission.
Third-party platforms will be required to share customer data with their restaurant partners. Shareable data will include names, email addresses, delivery addresses and order data.
Among the most contentious was the fee cap. New York is not the first city to extend its pandemic protections, but its protections go the furthest. San Francisco made its pandemic-era fee cap permanent in June, but the city only caps delivery fees at 15 percent, allowing delivery platforms to charge marketing and other incremental fees. New York caps delivery fees at fifteen percent and all other fees at 5 percent.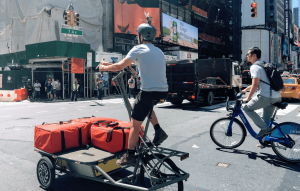 In a statement to Gothamist, Mark Gjonaj, a Bronx Council member said the temporary fee cap extension should "withstand any challenge" the delivery platforms throw at it. Grubhub and DoorDash have already filed a lawsuit challenging San Francisco's permanent fee cap.
In a tweet, Andrew Rigie, the executive director of the NYC Hospitality Alliance, a membership organization representing restaurants and nightclubs in New York City, called the bills "important, sensible legislation regulating [third-party] delivery companies, to stop the exploitative biz practices restaurants have been subject to."
Grubhub spokesperson Grant Klinzman was less bullish, telling Gothamist the fee caps would have "damaging and long-term consequences for locally-owned businesses, delivery workers, diners, and the local economy."
Delivery platforms have responded to fee caps by raising prices for customers. An investigation by NBC News found that in 68 jurisdictions that had imposed fee caps, DoorDash had added additional fees in 57 of them.
The data-sharing law has drawn the ire of privacy advocates, including the Haitian American Caucus. In an Op-Ed in the amNY newspaper, Sam Pierre, executive director of the Haitian American Caucus, wrote that "restaurants are often small businesses, lacking the technical capabilities for both securing data, and knowing how to follow other local, state, and federal data privacy regulations." According to Gothamist, a DoorDash spokesperson echoed the sentiment, saying, "We will continue to fight to protect the privacy of our customers."
Customers will have the option to opt out of the data-sharing program. The law also prohibits restaurants from selling that delivery data.
In a written statement, the NYC Hospitality Alliance claimed that data-sharing was an important step in leveling the platform-restaurant power imbalance, writing that, "By not sharing data, it makes it difficult for restaurants to leave third-party delivery platforms because then they lose access to their customers, and then the platforms continue to use their customer data to promote competitor restaurants that stay on their platform."
All five bills passed with overwhelming support. They now await Mayor Bill DeBlasio's signature.