A new report shows that drone delivery offers an exceptional reduction in carbon emissions, but landbound vehicles can still beat drones when routed properly.
In a new report in the journal Cell, authors show that for small packages, drones offer exceptional energy savings.
According to the report, when delivering packages under .5 kilograms (1.1 pounds), drone energy usage is essentially a rounding error.
"In delivery situations where small and light items with high added value, such as medical deliveries, critical packages, and small electronics, very small drones might become a competitive tool to reduce transportation emissions in large urban centers," wrote the authors. "In these scenarios, we found that drones can reduce the energy consumption by 94 percent and 31 percent and greenhouse gas (GHG) emissions by 84 percent and 29 percent per package delivered by replacing diesel trucks and electric vans, respectively."
They added that only electric bicycles offered a better energy savings.
For context, Flytrex which just expanded its delivery radius in the U.S., offers a capacity of 6.5 pounds (~3 kilograms) and Amazon drones in test deliver up to 5 pounds (2.25 kilograms).
This sentence is confusing. The researchers compared this to a typical diesel truck, electric trucks, vans and electric vans to see the difference in energy consumption.
The chart to the right offers a great illustration of that comparison, including total energy usage in Megajoule (MJ) and comparisons in fuel and fuel consumption.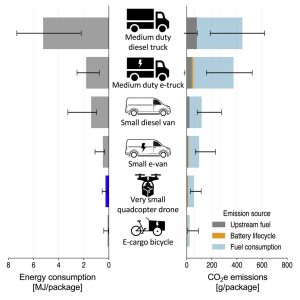 Trucks can, however, still offer similar energy usage as long as they're exceptionally efficient.
A typical medium-duty diesel truck would require approximately 34 packages per km to meet the drone's performance, which would correspond to having 200 packages delivered in a route of less than 6 km.
A small electric van would require a delivery intensity of approximately five packages per kilometer, which could potentially be achieved in dense urban centers.
The authors also found ways to further reduce energy usage from the drones. Limiting vertical takeoff, as a few drone companies are working on, could save more than one third of the already low energy usage.
While this study might be pretty apparent to most people—a tiny electric drone is obviously going to use less energy than a diesel truck delivering a 1-pound package—it's one of the first studies to put numbers to the incredible energy savings.
Authors predicted that as unmanned aerial vehicles (UAVs) expand in utilization, it "could reshape this sector by changing demand patterns and shifting fuel demands from fossil fuels to electricity."
Go and check the actual math and read more about the study at Cell.