Researchers from the University College London found the average time it takes for a new habit to stick is 66 days, though individual times varied. If you extrapolate this statistic to the behavior consumers were forced to develop as a result of the pandemic, experts predict delivery and off-premises habits are here to stay. And as this becomes the over-stated "new normal," restaurants are scrambling to see how they can meet the new shift in consumer expectations.
In a conversation on day one of the Food On Demand Conference August 10, executives from Gallup, Sense360 and ItsACheckmate discussed data relating to first-party and third-party delivery. Eli Portnoy, CEO of market research firm Sense360, shared that the No. 1 reason surveyees said they didn't choose delivery was to avoid fees and tips.
"Prior to COVID, third-party delivery was growing at a very dramatic rate, but the numbers since COVID began have paled in comparison," Portnoy said. "Roughly half of people have used restaurant delivery since COVID began."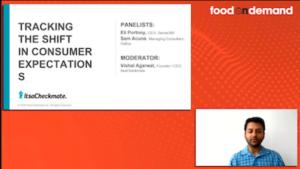 Overall, Portnoy's firm found restaurant delivery grew by 120 percent overall, though it's tailed off since reopening started. Consumers 45 and older have been much less enthusiastic about delivery and have typically tend to be more engaged in drive-thru, carryout and curbside, Portnoy said.
A telling statistic was 63 percent of consumers prefer to order directly from a restaurant's native first-party delivery system versus a third-party, such as DoorDash, Uber Eats or Grubhub.
"With the fees third-party delivery platforms are charging restaurants and the dramatic economic impact on small businesses and restaurants, consumers are very sensitive to sharing more of the revenue with the restaurant itself. (Around) 42 percent wanted more of the money to go straight to the restaurant," Portnoy said. "This is very unique to COVID. We didn't see these numbers prior."
Portnoy stressed the difference between preference and action, however. When all else is equal, consumers generally preferred to order directly from restaurants. Awareness and convenience, however, are huge factors. For consumers who preferred third-party delivery apps, the ability to browse multiple restaurants at once versus going between various restaurant apps was the deciding differentiator.
Sam Acuna, managing consultant at Gallup, found that consumers are more interested in learning about how an organization is supporting their employees throughout the pandemic.
"Our interpretation of this is they want to make sure the money they're spending is going directly to local businesses," Acuna said. "They know how hard small businesses will be hit, so supporting their local communities has become incredibly important."
Tips & tricks
Acuna recommends restaurants find a way to create an emotional attachment with delivery and takeout customers, which could look like a personalized thank-you note in delivery containers. The packaging also needs to align with your brand promise, Acuna said, to ensure the best experience when the food is delivered. If fried food isn't stored in the proper container and arrives cold and soggy, for example, it will leave a negative experience with the guest.
Another simple way to elevate the product experience is to add a complimentary dessert to say thank you, Acuna said. Then, because you've gone above and beyond, you can add in promotional materials like happy hour or other daily specials to entice the customer to return.
Delivery fees should correspond with the price of your menu items, Acuna asserted. Additionally, a guest's online ordering experience should be as easy as possible, with pictures identifying food and the ability to modify orders. For restaurants that are unable to build a drive-thru, Acuna suggests looking into takeout windows, curbside pickup and even bicycle delivery services.
"I hate to say this is the new norm, because the old norm doesn't exist anymore. There will be a new way of doing business, and this is part of it," Acuna said. "These are the new trends, so if you don't have delivery by now, you're very late."
Outlook of industry
Vishal Agarwal, who moderated the panel, is founder and CEO of ItsACheckmate, which integrates online ordering platforms directly into the POS systems of restaurants. Agarwal believes the reason third-party delivery platforms took off in the first place is because of the one-stop-shop appeal. A resident of New York City, Agarwal added how the pandemic has opened many people's minds about how affordable delivery can actually be.
"When we say something is expensive, we should compare it to what we're paying for. When I'm evaluating food delivery as an option, I'm comparing it to the option of going out of my house, either walking to another place or taking a cab there, getting the food, coming back and eating, and the time that takes," Agarwal said. "I personally believe there's been a lot of talk about delivery being expensive, but if we compare it to the time-savings cost, time is money, and how much we're actually paying for versus the convenience is a realization that really dawned on a lot of people who have recently tried delivery."
Portnoy echoed the sentiment that most brands are operating under the assumption that the off-premises and delivery trend will continue as customers get accustomed to the habit of convenience.
"Given the dramatic investments in first- and third-party delivery, drive-in and pickup, brands obviously believe this will continue beyond COVID," Portnoy said. "We're very confident we're seeing an acceleration of a trend that was already happening that will continue post-COVID."
If you missed the Food On Demand Conference this week, you can watch replays of the all-virtual presentations including breakout sessions.