It doesn't take many contactless meal deliveries to realize that a paper bag left on your driveway, front stoop or your building's front desk isn't exactly the pinnacle of technology or food safety. Looking to provide a safer, more secure experience and better food quality with its insulated meal pods, Minnow has plans to install better infrastructure for off-premises meals—at restaurants, as well as the final destination whether that's a house, high-rise residential building or office.
Founded in Seattle three years before the pandemic upended the restaurant industry and rocketed delivery to the forefront, Minnow has developed insulated locking pods that look similar to Amazon's Lockers. With a friendly, anonymous design, it's easy to picture these things becoming as ubiquitous as Redbox stations or vending machines.
"If you think about the food delivery chain, it starts at the restaurant or perhaps a ghost kitchen or cafeteria or food hall, and it typically ends at an office building, a residential building or maybe even someone's home, so we can add value on both ends of that delivery chain," said Minnow CEO Steven Sperry, who has vast experience getting startups off the ground. "Right now, our focus is primarily on the restaurant side and the urgency is certainly there."
Numerous companies have come out with racks and shelving units to provide a space to house off-premises orders, but Minnow's solution is designed to bring an added level of security, with controlled access and better food quality thanks to insulation that reduces the impact of an order waiting on the shelf.
After a stint working with a startup accelerator in Maine, Sperry began working on the Minnow prototype three years ago after seeing countless parallels to the package delivery world where the infrastructure keeps packages secure before they're picked up.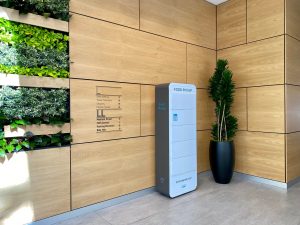 "There's a need on the restaurant end that's very urgent and driven by COVID to have a contact-free, self-service pickup solution where a customer can get a notification that their order is ready to pick up. They can go directly to the restaurant, they can walk in, pick up their order and leave without having to interact with anyone else," Sperry said. "For us, we see it as an opportunity to help. Restaurants are struggling to adapt to COVID, we have a solution that will help them adapt, and it's just sort of a coincidence that all of this converged at a time when we were just completing our product development cycle."
The present moment is a great tragedy for restaurants, Minnow said, and he has received a "flood of calls" from restaurants of all sizes, as well as large foodservice providers like Sodexo, that are trying to provide safer experiences for their cafeteria operations, outside of restaurants. The company is prioritizing midsize fast-casual restaurants in the five- to 100-unit range.
Pricing is through a subscription model so restaurants don't need to make a sizable one-time investment. The Minnow's cost ranges from $399 per month down to $299, also depending on the number of units and length of the contract.
At present, Minnow has a waiting list, and is in the process of upgrading to a larger manufacturing partner to produce units faster, but it's also saying "no" to some opportunities that would require modifications to its technology—such as commonly seen with the very largest restaurant brands.
A survey the company recently completed with 400 consumers, asking them about their pickup experience, amplifies the need. According to its findings, 94 percent of respondents said they would prefer their takeout order be kept in a secure compartment, rather than sitting on an open shelf.
"What that tells us is there's a lot of anxiety around the food pickup experience," he said.
The units aren't refrigerated or heated, Minnow said, because they've found that with most meals having an average "dwell time" of 15 minutes. In addition, refrigeration or heating would multiply the unit's cost by a factor of two or three, not including the possibility of things breaking down and recurring maintenance of more complicated units. Sperry claimed that its insulated solution keeps food 25 percent warmer over a one-hour period than non-insulated setups.
While the hardware is the most visible part of Minnow's offering, the software is the most important part, the company contends. As a smart IOT device, automatic customer notifications inform customers their food is ready, but also tells the restaurant if a meal wasn't picked up or has been in the pod too long to still be within the range of food safety.
While the current focus is getting Minnows inside restaurants, offices and large-scale residential buildings, the company also sees a future application for adding such infrastructure at single-family homes in a world where so many more meals are arriving from delivery drivers.
The company also has been contacted by building owners and manager—and actually nabbed one as an investor—who see the potential for this technology to become a standard amenity in residential buildings.
"Eventually there will be a market for a single-use type of a food delivery receptacle or system that's secure, insulated, notifies you when the food is delivered," he said. "All of the kinds of features we have in the Minnow system, you could easily put them into a single cubby version."