If cars are too big for most third-party delivery orders and two-wheeled e-bikes are too small for large ones, presumably there's a need for a specialized delivery vehicle that's just right—big enough to haul sizable grocery orders, but small enough to zip through big cities with growing networks of bike lanes.
This is the vision of Coaster Cycles, a San Francisco-based manufacturer of three-wheeled electric delivery trikes that's worked with the U.S. and Canadian governments, multinational restaurants and retailers, as well as the largest third-party delivery providers like DoorDash, Uber Eats and GoPuff.
If the company's vision for a vertically integrated business model comes to fruition—including supply chain, manufacturing, urban delivery hubs, vehicle servicing, battery charging, and hourly rental for delivery providers or restaurants and retailers—we could be on the cusp of a delivery revolution that will change the look and vibe of urban centers. Or, of course, the idea could flame out like those predictions of Segways changing our world.
Ben Morris is the founder and CEO of Coaster Cycles, which began in 2004, and he's been focused on three-wheeled bikes throughout his entire career, starting with the pedicabs that are staples around stadiums and arenas. As electric propulsion has proliferated and dramatically come down in cost while the delivery industry has grown, he refocused on what he calls the missing mid-range in delivery vehicles, solving the inherent inefficiencies of delivering small parcels in traditional cars and large parcels on two-wheel bicycles.
The rise of on-demand grocery providers like Gorillas and Jokr is the perfect demonstration of the conundrum, Morris said, as these companies promise to deliver groceries in 10 or 15 minutes but are limited to what they can actually carry in a backpack or a box mounted to the front of a bike.
Should those companies put those orders in a car, their business models would break down as drivers get stuck in traffic. In addition, if a delivery platform's drivers are independent contractors, they would also have to shoulder the cost of automobile ownership, which ranges anywhere from 35 to 65 cents per mile, depending on a range of factors including geography, insurance rates and vehicle make and model.
In the restaurant delivery space, batching multiple orders is a challenge since most foods need to be kept at specific temperatures, making the category more difficult than retail goods. Catering can be less troublesome, but, again, large catering orders tend to be too large for two-wheeled bikes. Yet again, Morris claims that three-wheeled electric trikes are the ideal fit, agile enough to bypass traffic jams on dedicated bicycle lanes, but large and stable enough to carry heavy loads. The only hook is deciding who owns and maintains the vehicles in an industry powered by independent contractors furnishing their own vehicles.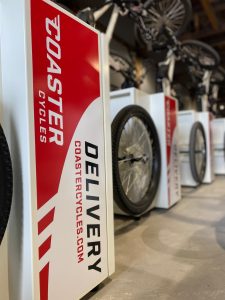 Coaster declined to provide pricing information for its vehicles, beyond saying that its Venture series is similar in price to two-wheeled electric cargo bikes.
"There's a massive shift right now coming in with these aggregators to move away from hot prepared food into retail and even alcohol, because … they're not having to worry about freshness and temperature," Morris said. "All of a sudden if we can go to a place [where we] take one of our trikes and pick up 6-8 orders, that's way more compelling for DoorDash, and it's also a lot more compelling for the delivery drivers, as well, and not having to use multiple drivers to do that at once."
Finding this holy grail of happier drivers, satisfied customers and sustainably profitable delivery platforms requires more than the right vehicle. Morris says it requires an end-to-end platform where the trike could either be purchased or rented at an hourly rate, with servicing and rental hubs throughout major cities where drivers and fleets can repair, maintain and recharge their vehicles to maintain peak productivity without changing the fundamental relationship between driver and delivery platform.
Such a setup could also allow small independent restaurants to deploy existing employees to rent trikes during peak delivery periods, rather than outsourcing delivery to third-party providers for a new spin on native delivery. If a mom-and-pop restaurant is paying a 30-percent commission to a delivery platform to deliver a $100 order, Morris asked, why not take that same $30 to rent a delivery trike for a day, put an existing employee on it, and do their own deliveries?
"We are in essence building out the platform that can enable all of those services encompassing an hourly or a daily rate, so if you're a DoorDash driver, you can come take a bike out of our facility at west 27th in New York and you can go pay X dollars per hour for the day to go out and do this delivery," he added. "There's a marketplace for that."
Morris acknowledged that covering every end of this equation, from manufacturing to on-the-ground servicing, is very capital intensive. He added that the company is accustomed to this level of complexity from previous contracts with Tesla, Starbucks, Aramark and the U.S. military.
"We have an understanding of what they want, but what's fundamentally missing right now is this back-end part that nobody is doing," he said. "That's what we're going to solve. We have to build this ecosystem."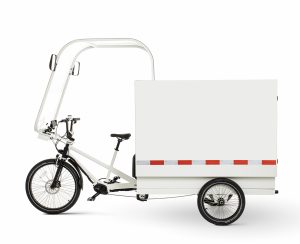 Because third-party delivery platforms can't purchase and provide vehicles for drivers that are independent contractors, Coaster believes incentivizing drivers to purchase these fast, efficient vehicles will include bonuses from delivery companies that will improve the economics and productivity of their platforms, as well as individual drivers.
Morris predicted that these three-wheeled vehicles will become fixtures in urban centers within the next year or less. Coaster has already started deploying vehicles and infrastructure to New York City, and will be moving into Chicago, San Francisco, Los Angeles and Seattle after that.
To make this vision a reality, the company is also working with municipalities to determine the best ways to build fleet management infrastructure in urban centers. Using the example of Minneapolis, where Food On Demand is based, Morris said the city has offered to allocate space in city-owned parking garages, as delivery bikes of any form will reduce the amount of traditional automobiles clogging the city's downtown streets. In New York, a pilot project is allowing cargo bikes to use yellow loading zones that are traditionally used by petrol-powered trucks.
"The overall consensus I've gotten from a number of cities is they are super eager and open to putting in infrastructure and looking at legislation that will encourage companies to have greater cargo bike integration into their fleet," Morris said.