As interest in catering spikes across the North American restaurant scene, catering delivery provider DeliverThat is seeing exponential order growth in the wake of big-name partnerships with Olo and MSI, ezCater's catering management platform. 
Since the depths of the pandemic, when catering volumes fell across the board, DeliverThat has seen exponential growth delivering catering orders for restaurants. The company serviced just shy of $4 million in sales in 2021, which grew to nearly $10 million in 2022, with expectations of hitting $20 million by the end of this year. 
Now seven years old and with a network of nearly 20,000 active drivers, the Ohio-based last-mile delivery platform has flown under the radar as one of a small number of companies doing the physical work of catering fulfillment. 
Compared to individual meals delivered by the likes of DoorDash and Uber, catering orders require more setup work, often include extra equipment and specialized packaging, so restaurants often prefer such orders to be delivered by professionals specifically trained in the nuances of catering. That's a mantra that's commonly heard at any industry event touching on catering. 
Co-founder Aaron Hoffman said the company's tightly focused mission and not trying to "diversify ourselves too much" are behind DeliverThat's intense growth—including post-pandemic interest in the category increasing throughout the industry. 
"Catering delivery setup has been our bread and butter—we're not doing on-demand delivery, not doing true grocery delivery," he said. "I would say that's what's gotten us here, investing in the people, really building out the systems…and the big catalyst has to be the technology we're building. It's unlike anything I've ever seen or used in the industry." 
Technology behind new deals
MSI, ezCater's catering management software, gives restaurants specialized tools to track, prep and execute catering orders and manage relationships with high-value customers. With the new integration, restaurants can seamlessly accept catering orders and assign them to DeliverThat drivers, all within MSI. Any changes to the delivery will automatically be updated in both the MSI and DeliverThat platforms. 
And, with the Smart Dashboard DeliverThat introduced earlier this year, all deliveries, regardless of channel, are viewable in the  company's dashboard.
DeliverThat Chief Technology Officer Matthew Benzel said that catering presents its own unique set of operational challenges, requiring a beefed-up technology platform that lets operators run their catering business with the attention and separation it deserves. 
"That lets them run the business as they see fit and not have to conform to the on-demand world of technology," Benzel added. 
Additionally, regardless of order source, the dashboard provides timestamps, setup photos and real-time updates on delivery and driver statuses, allowing for full transparency across all channels.
"The enhanced dashboard is a game changer: effective, sleek, intelligent. Our catering team instantly sees orders placed from our native site and can track drivers in real time with only a few clicks. The setup pictures are an added plus," said Wes Patrick, vice president, ops excellence and off-premise performance for Tijuana Flats.
The dashboard is designed to create efficiencies and streamline driver schedules. It is claimed to help brands save money by ensuring their restaurants have the food ready and on time for pickup. DeliverThat says this alone is driving catering comps down from over 2 percent to a more manageable 0.3 percent.
Rewriting the definitions
Recent growth at DeliverThat isn't just a product of slowly refilling office districts and new technology. Hoffman cited three notable shifts in catering he's observing from clients.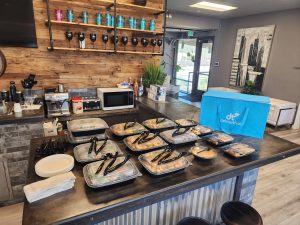 First, order sizes have grown noticeably larger. During COVID, DeliverThat said an average order was approximately $270-$280. Now, that number has swelled to somewhere between $330 and $350. 
Second, lead times for orders have decreased, which Hoffman said means that recurring customers are getting accustomed to ordering these large orders with less advanced notice—including a significant number of same-day catering requests. 
The third change Hoffman outlined is increased competition for catering orders among restaurants in a given market. From national chains to SMBs and mom-and-pop operations, he said this is naturally creating increased demand for delivery drivers, which he added hasn't become a problem for the company. 
"Drivers are starting to understand how lucrative catering delivery is," Hoffman said, adding that restaurants need to think about their packaging, not just for the end user but also for the possibility that it might spill in the car and lead a driver to avoid those restaurant brands in the future. "Same thing if a restaurant isn't on time or they're not nice to drivers." 
Even as many restaurants rush into catering, DeliverThat sees a challenge with brands that haven't invested in the technology to properly differentiate their catering orders and give them the attention they deserve. 
Focused on strategy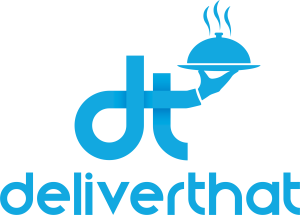 As part of the company's maturation, co-founder Hoffman stepped down as CEO in 2022 and transitioned to Head of Strategy, which he said is a better fit for his passions and personal skills. 
Darien Terrell is now the company's president and CEO, adding CEO to his title when Hoffman changed roles. Terrell first joined the company in 2018 as its chief business development officer. 
"He's allowed me to do what I'm best at, which is being a strategist, a forward thinker…less of the people stuff," Hoffman said. "I needed someone to tackle this technology piece."
Asked if he expects more competitors to enter the category given the general growth of catering channels, Hoffman said the closest competitor he sees is DoorDash Drive, which allows restaurants and other merchants to attract their own orders, but use the third-party delivery giant's drivers for order fulfillment. 
To him, platforms like DoorDash, Uber and ezCater all provide a valuable service that isn't going anywhere for restaurants. As he plots his next phase in a fast-growing industry, Hoffman is focused on controlling the entirety of the last-mile delivery experience, from customer discovery through orders arriving on the table. 
"The horse that's going to win here is the one that truly owns the end-to-end experience between ordering, last-mile delivery and getting it to consumers," he said. "If you can own the last-mile piece, you essentially control everything…and whoever does that is going to win in my opinion."