If setting delivery and takeout orders on an unsupervised counter is the bottom of the barrel, Apex bets restaurants are willing to invest in a smarter system for off-premises orders with better security, reduce labor inputs and direct integration to front- and back-of-the-house systems for truly frictionless handoffs.
The first part of its two-stage solution is the OrderHQ Lockers themselves, a tangible result of the company's recent partnership with Welbilt, a global provider of commercial foodservice equipment. Its third-generation OrderHQ smart lockers integrate with existing point of sale systems and other back-of-the-house management systems. They eliminate the need for restaurants to place dedicated employees on delivery and pickup duty, which is a critical benefit during an ongoing labor shortage that is especially pronounced in the hospitality industry.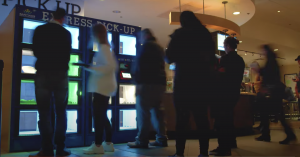 Its new hardware, which includes sleek pickup lockers with individual cabinets for each order and lights that guide customers to their meals, is only part of the solution. The company's latest ApexIQ software elevates the product beyond a "glorified bookstand" in the words of Apex CEO Mike Wills, who said the software behind this system gives operators more control, tangible labor savings and the ability to collect new forms of data that will help them streamline their off-premises operations over time.
"It's a lightweight API integration where we literally listen to the digital components of that order for certain key items that would designate a new order," Wills said, explaining how ApexIQ monitors and compiles data over the course of a restaurant's business day. "It gives you status updates on the order. Once the order is built and loaded in a very frictionless manner into the back of the locker, once it's marked as delivered, you the customer get notified that the order is ready for pickup and you have a unique, highly secure pickup code that only [the guest or their designee can use] to go pick it up or you can take it in, scale it, and pick up the order—and it get away from a lot of deployments you see today that are non-technical, which is the landing zone table where you get the bag, you get the table over the top, and you get your name written across the receipt."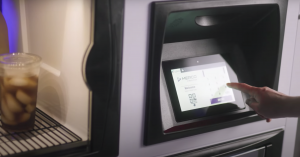 Noting that something as simple as two customers named Mike arriving at the same time can create a domino effect of unhappy customers if somebody grabs the wrong bag, Wills said an integrated pickup and delivery system is not just more reassuring during a pandemic, but also a better setup taking into account allergy concerns and keeping orders flowing uninterrupted during peak periods, like the lunch rush.
Order-ready notifications are sent at the optimal time to minimize dwell times, with unique pickup codes to authenticate at the locker. From start to finish, the pickup process is designed to last less than 10 seconds, with no human interaction required.
Aside from restaurants, the smart order lockers can be deployed in large campus settings like college campuses, sports venues, hospital cafeterias or even the new Resorts World Las Vegas mega-casino complex that partnered with Grubhub as its in-room dining provider—and will also feature the high-spec Apex lockers.
Wills said early case studies show significant labor savings if restaurants fully utilize the software and hardware together—and added that Apex's consulting service helps restaurants walk through projected order volumes, shift sizes and proposed locker sizes based on capacity utilization of what they'll need. Oftentimes, that pre-planning shows that restaurants need much smaller order lockers than they expect, which is a result of software integration creating a more streamlined process with fewer orders waiting for shorter periods of time.
"The truth is, when our design consultants sit down with these brands and map out how fast, with a three- to four-minute dwell time, these orders can literally fly through our lockers," he said. "You really don't at the end of the day need a lot of lockers."
Apex declined to offer pricing details, but said most restaurant groups would prefer to purchase its systems, rather than leasing them or paying a monthly fee. He estimated a cost of $13 to $14 per day for most operations, which he said pales in comparison to typical labor rates in most markets.
The next off-premises frontiers
Within the restaurant space, Apex expects its largest opportunity to come from the QSR and fast-casual categories, including existing restaurant retrofits and new builds where dining rooms are shrinking or being removed entirely. Outside of restaurants, Wills said universities and "managed cafeterias" are the second-largest opportunity, including any places where large numbers of people are gathering around food.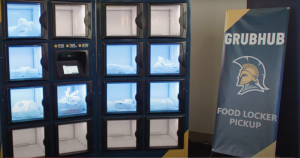 While the old-time concept of automats has found resurgent interest during the pandemic, Wills doesn't expect a significant return of the buy-what's-in-the-box format, adding that "it's fundamentally problematic because I have to choose between the peach pie and the apple pie, and I have no idea how long it's been in there."
For office environments, which have not reverted to pre-pandemic norms in most large cities, Wills said the company sees behind-the-scenes movement from large-scale corporate dining operators. That chatter, he said, suggests the office dining scene may be on the cusp of that long-predicted return after a year and a half of many professionals working from home.
"They're asking us for a proposal for a very significant deployment in this corporate campus, so when you see people take their planning cycles and people putting money behind it, that's a good indicator that consumers are back and service providers are amping up their capabilities to take care of that," Wills said. "Corporate campus foodservice providers will be back. They'll be back in waves, but we're starting to see the first big indicators that we were right, that it's going to be a thing."
With an overflowing development pipeline, Apex continues to work on a variety of contactless solutions for order pickup in a variety of environments. Asked if that includes delivery vehicles, since many orders are still just placed in bags on the front seat, Wills was vague, but suggestive.
"Let me be clear. We're not actively working on what you just described, but is it in the idea bin? Yes, and surprisingly, there are some common threads in what we could consider our core capabilities. There's a market, there's an opportunity space developing and that's probably one in which we would enter," adding that, if Apex were to get into the delivery vehicle space, it would likely be through a partnership—just like its latest high-tech lockers.